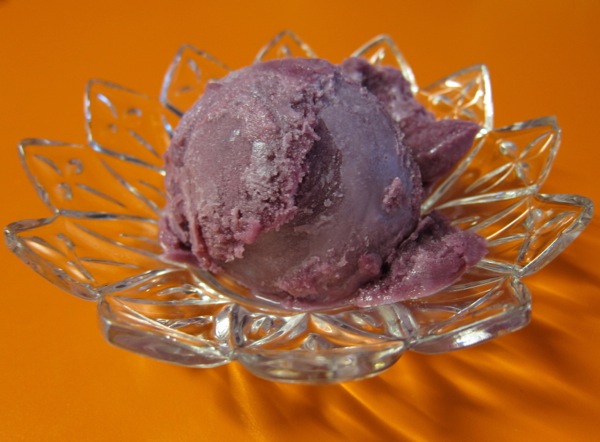 This is an ancient family recipe that was passed down from my great-grandma to my grandma to my dad to me and now to you. Don't tell anyone I broke the blood-chain.
I remember making this in our old rock-salt, hand-cranked ice cream bucket on the porch. It's really fun to have a hand-cranked ice cream maker when you have small children to crank it! Unless your children are pitifully thin and scrawny like me, then you will just end up having to take over after about one minute and your plan to make the kids do it will have failed.
But the kids still get to eat ice cream so the kids don't even care.

We called this Grape Ice and it's the only grape ice cream recipe I've ever seen. Actually, technically I guess it is a grape sherbet? Ah, what the hell.
One thing my parents never did, but that I would do if I were a parent, is turn this mixture into popsicles! It's weird that we never did that, given the extreme disability of my cranking-arm and the fact that we often did make popsicles out of other liquids.
Ahh, hindsight. You always get the best of me.
One thing I'll try next time I make this, is to ixnay the sugar and water and just use 2 1/2 cups of grape juice with the milk and lemon juice. What do you think? Do you think that would make it too strong? Too grape-y? No, that seems impossible! I think it would work and be just a hair healthier, what without all the sucrose and only the fructose. Please comment to tell us how it goes if you get brazen enough to try it that way. Or, hell, please comment even if you don't try it that way.
Print
Grape Ice
A frozen grape confection
1 cup

grape juice

3/4 cup

sugar

3/4 cup

water

2 cups

milk
Juice of a lemon
Instructions
Whisk all that together to dissolve the sugar.
Pour it into your ice cream maker and get cranking or pour into popsicle molds.
And let it be known that the original, grandma-written recipe also included "1 cup of whipped cream, or whipped cream may simply be placed on each serving". I left that off since we didn't have cream when I was wee because we were poor.