Hilah's Texas Kitchen: Grapefruit Sorbet
Episode Three: SouthTex Organics and Grapefruit Sorbet
We had a great time shooting this episode down in Mission, Texas this January. I'd never spent much time in "The Valley" before and Chris and I were both really impressed with the people and the food. You may or may not know that the grapefruit is the state fruit of Texas, specifically the Rio Star variety which is very red and sweet and nothing like the pale, bitter grapefruits your mom gave you for breakfast, cut open and sprinkled with artificial sweetener. Or maybe that was just my mom.
Dennis Holbrook owns SouthTex Organics, an organic farm specializing in citrus but also growing onions and even papaya. Dennis went organic before organic was cool, back in the mid 1980s. Having grown up on a citrus farm , he'd had his share of pesticide and herbicide residue and decided he was finished with it. One of the most striking things I noticed was the difference in the ground between the rows of trees. On Dennis's farm, there were sporadic weeds and grass and the soil was rich and moist. On some other farms we "trespassed" on, the soil was bare, compact, and gray — near dead, it looked.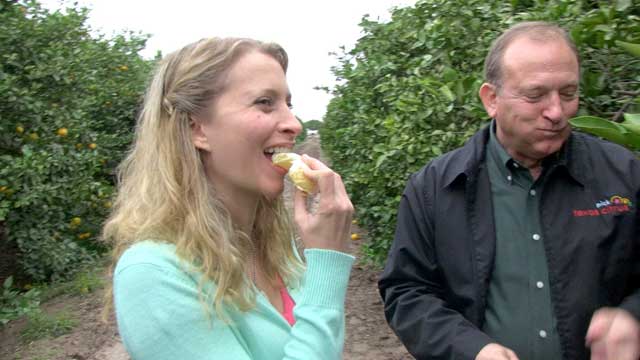 SouthTex grows a few varieties of grapefruit, lemons, and several types of oranges. I got to sample many oranges that were new to me and then spit the seeds out amongst the rows because, hey, we're composting here! One thing we had to cut from the video for time's sake was the experimental papaya orchard Dennis is working on. Several varieties from all over the world planted to see which ones might fare well in south Texas. Did you know that most papaya is imported from Hawaii? That's a mighty big carbon footprint, flying all those papayas around. Would be really neat to see some grown here.
I came home with two cases of grapefruit and oranges and was a very happy and healthy camper for a few weeks. This grapefruit sorbet with honey and a dash of tequila is a delicious way to get your Vitamin G! (G for grapefruit, get it!?) The tequila doesn't add much in the way of flavor, but the alcohol helps the sorbet stay scoopable in the freezer. You can omit it if you like, as the honey also helps make a soft sorbet.
Keep in mind, too, the season for citrus in Texas is October to June, but it really peaks Thanksgiving through March. If you're inclined, you can certainly squeeze some delicious red grapefruits during their peak and freeze the juice for making cool, refreshing sorbet when it gets hot out.
Print
Hilah\'s Texas Kitchen: Grapefruit Sorbet
Author:
Prep Time:

4 hours

Total Time:

4 hours

Yield:

4

1

x
4

–

5

red grapefruits

2/3

honey

3/4 cup

hot water

1/4 teaspoon

orange blossom water

1

–

2

tablespoons tequila
Instructions
Wash grapefruit and zest one to get 1 tablespoon of zest. Avoid the white pith under the zest; it's bitter.
Juice the fruits to get 2 1/2 cups juice. Press the pulp through a sieve to get all the goodness.
Dissolve the honey in the hot water.
Combine juice, zest, honey-water, orange blossom water and tequila. Chill 4-8 hours.
Once cold, freeze in ice cream maker according to directions.
Serve right away or transfer to the freezer to firm up.
Previous Episodes of Hilah's Texas Kitchen:
Goat Farm and Goat Cheese Salad
Black's Barbecue and BBQ Beef Ribs