Hey look! Homemade banana pudding recipe! It's time for a creamy treat, kids! This was one of my favorite desserts when I was wee, perhaps tied with pistachio pudding out of a box which I just loved, and coming in a close second to bubblegum ice cream from Baskin Robbins which sounds absolutely appalling to me now.
My mom and grandma used boxed pudding mix those many years ago and while I honestly believe that boxed pudding is delicious, it also does have a lot of weird ingredients listed in it, most of which are not "milk, eggs, sugar" which is pretty much all that's in this homemade vanilla pudding. Pudding which may in fact truly be considered custard, but I'm not from England so I don't eat that stuff.
I kid. I kid. I'm pretty sure pudding = custard = pudding again.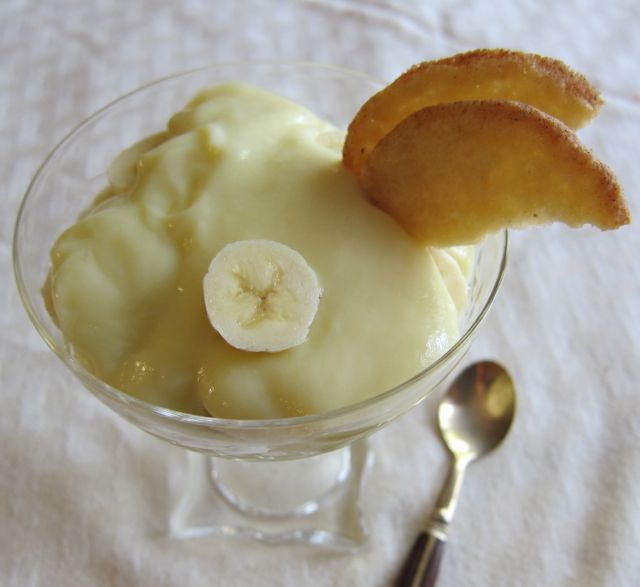 See banana pudding recipe in video form!
Or recipe card!
Print
Homemade Banana Pudding
Homemade vanilla pudding with bananas and vanilla wafers
1/3 cup

sugar

2 tablespoons

cornstarch

2 cups

milk (I've used both whole and 2% with good results)

2

egg yolks

2 tablespoons

butter, softened or cut into small bits

1 teaspoon

vanilla extract
For assembly:

1

large ripe banana, peeled and sliced
about

20

–

30

vanilla wafer cookies
Instructions
Combine the sugar, cornstarch, and cold milk in a pot. Whisk thoroughly until the sugar is dissolved.
Add the egg yolks and whisk again to combine well.
Add the butter and turn the heat to medium.
Stir constantly until the mixture just begins to bubble (see video). This will take about 5 minutes.
Reduce heat to low and simmer another 2 minutes, stirring constantly.
By now it should be thickened. Remove from heat and stir in vanilla. Set aside.
Layer half the cookies and half the banana slices in the bottom of a 1 1/2 quart dish (or an 8×8 cake pan).
Top with half the pudding, more bananas and/or cookies, and the rest of the pudding.
Top with cookies or lay a piece of plastic wrap right over the top of the pudding and refrigerate for 4-8 hours.
Add more crispy cookies on top when you serve it.
Oh oh oh! And if you'de like to make your own HOMEMADE VANILLA WAFERS click here. I did so for the photo you see on the post, and they were ever-so-heavenly. In fact, way way way better than Nilla wafers, I thought. But I also understand if two homemade things in one day is too much for you. It was too much for me on the day we shot this video, evidently.