Taco Pockets! Homemade Hot Pockets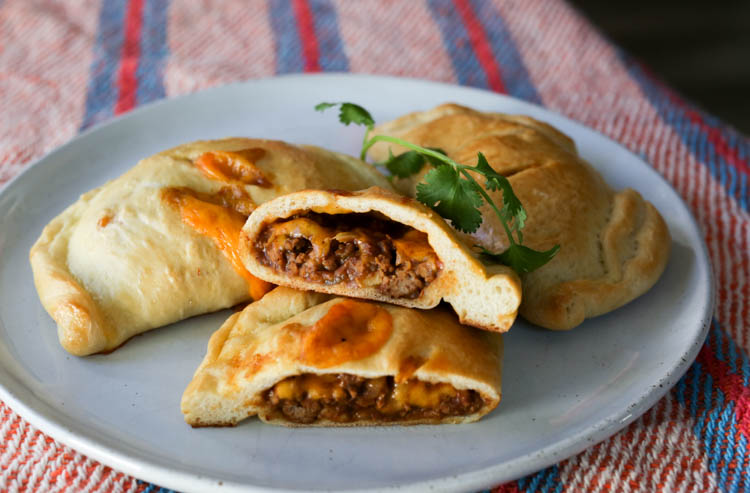 I'm calling these "taco pockets" because it has a nice ring to it, but they're really just homemade Hot Pockets. Except I don't think Hot Pockets has a "taco" flavor; or at least they didn't start out that way.
I know because I used to eat a shitload of Hot Pockets when I was in middle school. The pizza kind, specifically. Which you could totally make instead if you want to. In fact, you could make any variety of Hot Pocket you like!
Fill these little pockets with ham and cheese, pepperoni and cheese, broccoli and cheese (cook and drain the broccoli first) or whatever you think might be good. This is one time when it just might really pay off to listen to those voices in yer head. Maybe they'll whisper "pickled jalapeños and cheese" or "spicy black beans" or "the flesh of a dozen endangered turtles". DON'T listen to that last suggestion. But the others are pretty good.
I adapted the recipe for this simple yeasted dough from Sally's Baking Addiction and stuffed them with my own taco filling.
Homemade Hot Pockets Video
Homemade Hot Pockets Recipe
Print
Taco Pockets
Dough:

1/4 ounce

yeast (

1

envelope)

1 1/4 cups

warm water (100-110ºF)

1 teaspoon

sugar

1 teaspoon

salt

3 cups

bread flour
few drops oil
Filling:

1 teaspoon

oil

1 cup

diced onion

1

clove garlic, minced

2 teaspoons

chili powder

1 teaspoon

ground cumin

1/2

pound lean ground beef

1/2 teaspoon

salt

1/2 teaspoon

pepper

1/4 cup

salsa

1 cup

refried beans

4 ounces

cheese, cut into

8

slices
Instructions
Make the dough:
Combine yeast, water and sugar in a bowl. Let proof for 5 minutes. If it looks foamy, good, If not, your yeast is dead. Start over with new yeast.
Stir in 2 cups of the flour, the salt and the oil. Add more flour to make a stiff dough. Knead for 5-7 minutes until a smooth ball of dough forms. Coat with a little oil and let rise while you make the filling. (Or put into a covered container and refrigerate up to 24 hours.)
Make the filling:
Heat oil over medium-high heat. Add onions, garlic and spices and cook until it smells roasted. Add the meat and break it up a bit.
Add salsa and break the meat up into small bits. Cook 5 minutes or so, stirring, until it's cooked through and fairly fine.
Stir in the beans and set aside.
Turn oven to 400ºF
Cut the dough into 8 pieces and smash each one flat into a circle (or any shape) that's about 6 inches across. Add 3 or 4 tablespoons filling and a slice of cheese.
Fold over and crimp edges to seal. Bruch with egg wash. Cut 2 slits in top.
Bake 20-25 minutes. Cool 5 minutes before eating. Enjoy!!
Notes
To make ahead: Cool cooked pockets completely and refrigerate up to 5 days, or freeze. To reheat in microwave. wrap one pocket in a damp towel and microwave about 30 seconds if refrigerated, or 60-90 seconds if frozen.
Nutrition
Calories:

330

Fat:

8

Carbohydrates:

44

Protein:

19