Homemade Marshmallows video (scroll down for printable recipe)
Homemade marshmallows are SO EASY. Like, really really really easy. As long as you have a stand mixer with a whisk attachment and a thermometer (see link at the bottom for the one I use) you, too, can make marshmallows at home to put on top of your hot chocolate or make s'mores with or just cram in your mouth to see how many will fit. And the thing is, homemade marshmallows truly are better than store-bought ones. They are pillowy soft and chewy at the same time. How do they do that? Magic, most likely. The magic of gelatin.
Watch the video to see how to make classic vanilla marshmallows or pumpkin pie spice marshmallows for the holidays. I cut my vanilla marshmallows into ghost shapes and the pumpkin spice into pumpkin shapes for Halloween, but you could do fall leaves or even Christmas tree-shapes. The world is your marshmallow. Have at it.
Homemade Marshmallows Recipe
Print
Homemade Marshmallows
Author:
Prep Time:

4 hours

Cook Time:

30 mins

Total Time:

4 hours 30 minutes

Category:

Candy
2 tablespoons

cornstarch

2 tablespoons

powdered sugar

1/2 teaspoon

pumpkin pie spice (optional)

3/4 cup

water, divided

2

envelopes unsweetened gelatin (

1/2 ounce

gelatin)

6 tablespoons

corn syrup

1 cup

sugar
pinch salt

1 tablespoon

vanilla extract or another flavor
Food coloring (optional)
Instructions
Combine cornstarch and powdered sugar with optional spice. Lightly spray the bottom and sides of an 8″ square pan and dust with about half the mixture. Set pan aside.
Pour 1/4 cup water into the bowl of your mixer and slowly sprinkle gelatin over the top to avoid making any big lumps. If needed, sprinkle an additional 1-2 tablespoons water over the top to hep it absorb. Some dry areas are okay.
In a small, deep pot, pour 1/2 cup water and add corn syrup. Stir carefully to combine, don't slosh it too much. You want to avoid splashing it up the sides of the pot too much.
Once mixed, add sugar and salt and stir again just to make sure the sugar isn't sitting on the bottom.
Place over low heat and clip a thermometer on the side and bring to boil. Once boiling, increase heat to medium-high and cook (don't stir) until the temperature is between 243-246ºF. Once it boils, it will take about 10 minutes to reach that temperature.
Remove the thermometer and turn off heat.
With mixer on low, drizzle syrup in being careful not to splash the whisk too much. Better to let the syrup run down the side of the bowl. Once all syrup is in (don't scrape the pot, just use what pours out) increase speed to medium and whisk for about 8 minutes.
Add vanilla and food color and whisk another 1-2 minutes until light and fluffy but still pourable.
Pour into prepared pan and dust top with remaining cornstarch.
Let cool completely them cover pan with foil and let sit at room temperature for 4-48 hours.
Cut into squares or shapes.
Store sprinkled with additional cornstarch, placing wax paper between layers. Will keep at room temperature in a tightly covered container for 2 weeks.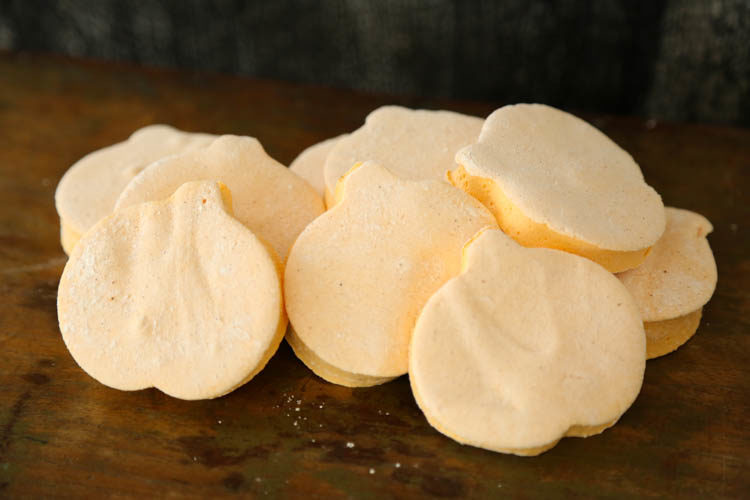 This is the thermometer I use and LOVE (affiliate link)


And these are the Halloween Cookie Cutters I used.