Instead of crying, try trying this homemade Twinkie recipe!
I'm sure you've all heard the news by now, and hopefully have had time to mourn, deny, cry, scream, tantrum, and finally shower. Hostess is closing its doors forever. That means no more Twinkies, no more Wonder Bread, no more DingDongs and maybe even the end of America as we know it. (Not the whole continent, just the United States of).
Personally I don't feel very affected. I think I've eaten a Twinkie maybe twice in my life, I've had a handful of DingDongs, I have never ever sniffed a slice of Wonder Bread. I was not raised a Hostess Kid. The only DingDongs I did eat were in highschool, from the vending machines, bought with my "Sandwich Artist" money — you know the place — and truthfully I much preferred Nutty Bars.
But on the grander scheme, Hostess is an iconic American brand, like Ford and Levi's and Boeing and Yankee Candle. It's weird and sad to imagine it gone from the shelves forever (not to mention the thousands of jobs lost) even though, if the legends are true, they do keep forever so you could potentially stock up on enough of them to last you a while. Bill Clinton threw one into the time capsule back in 1999. I bet that one's still good!

Or you could make your own Twinkies. They are pretty simple, especially if you want to invest in a canoe pan to give you the proper cylindrical shape and size. I am a notoriously cheap bastard so I used the "folded up foil" method that Todd Wilbur came up with. I mixed up a basic sponge cake recipe, then baked them. The filling is a quick icing of butter and powdered sugar. Positively, the original Twinkies use shortening, not butter, which may help explain their supernatural shelf life, but homie don't play that, so homie uses butter. Sorry.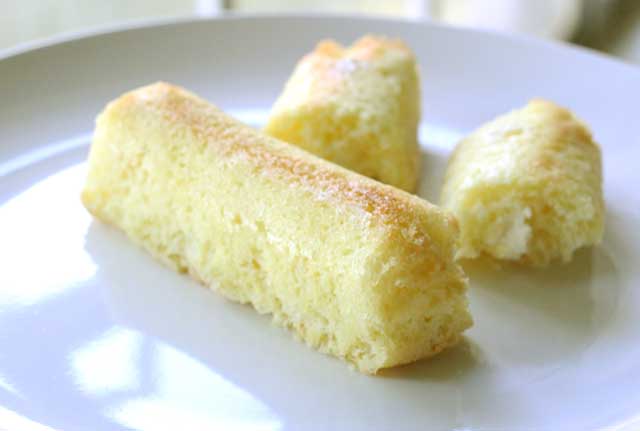 With that in mind, these don't taste exactly like Hostess Twinkies, but they are pretty close and some may say, even a little better.
Print
Homemade Twinkie Recipe
Sponge cakes filled with vanilla icing
Author:
Prep Time:

15 mins

Cook Time:

15 mins

Total Time:

30 minutes

Yield:

1

2

1

x
3

eggs, separated

3/4 cup

plus 2 tablespoons sugar

1/4 cup

boiling water

1 tablespoon

lemon juice

1 teaspoon

vanilla extract

1 cup

cake flour, sifted

1 teaspoon

baking powder

1/4 teaspoon

salt

1/4 teaspoon

cream of tartar
Filling/Icing:

4 tablespoons

soft butter

1/2 teaspoon

vanilla extract

1 tablespoon

heavy cream or milk

1 cup

powdered sugar, sifted
Instructions
Watch the video to see how to fold your own Twinkie molds out of aluminum foil if you don't have a canoe pan (cupcake pan will also work, though it doesn't give the right shape obviously)
Grease your pans well and set aside. (Cupcake pans do not use liners, just grease.)
Set oven to 375ºF.
In a large mixing bowl, beat the egg yolks on medium speed until loosened up, 30-60 seconds.
Gradually add in the sugar. Once sugar is all in, increase the speed to medium-high and beat for 3 minutes. The mixture will be light and creamy-looking and will have almost doubled in volume.
Reduce speed to low and slowly pour in boiling water, careful not to splash yourself, then vanilla and lemon juice. Make sure it's well combined.
Whisk the flour, baking powder and salt together in a small bowl and add it gradually in to the egg mixture, still on low speed, until you have a smooth, creamy batter. Set aside.
In a very clean bowl, beat the reserved 3 egg whites and cream of tartar for 30-90 seconds on high heat with a whisk attachment until soft peak form. The whites should be foamy and somewhat stiff, though still moist and soft looking.
Fold in one quarter of the whites into the first batter.
Gently fold in the remaining whites.
Divide batter between 12 molds and bake 13-15 minutes, until the edges have begun to pull away from the sides and the tops are set. Cool on racks in the molds.
Make the filling while the cakes cool: Beat butter, vanilla, and cream together then slowly add in powdered sugar on low speed until combined. Beat on medium speed for 30-60 seconds until smooth. Put into a ziploc bag or piping bag and leave at room temperature.
Once the cakes are cool, unwrap from their molds. Use a chopstick to poke 3 holes down the center of each cake, lengthwise, being careful not to go all the way through the cake.
Cut a 1/4″ tip off the corner of the icing bag and squirt a little icing into each hole, slowly and gently.
Serve the cakes the same day or the next day.