This recipe is dedicated to all the single people, all the poor people, and also all the people that just really love hot dogs. It's actually a recipe from my new book: Learn To Cook! Well, actually actually, it's from one of the bonus guides that you get for free if you buy the book before Friday midnight: Cooking for Single People.
So the recipe as given below is for one person. As you can see in the video, I used a pyramid of hot dogs because I was cooking for more than one person on that particular day. (Hi Chris and Jessica!) Also, you know, a pyramid of hot dogs looks infinitely better on camera than a single, floppy dawg on a plate.
And you KNOW we ain't into floppy dawgs around here.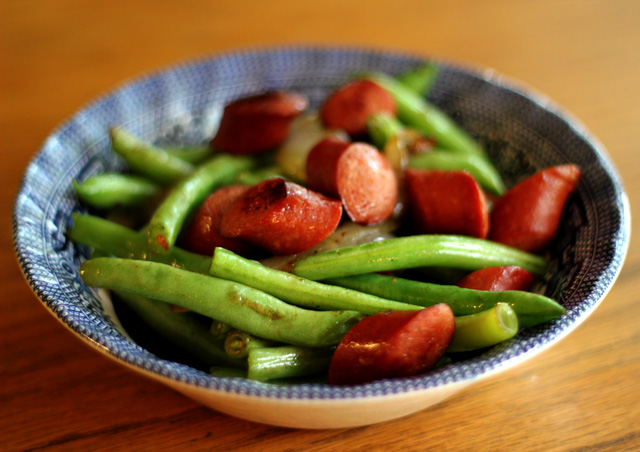 Print
Hot Dog Stir-Fry
A super quick meal for one!
1 teaspoon

oil

1

hotdog

2 cups

fresh vegetables (broccoli, green beans, carrots, whatever) – sliced

½ cup

sliced onion

½ cup

sliced bell pepper

1 teaspoon

minced garlic (

1

clove)

½ teaspoon

soy sauce
Instructions
Heat the oil in a skillet over high heat.
Slice the weenie up (Hey-ohh!).
Add it and all the vegetables to the skillet and stir it around fast for about 5 minutes until the weenies are kinda crispy and the vegetables are cooked.
Add the soy sauce last and toss around.
Add some red pepper, too. Eat it.
I guess you could have made some rice to go with this, but it's hot dog stir fry, people. Just eat it out of the skillet, right over the stove, while you're talking on the phone to your grammy, but don't tell her what you're eating. She might feel sad for you.