How To Cook Collard Greens
These are not your grandma's collard greens, folks. Well, maybe they are if your grandma is, like, real progressive and doesn't put bacon in EVERYTHING. But even if she is, she would probably still like these.
I forget when I started doing them like this. It's been a few years, and I really don't ever do greens any other way now. You can use any fresh greens you want: kale, mustard, turnip, chard, arugula, umm, spinach. I guess that's all the greens. Anyway, softer things like spinach and arugula won't need as long to cook and they will cook down a whole lot more than tougher greens.
So what I'm saying is that while you might get four servings out of a large bunch of collards, you'll need more like two bunches of spinach to serve four people. You'll see. But the method is the same for all of 'em and super simple and goes like this: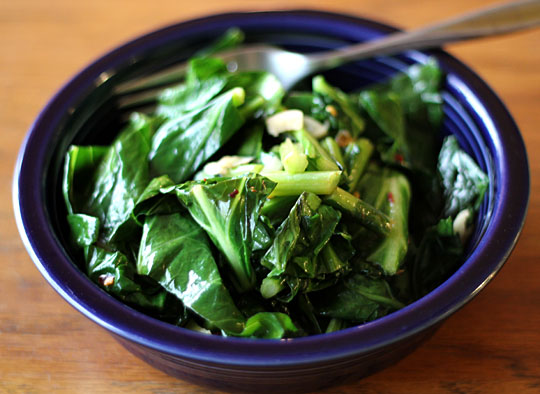 Print
How To Cook Collard Greens
A quick, healthy way to prepare collard greens
1

bunch of collard greens (

12

–

16

ounces)

1 tablespoon

olive oil

2 teaspoons

minced garlic

1/2 teaspoon

crushed red pepper

1/4 teaspoon

salt

1 tablespoon

red wine vinegar (or balsamic, or cider vinegar)
Instructions
Wash the greens well.
Remove the bottom inch or so of the stems. Holding the bunch together with one hand, slice the whole thing into about 1″ slices, perpendicular to the stem.
Heat the oil in a large skillet over medium-high heat and add the garlic; cook it for about 10-20 seconds until it just barely changes color to light blond (like me! But real.)
Add the greens, putting the stemmy pieces on the bottom and the leafier pieces on top. Sprinkle with the red pepper and salt.
After about 30 seconds, toss it around to move the top to the bottom and the bottom to the top and all mixed up good.
Continue tossing until the greens have wilted slightly and are bright green.
Remove from heat and add the vinegar. Serve hot or at room temperature, but honestly they're better hot. Powering off.