How To Make Bread – Amazing No-knead Bread Recipe!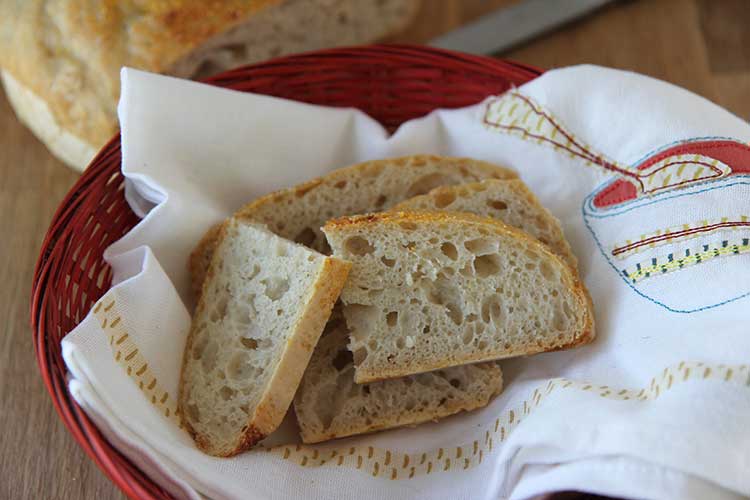 I am inherently lazy. I have always been that way. I love doing stuff, don't get me wrong, and I love doing stuff that turns out well and I then can take pride in my work and stuff. But, dangit, doing stuff is hard work! Stuff like making a kickin' loaf of homemade bread, for example.
I used to bust my stupid hump measuring exactly and kneading dough and sitting by the clock to make sure I didn't over-rise it, and then still end up with a mediocre loaf of bread that I would not want to share with Martha Stewart, even if she was still in jail and ready to shiv a bitch for some homemade bread. It was so disappointing.
Then I came across this recipe in the New York Times online. It was the answer to my mumbly, half-assed prayers. Perfect every time. Easy as hell. What more could I ask for? Oh, I know. A Martha Stewart brand shiv made from a pork chop bone.
How to Make Bread Video – No-knead Bread Recipe
No-Knead Bread Recipe
Print
No-Knead Bread
So simple, all you need is time!
3 cups

flour (all purpose or bread flour; white or whole wheat; a combination of any of the above)

1 1/2 teaspoons

salt

1/4 teaspoon

dry yeast

1 5/8 cups

water
Cornmeal
Instructions
Combine flour, yeast and salt in a large bowl. Add water and mix it up. It's really wet-looking. That's fine. Cover it with plastic wrap or a towel and set it aside for 12-18 hours. Go do something else and forget about it.
Come back 20 hours later (it's okay) and look at it. It's all wet and bubbly like the La Brea tar pits, right? Right. Punch it!
Dump it onto a lightly floured surface like a countertop.
Fold it over twice.
Put onto a plate sprinkled with cornmeal.
Cover it and let it rise two more hours. Go watch a movie. I suggest Throw Momma from the Train. It's only 88 minutes long.
When it's over, turn your oven on to 450 degrees Fahrenheit.
Put a heavy pot (that has an oven-proof lid) in the oven to heat up as well. I've used ceramic and cast iron with great results.
When your oven is preheated, take the pot out (use oven mitts!), dump in your dough, put the lid on it and stick it in the oven for 30 minutes. Go take a shower.
Take the lid off the bread and cook another 15 minutes (although I have left it in there for the better part of an hour and it's been fine but for a little more brown).
Pull that bread out and it should release easily from the pan onto a cutting board.
Let it rest 10-15 minutes for best slicing results, or just tear off a hunk like a rabid animal and stick it in your mouth. Psych! Just kidding! It's really hot!!!