How To Make Cornbread Stuffing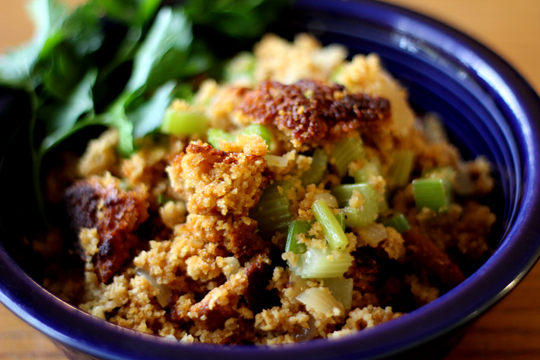 My grandmother is an old Texas belle and made this cornbread stuffing recipe every year at Thanksgiving. Cornbread stuffing is a must at any real Texas Thanksgiving! Of course, you'd never hear her call it stuffing since it was never actually stuffed into anything. Our family liked it baked separately so you could get the crunchy, buttery baked edges in every bite. When baked in a pan and not in a bird, it's called dressing.
So the correct title of this post should really be Cornbread Dressing, but it's too late to change it I suppose.
Don't tell Grandma.
How to Make Cornbread Stuffing Video
Cornbread Stuffing Recipe
Print
Cornbread Stuffing or Dressing
My grandmother's traditional cornbread dressing
6

c crumbled cornbread

8

stalk celery, diced (about

3 cups

)

1

onion, diced (about

1 cup

)

1

clove garlic, minced

1/2

stick butter (

4

T)

1

t black pepper

1

c chicken or vegetable broth
Optional ingredients: chopped pecans, diced red bell pepper, crumbled bacon, minced parsley, 1 t sage or thyme
Instructions
Saute the celery, onion and garlic in 2 tablespoons of the butter about 10 minutes until softened.
Combine with the cornbread crumbs, black pepper, and broth (and whatever extra things you want to add).
Put all into a greased 9×13″ casserole, melt the remaining butter and pour over the top.
Bake at 350F for 20 minutes.
Notes
This dressing is tender and crumbly and perfect for soaking up gravy. If you like a denser, more firm stuffing, add in two beaten eggs with the chicken broth and bake as directed.