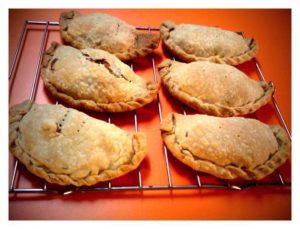 Another South By South West gone, another week-long hangover to power through. A little less doing this year, due to a whole bunch of other bullshit needing to be done instead, but still managed to hit the highlights: day drink in the sun, play a house show, see a couple of BAD ASS bands, fall off a sidewalk, fall out of a chair, kick a stranger, wander around, lose my cool, lose my memory, get dehydrated, and see some art – not necessarily in that order.
To assist me in my travels, I made some empanadas to take along in my backpack.
Backpack snacks…
To ward off the alcohol poisoning…
I shared them with somebody (two somebodies?) at a party but can't remember who that was. Anywayzzz…
How to Make Empanadas
Shortcut vegetarian empanada recipe
Ingredients
Premade pie crust
1 (10 oz) box o' frozen spinach, thawed and squeezed dry
1 small potato, cooked and diced (about 1/2 cup)
1/2 teaspoon salt
1/2 teaspoon cumin seeds
1/8 teaspoon ground cinnamon
As much cheese as you can cram in, probably 1/2 ounce to 1 ounce per empanada
Extra flour for rolling
Instructions
Mix the filling ingredients together: spinach, potatoes and spices.
Pull out your pie crust and unroll it on a lightly floured (and clean!) work space.
Roll it out a little to thin it and increase the size by about half. Should be about 1/8 inch thick.
Cut out 6″ circles by tracing a small plate or bowl – you should get 6 circles.
Put a couple tablespoons of your filling and a hunk of cheese on each circle, fold over, and seal with water and pinching (Watch the video to see how!!!)
Put on an ungreased cookie sheet and bake at 400 degrees Fahrenheit for 25-30 minutes.
Cool completely and put them in some tupperwares to take with you for later enjoyment in some drunken state in the future. You're welcome.
Here's a pumpkin empanada recipe with a homemade empanada crust if you've got a little more empanada confidence and/or time.