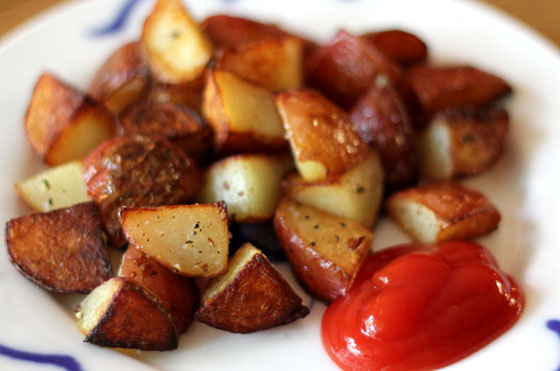 While typically thought of as breakfast food, home fries are also sometimes served as a side dish with supper. (Think about that the next time you forget to put the potatoes in with the roasty chicken. Oh SNAP! Then you'll be very glad you know how to make home fries, my friend.) I'd even go so far as to say that a pile of perfectly made home fries can be served AS supper, provided you throw a little cheese or crispy bacon and onions in there. Or top with a fried egg and Yumsies! Breakfast for dinner.
The thing about making good home fries is don't put too many in the pan. Use a pan that's big enough so you only have one layer of potatoes going on in there at a time so every potatoey piece is touching hot oil at some point in his little, fried life. The OTHER thing about perfect home fries is you have to cook them twice. Like the best french fries are twice-cooked, so be the best home fries. So says the Queen of Home Fries. (Bow down, ye CareBear Cousins, Cabbage Patch kids and kittycat dolls.)
The first go round is to make sure the insides are soft. The second time is to make the outsides real, real crispy. My preferred method for the first cooking is to boil whole potatoes, let them cool, then cut them up. This is almost NEVER practical, however, since how am I supposed to know that the next day I'm going to want some hot, crunchy home fries with my beer so I better cook some potatoes before I go to bed? I mean, come on — that just ain't happenin', my cooking brothers and sisters.
What usually and actually happens in the morning is this: microwave to the rescue! Cut up your potatoes into 1/4 inch or 1/2 inch cubes (however small or large you like your fries), put them on a plate with some water – just enough to cover the bottom of the plate, like 2 tablespoons – stick them in the microwave for a couple minutes. Stir. Microwave a few more minutes, until the potatoes are soft. Be Careful! That plate is hot as hell! Drain the water off and let them sit on the hot plate while your skillet heats up. The heat from the plate will dry them completely. Then you just cook them up in the oil like usual.
How to Make Home Fries Video
Home Fries Recipe
Print
Make Home Fries
Cooked, diced potatoes (about a cup per person)

2 teaspoons

of oil per cup of potatoes
salt and pepper
diced onions (optional)
Instructions
Heat a heavy skillet on high for one minute. Add your oil. It should immediately turn hyper-fluid and start moving and shimmering all over that skillet. Move the skillet around to get the oil everywhere.
Add your potatoes in one layer. Leave them alone for a minute. Shake the pan. They should be moving freely. Leave them alone again.
Shake the pan every minute or so to make sure they aren't sticking.
When they're good and brown, stir them around. Shake the pan some more.
They will probably take about 8 minutes total.
If you want onions, add them in after about five minutes. Just keep shaking, flipping, browning until they are toasty as a pair of kittycat mittens.
Salt and pepper those puppies and you got it made in the shade.
P.S. In Spain, these are called patatas bravas and are served with a special, spicy sauce as a tapa. Proving that potatoes and drinkin' are great company, the world over.