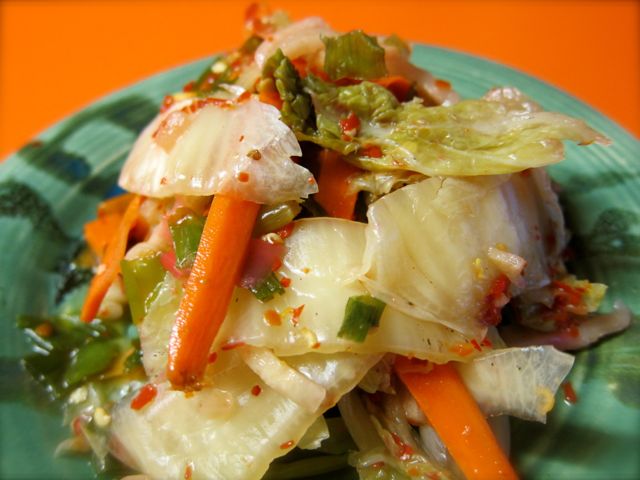 My maternal grandmother gets most of the credit for broadening my palate and introducing me to strange things that I probably would never have tasted otherwise, or at least not until I was much older. She fed my brother and me things like nori sheets toasted with parmesan, curried pumpkin seeds, spicy dried mango, Swiss cheese and crackers, liver and onions, tofu and kimchi. She took us to probably the only Asian market in Austin at the time in the early 80s and let us pick out exotic-looking fruits in cans with no English on them.
She also took me to Red Lobster once and I was VERY impressed by the live lobsters and I picked one out and we ate it and I loved it. Which seems super weird now but the point is, she encouraged adventurous eating and healthy cooking every day and instilled those values in me, too.
Thanks, Grandma. I love you.
For a time when I was very small, maybe four, she was married to a Korean-American man named Yong. It's weird to me that I was so tiny when they were together because I remember him well and I don't remember much else from when I was so tiny. But I remember him being tall and handsome and her being very sad when they separated. Ugh. I'm getting weepy.
Anyway, you are probably thinking that I'm telling you all this so that I can eventually divulge Yong's secret family recipe for kimchi. But I am not. Sorry. I don't know his secret family recipe, or even if they had one. Then what am I getting at? Good question.
The deal is, I love kimchi and kimchi makes me think of my grandma. So when I had a roommate from Seoul many years ago, I paid close attention whenever she made kimchi so that I could make it for myself and think about my grandma. As I said, this was many many years ago and surely my method has been altered a bit by time and distance. But there's more than one way to make kimchi and this white girl does it like this.
Kimchi
Special Equipment Note: You'll need a really big bowl for the salting process and a really big jar for the fermenting process. I use a giant pickle jar.
Print
How to Make Kimchi
Author:
Prep Time:

24 hours

Total Time:

24 hours

Yield:

8 cups

1

x
1

small head napa cabbage, about

1

pound

1

daikon radish

2

carrots

1

bunch green onions (or garlic chives if you can find them)
about

3 tablespoons

Kosher salt

4

–

6

cloves garlic, minced

2

" piece of ginger, minced
about

1/4 cup

red pepper flakes (you can buy the bright-red kimchi pepper flakes – gochugaru – in Asian markets, but I have found that ground-up Mexican chiles de arbol make a fine substitute)
Instructions
Cut the cabbage in half cross-wise to separate the leafiest tops from the bottom. Cut the base from the cabbage bottom and separate all the leaves. Rinse everything in cool water and set in a colander to drain.
Peel the daikon and carrots and cut into julienne pieces, about 1/4″ x 1/4″, 2-3″ long.
Cut the onions into 1″ lengths
Get your large bowl out and toss the carrots and daikon with about a tablespoon of salt, or enough to coat them well.
Cut the stem-ends of the cabbage leaves into 1″ wide slices. Toss them with about 1 tablespoon of salt, or enough to coat them well and put em on top of the carrots.
Toss the leafy tops and the green onions with another tablespoon or so of salt until coated and lay them on top.
Weigh everything down with a plate and leave it on the counter for 4-6 hours or until at least 1/2 cup water has released.
Stir up the vegetables.
Now get out your big jar and start layering things in it.
Put in a couple handfuls of the vegetable mixture, sprinkle over a tablespoon of red pepper (or less if you want it less spicy. I like it spicy!), sprinkle over some of the minced garlic and ginger.
Keep doing that and as you go, use a wooden spoon to pack it down. At first, it may be hard to get everything into the jar but you'll manage.
Once it's all in, put the lid on.
Leave it on the counter for 24 hours, giving it a shake whenever you walk by. After 24 hours it will have shrunken considerably and there will be almost enough liquid in the jar to cover the vegetables. Use your wooden spoon again to cram it all down into the liquid.
Now stick it in the fridge. It will keep for several months.
My roommate used to take some of the fresh kimchi (before it went into the refrigerator) and mix it with sesame oil and sesame seeds and that was delicious. I like to use a little of it chopped up in stirfry or just as a spicy accompaniment to a sandwich.
Some recipes call for adding fish sauce or anchovy paste. I've never done it that way, have you?