How To Make Pancakes (from Scratch!)
Before we get to the part about how to make pancakes, I want to talk about my favorite lumberjack and his love of pancakes. Of course, you can skippy-do on down if you care not of Paul Bunyan.
Paul Bunyan called them hotcakes. I think to this day, in his honor, lumberjacks throughout the land probably still call them hotcakes. Do y'all remember that book about Paul and Babe the Blue Ox? There's one really good part in it where the regular-sized (i.e. not giant) lumberjacks are making Paul some HUGE hotcakes and they are so big that the guys have to butter them by tying big chunks of butter to their feet and skating around on the hotcakes until the butter was melted all over? I thought that looked like so much FUN! Nevermind the fact that there's foot-butter all over your hotcakes, Paul.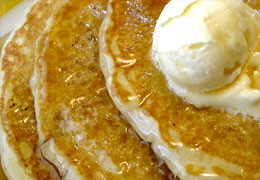 Basically, what I'm saying is that that was a really cool book and I recommend it. I also recommend that you learn how to make pancakes from scratch in case the Bisquick factory ever blows up, which, if Paul Bunyan came back to life as a demon giant lumberjack, would probably be the first place he and Babe would explode with their evil eyes. I'm pretty certain that Bisquick pancakes would NOT fly with Mr. Bunyan. Scratch pancakes for him only.
Print
How To Make Pancakes (from Scratch!)
1 cup

flour (white or whole wheat)

1 teaspoon

baking powder

1/2 teaspoon

baking soda

1 cup

milk, soy milk, some other milkish product

1 teaspoon

apple cider or white vinegar

2 tablespoons

butter, melted

1

egg
Instructions
Whisk the dry ingredients together.
Separately, whisk the wet ingredients together. (If you have real buttermilk, use that instead of the milk + vinegar.)
Add the wet ingredients to the dry ingredients and mix that up well.
Heat a skillet over medium-high heat and oil it with a teaspoon of oil or some spray oil or what-have-you. Wait until it's good and hot then, using a 1/4 c measure, pour some pancake batter on it.
Now wait. Wait until they are covered in cratery-looking holes and the peripheries are looking dried out.
Now flip. Deftly. Let them cook another 2 minutes or so until the other side is nice and brown.
Serve those while you cook the rest, re-oiling the skillet between batches. This will make 8-10 pancakes, enough for 3-4 people, or one Paul Bunyan.