While technically, this is "how to make pasta salad", pasta salad is the perfect thing to try "winging it" on in the kitchen.
Like almost all salads, you can throw anything in there and it'll be good. This is YOUR MOMENT. YOUR CHANCE to experiment. Be like Dr. Frankenstein but without all the lightning and stitches and stuff. Hell, maybe you'll create a masterpiece of pasta salad and the family will sing your praises on high as they scarf it down, face in a wilted paper plate, shoveling it in with a spork, chugging from a plastic pitcher of Country Time lemonade. Wait. Spork? Not for my opus! Best to scoop this pasta salad from an abalone shell, delicately, with a gilded fork and follow that with a rain-water spritzer.
Just kidding. Ain't no snobbery in pasta salad. It's food for everybody.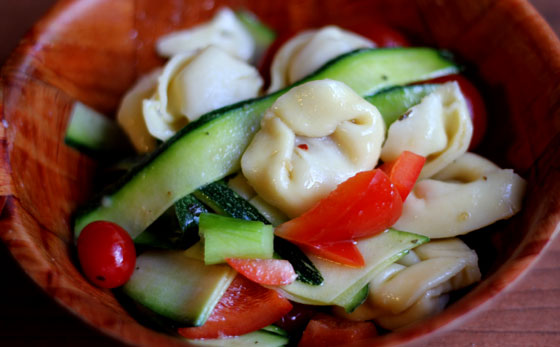 So consider this pasta salad recipe just a starting point. Like a diving board into a sea of possiblities. Sorry, I should say "pastabilities". Ooh. Sorry again.
Print
Pasta Salad
Basic vinaigrette pasta salad
Salad:

9 ounces

dried, smallish pasta (tortellini, bow-tie, rotini, whatever you have) – cooked according to package and rinsed lightly with cool water

1 cup

cherry tomatoes

1 cup

diced red bell pepper (about

half a

large pepper)

1

small zucchini, shredded

4

–

8

green onions, roasted if possible, sliced into

1/4

inch pieces
Optional ingredients: canned chick peas, spinach or arugula, grated parmesan, artichoke hearts, olives
Dressing:

1 ounce

red wine vinegar

2 ounces

olive oil (or whatever you have)

2 teaspoons

dijon mustard

1/2 teaspoon

salt and pepper, each

1/2 teaspoon

dried basil

1/4 teaspoon

dried oregano and crushed red pepper, each
Instructions
Put dressing ingredients in a jar and shake well.
Set aside while you prepare the other ingredients.
Combine the salad with the dressing and mix gently. Refrigerate for 1-2 hours for best taste.
You might also like this potato salad recipe!