How To Make Potato Latkes
I just went to New York City and while I was there, visited the Natural History Museum for about two hours. It was long enough to see most of the second floor displays. That place is humongous.
One part I really liked was the religious section. It has displays about Christianity and Judaism and Islam with scale models of temples and placards that summarized the history and the gist of each religion. It probably had some other religions in that section, too, but those stood out as "I should read this placard" since, you know, there's all the political bullshit raging on. And I know that one of my biggest knowledge gaps is my understanding of various religions. I was raised Episcopalian and I still don't even really know shit about that one, besides the basic tenets of, like, Jesus died for my sins and there's gonna be snacks after.
But, the important part is, I never realized that those three are so similar. I mean, they all believe in God and they all believe in prophets, so… really the big difference is whose prophet came last? Or whose prophet was the REAL prophet? Is that it? Man, people can be so nitpicky.
Anyway, I was thinking about that after we shot this episode because I think most people probably think of latkes as Jewish food, and I felt like some people might think it was weird that a non-Jew would make some Jewish food on her internet cooking show and not even have Woody Allen come on as a guest star, but I think it's not so weird when you think about the fact that we are all humans and humans of all countries and religions like potato pancakes for breakfast.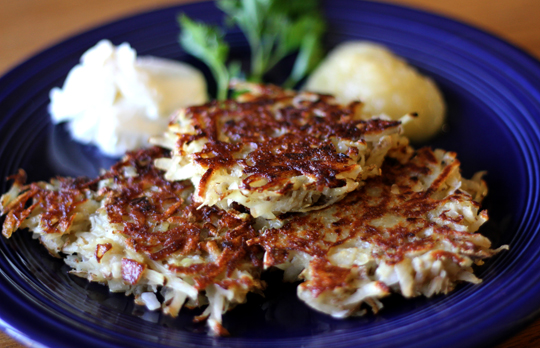 Potato latkes
Print
How To Make Potato Latkes
1

lb potatoes (starchy Russets are my preference)

1

egg

1/2

c finely chopped onion

1

clove garlic, minced

1/2

t salt

1/4

–

1/2

c olive oil
Serve with: sour cream, applesauce
Instructions
Grate most of the potatoes on the large holes of a grater. Grate about 1/4 cup of potato on the fine side.
Put all the potatoes on a clean towel and squeeze to dry them.
Mix with the egg, onion, garlic, salt.
Heat 1/4 cup of oil in a skillet over high heat.
When it is very hot, drop the potato mixture by large spoonfuls onto the skillet (about 1/4 c each) and spread out to make a 4″ patty.
Fry for 2-3 minutes until very brown.
Flip carefully and cook an additional 3 minutes.
Show someone you love them by letting them eat those while they are hot because that's when they are the best.
Add more oil to the skillet if necessary and fry the rest of the mixture for yourself.
Makes 6-8 latkes (or potato pancakes or draniki or reibekuchen or rosti).