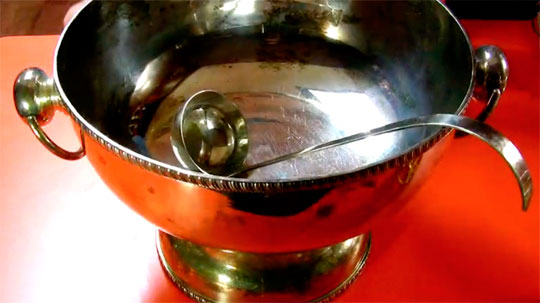 Can you guess the way to my heart?
No, it is not flowers.
Or the talking oven mitt from that Arby's commercial.
It is not even a pair of over-sized novelty sunglasses.
Nope. As much as I like those things, the real and true way to my heart is punch. You know why? Because punch is fun and communal and has alcohol in it. I like fun and community and alcohol. I like them so much, I would probably even go to church once in a while if it had a bar and a ping-pong table.

But the problem with punch is that it has always intimidated me. I've never been overjoyed with any that I've invented myself. Contrary to how you perceive me, dear friends, I do not excel at everything. (That was a joke. I'm pretty sure you know that.) At any rate, I've found Punch difficult in the past. Punch wears all black and never makes eye contact with me. Punch smokes in the bathroom and writes backwards and falls asleep in class. I love Punch, but I don't "get" Punch.
The Tipsy Texan gets Punch. So guess how excited I was when David offered to come show me how to make punch! I will tell you: I was VERY excited. Not only would you and I both get a lesson in punch-making, I would also have the chance to hobnob with one of the greatest cocktail minds of our time — or if not hobnob with, at least hiccup at.
Here is the special birthday punch he created for HilahCooking's first birthday. I would have taken a picture but I was too busy drinking. These measurements made enough for our small party, but double it if you have more friends than I do.
Print
How To Make Punch
8 ounces

rum

4 ounces

cognac

3 ounces

applejack

1 ounce

pear liqueur

3/4 cup

sugar

7

lemons

1.5

–

2

pints water (we used 1.5)
Ice block
Instructions
How To Make It:
Zest the lemons into a bowl with the sugar. Zest means no white part! Only yellow part! Use a vegetable peeler for quick work. Muddle (or "mash") the zest around with the sugar until the sugar looks damp and the peels are all covered in sugar. The point is to get the essential oil out of the lemons (and into your liver, eventually). This is called oleo saccharum, or sweet oil; set it aside for 30 minutes.
Juice the lemons and measure about 5 ounces of juice. Strain that into the oleo saccharum and stir it wildly and with abandon. Just kidding. I mean, stir it thoroughly and have some self-control. Once that is dissolved, strain out the lemon peels.
Add all your boozes. Like David said, if you have no pear liqueur, use apple; if you have no rum, use whiskey; if you have no friends, more punch for you. Mix it all around again. Add the water. Taste it and see if you want to add more lemon or sugar. Plop in the ice block and stir it around to chill it. Cheers!
To make an Ice Block
Easy way: get an empty paper milk or juice carton and rinse it out. Fill it with water and freeze it. It will probably take 8 hours to plan ahead. Then just peel or cut the paper off once it's frozen to reveal a giant rectangular ice block.
Fancy way: get a jello mold or a bundt pan or similar fancy-looking cake pan. Fill it 1/2 or 1/3 of the way with water and freeze that. Put some lemon slices on the surface, add another inch of water and freeze again. Fill it up the rest of the way and freeze again. This takes a little more attention than the easy way but not really any more time. To get it out, run the outside of the pan under warm water and then just bop it out.