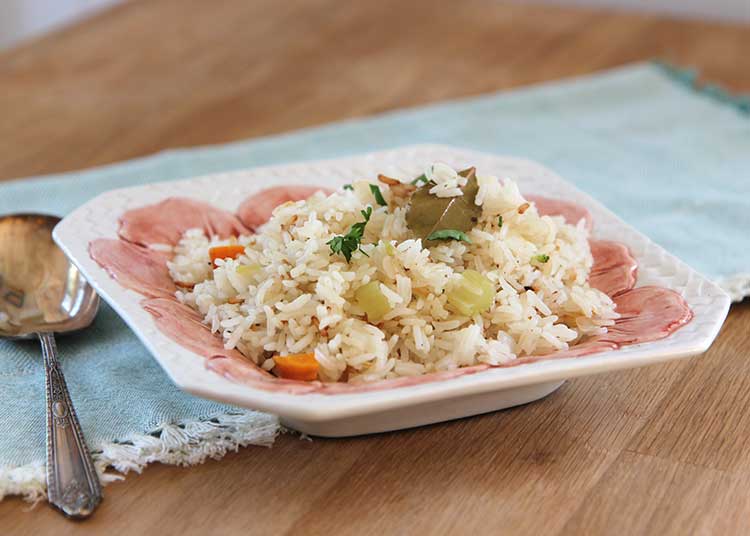 I basically lived off of rice pilaf when I was in college. It's cheap and filling and pretty nutritious and you can add almost anything you have lying around. "Rice with some shit in it". That's what I called it to my boyfriends. That's probably why I never got stuck cooking for any of them. Hey-Oh!
But seriously, humans have been making pilafs since, like, way before Jesus and all that jazz. Alexander the Great ate pilaf! It is OLD SKOOL. Lots of places and peoples have their own version but what they all have in common is the toasting of the dry grain in oil before adding liquid and cooking it. This here is a very basic rice pilaf recipe that you can mix up however you like. Bulgur pilaf can be made the same way or you can do a half and half mixture of rice and bulgur. That is real good. You can also substitute tomato sauce or broth of any sort for part of the water. Do whatever you want. It's always good. That's part of the Magic of Pilaf. Try it and get whisked away on a make-believe flying carpet of deliciousness and ease.

How to Make Rice Pilaf Video
Rice Pilaf Recipe
Print
How To Make Rice Pilaf
Simple rice pilaf to be adjusted to your tastes!
Author:
Prep Time:

5 mins

Cook Time:

15 mins

Total Time:

20 minutes

Yield:

4

1

x
1 teaspoon

each butter and oil, or

2 teaspoons

oil

1/4 cup

chopped onion

1/4 cup

chopped celery

1/4

–

1/2

cup chopped other vegetables (carrots, peppers, potatoes)

1

clove garlic, chopped

1 cup

long grain rice or bulgur

1

bay leaf

1/2 teaspoon

salt and pepper
Optional herbs: a teaspoon of dried dill, oregano, fenugreek, thyme, mint, tarragon, or basil (or just go crazy. Experiment.)

1 7/8 cup

water (the more vegetables you add, the less water you need since the liquid in the vegetables counts, too. For every

1/4 cup

of vegetables you add, take out a tablespoon or so of water)
Optional: about 2 tablespoons nuts (pistachios, almonds, walnuts, you know what kind of nuts you like)
Instructions
Melt the butter and oil and saute your vegetables and garlic for a couple of minutes to soften them.
Add the rice and stir it around quickly to coat every grain. Let it toast up, stirring occasionally, for a couple more minutes until some of the grains are browned and all are glossy and opaque.
Add your herbs and seasonings. Stir it up.
Add the water. Stir it again. Bring it to a boil.
Turn down to low and put a lid on that sucker.
Let it cook over low for 15 – 20 minutes until the liquid is absorbed.
Turn off the heat and set it aside for 5 minutes. This is important. If you stir it right away you will break up the grains and the rice will get mushed and not be so fluffy.
After it has rested, add your nuts and toss gently to incorporate. Serve.