Huevos Rancheros Especial
Huevos Rancheros Especial – scroll down for printable recipe
The inspiration for this recipe came from a new novel, "The Fever", written by long-time HilahCooking community member, Thomas Fenske. In the book, Huevos Rancheros Especial are the house specialty at a small cafe and are a kind of mix-up of traditional West Texas stacked enchiladas and huevos rancheros, the classic Mexican breakfast.
Something about the description reminded me of the enchiladas I used to get at Rosie's Tamale House in Austin, affectionately referred to as "old white lady enchiladas" — a thin, tomato-based sauce with a few chunks of soft onion and peppers. Once I got that sauce I wanted, it was all about layering. Traditional Huevos rancheros are usually served with refried beans, so for this recipe I slathered some beans between the layers of fried tortillas, along with lots of cheese and a spoonful of the sauce. Layer, layer, layer, bake. Just a few minutes to get the cheese melty. Then top with a fried egg and some raw onion slices. And some avocado if you have it. Breakfast perfection.
(Support indie authors! "The Fever" is available here in multiple ebook formats! And the sequel is out now, too!)
Subscribe to my YouTube channel to get notified of new videos.
huevos rancheros especial recipe – printable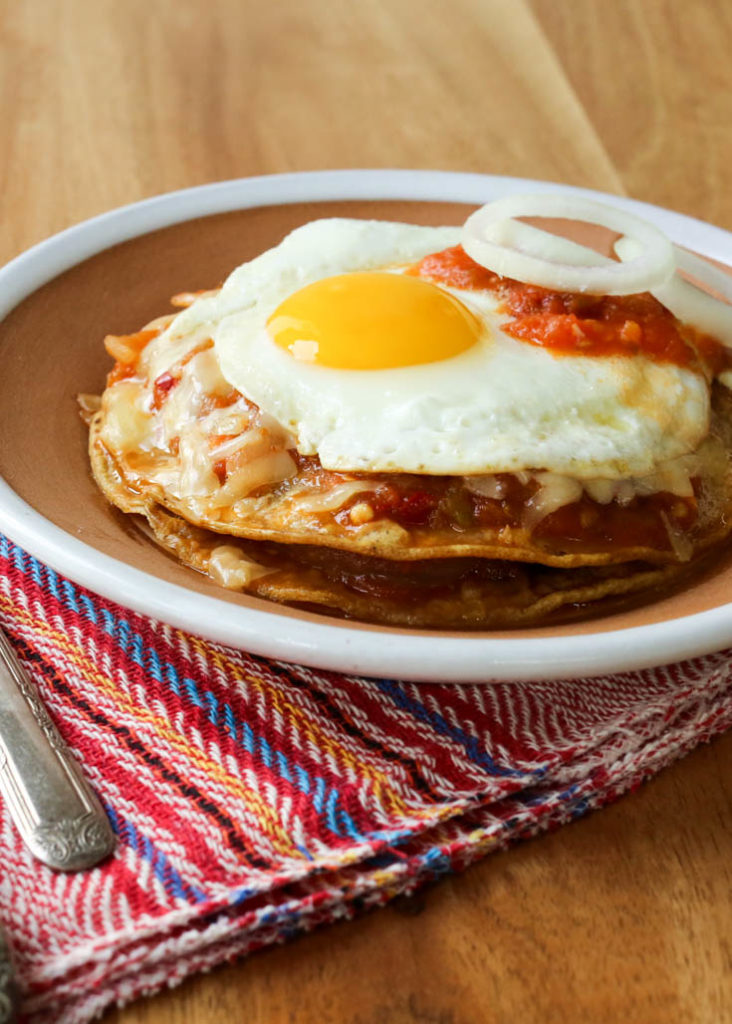 Print
Huevos Rancheros Especial
Author:
Cook Time:

20 mins

Total Time:

20 minutes

Yield:

4

1

x
Red salsa:

5

Roma tomatoes

1

jalapeño

1

medium onion

1 tablespoon

vinegar

1

clove garlic, minced

1 teaspoon

salt

1 teaspoon

oil
Huevos Rancheros:

1 tablespoon

oil

12

corn tortillas

1 1/2

–

2

cups refried beans

2 cups

grated Cheddar or Jack cheese

4

eggs
diced onion
sliced avocado
Instructions
Turn on the broiler.
Make the salsa: Remove the stems from and halve the tomatoes and jalapeno and place on broiler tray, skin side up. Broil for 2-5 minutes until the skins are blackened and pulling away. Remove and let cool until you can handle them. Peel the tomatoes. Puree them with jalapeño, vinegar, salt and garlic.
Cut half of the onion into thin strips. Cut the other half of the onion into dice. Saute strips in the oil until soft and browned (reserve the diced onion for garnish).
Add tomato puree to skillet with onions, be careful it will splatter. Simmer 5 minutes.
Set oven to as low as it goes (200ºF) and get four oven-proof plates ready.
Heat some of the oil on a griddle over medium-high heat and fry the tortillas until slightly crispy but still flexible.
Layer on four plates: tortilla, beans, sauce, cheese, tortilla, beans, sauce, cheese, tortilla, sauce, cheese.
Place plates in the oven to stay warm while you fry eggs.
Top each stack with an egg and serve with avocado and diced onion.