Roasted kabocha pumpkin salad. Look at this gorgeous thing! If you're unfamiliar with kabocha squash, you may know it by the name Japanese pumpkin. Or maybe you've really never seen one.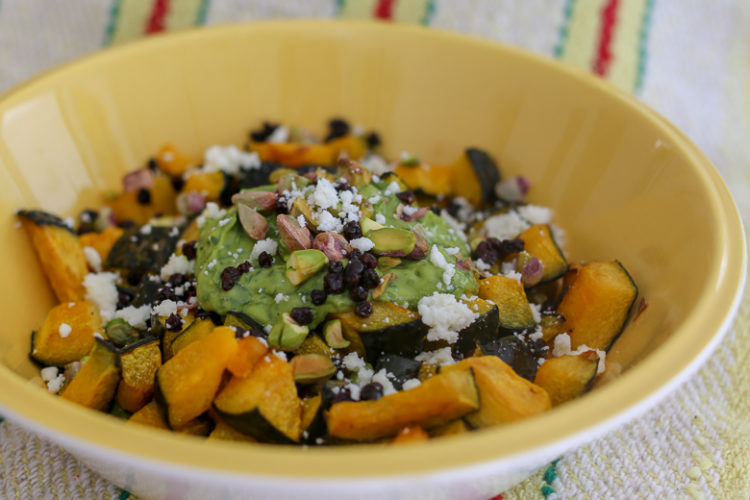 I hadn't seen one until a couple of years ago. I feel like they just recently have hit the US markets en masse. But the thing that makes them unique is that kabocha squash is a winter squash with an edible skin.
You don't have to peel it!
Of course, you can peel it, if you want to. But it's tender enough to chew and, as with all vegetables, there's lots more fiber and stuff in there if you leave the skin on. Plus, the skin of the kabocha is deep green and that contrasts beautifully with the orange flesh.
I mean, honestly!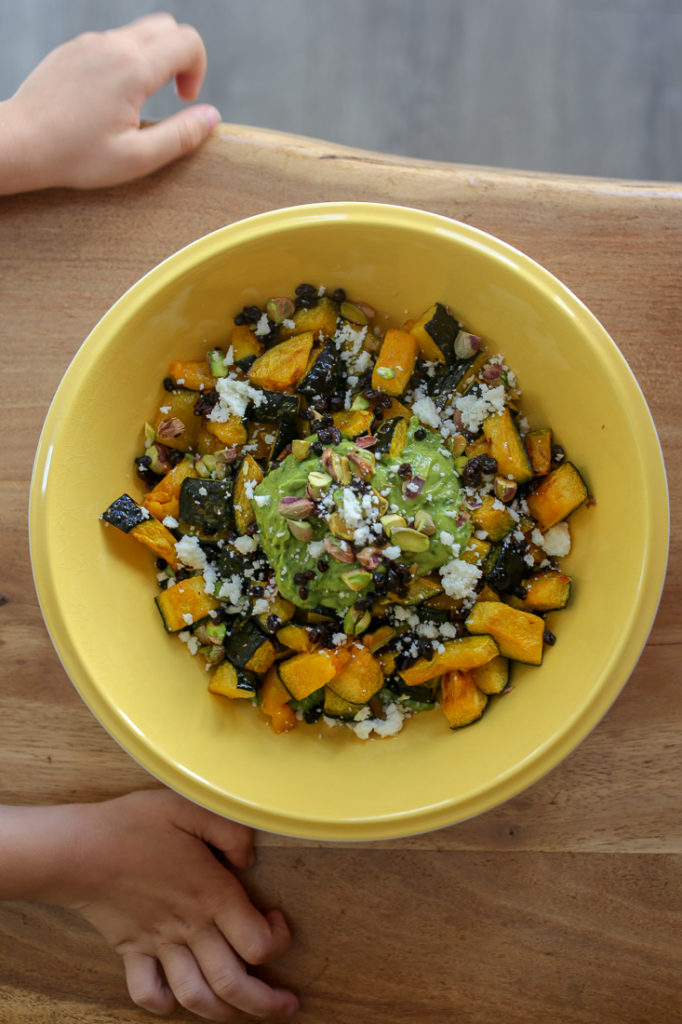 It's very pretty, isn't it? I found this recipe on the NYT site but tbh it kind of intimidated me with all the dry spices (I do not stock sumac or ground fennel) so I used it as a starting point and ended up here: roasted kabocha squash, herby avocado sauce, currants, nuts and cotija cheese.
If you can't find kabocha, use a medium butternut squash (peeled, please) or three Delicata squashes (those you can leave the peel on, too).
Print
Kabocha Pumpkin Salad
1 kabocha squash (about 2 pounds)
1 tablespoon olive oil
salt
2 tablespoons white wine vinegar
2 tablespoons dried currants or cherries
Dressing:
1 small avocado
1/4 cup parsley
1/4 cup cilantro
1 small clove garlic
2 tablespoons lime juice
2 tablespoons water, as needed
1/4 cup cotija cheese
1/4 cup toasted pepitas or shelled pistachios
Instructions
Set oven to 450ºF. Dice kabocha (leave the skin on) removing seeds and stem. Toss with olive oil and about 1/2 teaspoon salt. Roast on a baking sheet for about 20 minutes until tender.
Meanwhile, soak the currants in the white wine vinegar.
In a small food processor or blender, combine avocado, herbs, garlic, lime juice, about 1/2 teaspoon of salt, and water as needed to make a smooth dressing. Taste for salt, add more if needed.
Toss warm squash with dressing. Top with drained currants, cotija cheese and nuts. Serve warm or at room temperature.
Nutrition
Serving Size:

1 1/2 cups

Calories:

235

Fat:

17

Carbohydrates:

20

Fiber:

5

Protein:

5