Weige Custom Knife shop – How Knives are made
We visited Travis Weige of Weige Knives in Austin to learn how he creates custom chef knives, Santoku, petty, paring, boning, utility and hunting knives in his home shop.
Each knife is made by hand, from shaping the blade to smoothing the handle. Customers can choose the type of steel they'd like; the shape and weight of the knife; the handle material (wood, stone, bone); even choosing from a collection of handmade decorative pins that hold the handle.
For an especially custom knife, Travis will take a clay mold of your grip and form the handle of your knife just for you. And you don't have to live in Austin to have a knife made. Measurements or clay molds can be sent by mail for out-of-towners. A small selection of Weige hand-made chef knives are available at Metier Cook Supply in south Austin. Travis can also restore your antique knives, replace handles and sharpen your knives.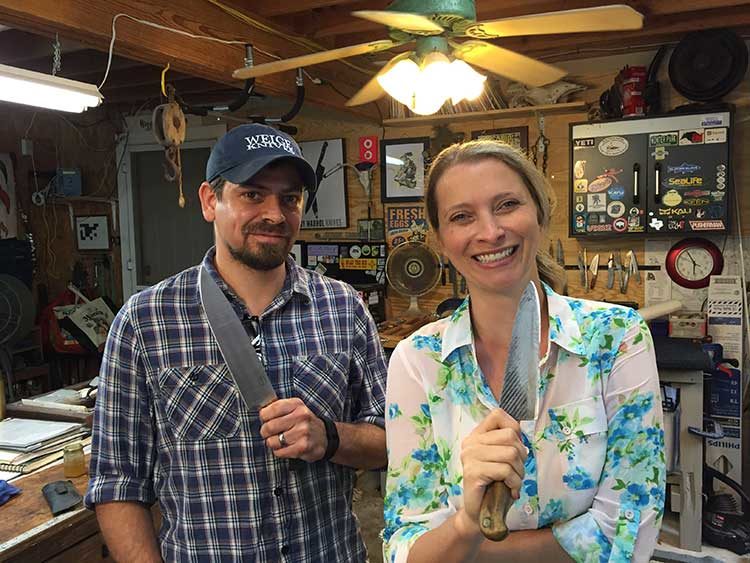 How to Sharpen a Knife
In the second half of the video, we learn how to sharpen a knife. Here are Travis's tips for knife sharpening:
Use a wetstone or an oilstone. For a knife of average dullness, 1000 grit is a good starting point. If your knife is very dull, start with a coarser stone (200-300 grit) and move up from there. (I've linked the stones suggested by Travis at the bottom of this post)
Hold the blade at about a 15º angle. When the blade is pressed against the stone, you should be able to slip a matchbook in the space between the spine of the knife and the stone.
Starting at the tip of the knife, slowly push the blade away from you, gliding the edge along the stone from tip to heel releasing the pressure as you go. Maintain the 15º angle the entire way.
Keep the turns even. Try 5 swipes on one side, 5 on the other; then 4, then 3, 2, 1. This prevents the blade from being sharpened unevenly.
Rinse or wipe the stone occasionally during sharpening to remove steel build-up.
Use a honing steel once a week or so to keep your sharp knives sharp.
Once a year have your knives professionally sharpened with a belt grinder. Contact Weige knives for sharpening service in Austin or check your nearest flea or farmers' market. Most have a knife sharpener on site.
Recommended Sharpening Stones (Affiliate links)