Learn to Cook Book, Print Edition!
OhBoy OhBoy OhBoy OhBoy!!!
It's finally here: My Learn to Cook book, PRINT EDITION! I really wasn't expecting to be so goldang excited, seeing the first proof arrive at my doorstep, but wow! It's really exhilarating, knowing that every word, explanation, definition, every dumb joke, every embarrassing and inappropriate anecdote that went into the book is alive now: tangible, highlight-able, dog-ear-able, and even flammable, if you decide you really hate it.
Obviously, by "exhilarating" I also mean "scary as shit" but given how may revisions we went through and how many cruelly capable eagle-eyes we had proofreading, there should be very little chance of any typos or other things that could destroy my credibility, casting me invalid. (Just kidding, what is this, Gattaca?)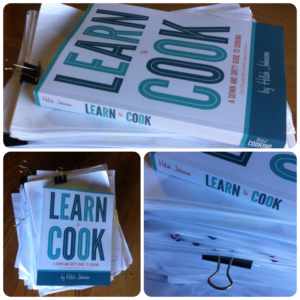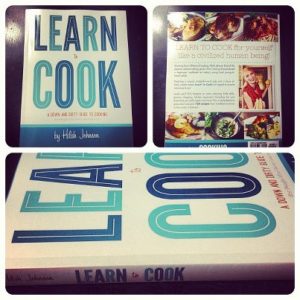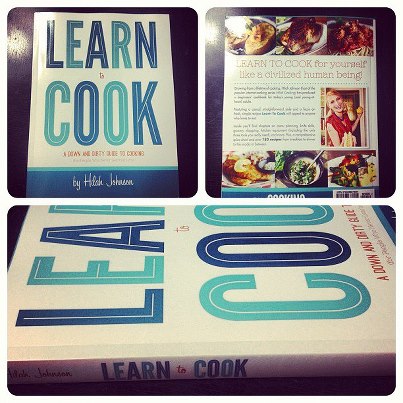 In this new, revised edition you'll find about 20 more pages of information, covering new topics like cooking oils (types, classifications, best practices) and butter; Sauces: Their Spirit and Their Use; Kitchen Safety and Hygiene; more conversion charts than ever before; and a few new recipes. We've also added cartoon illustrations by the man, the master, the magician: FreekZone! While some of them are educational, most of them are there for the LOLs to ensure your never-ending amusement and subsequent never-ending learning. LOLs make learning FUN!
Chris spent many painful hours formatting and designing the book himself (more on that here) in InDesign, using the mad skills retained from his years making his own 'zines. Oh, 'Zine-Chris, how I wish I'd known ye. But he proved he still has the chops and the attention to detail and the perfectionist in him to do a damn fine job. I'm really proud of him and the book which turned out so beautifully.
Finally, I meant to post a behind-the-scenes blog about the ebook when we released it last year, but the partially-finished draft has been sitting in the queue gathering e-dust since June 2011. In honor of this print edition, here are the pictures you never saw from the really wonderful, unforgettable day we spent photographing food (and me) for the book. Most of the food pictures didn't make it in to the print version because I think b&w food pictures aren't very fun, but we did slip a few onto the back cover of the book.
There are no behind the scenes pictures of me revising the book or of Chris designing it because we were very feral-looking at those points and not very photogenic at all.
Huge, giant THANK YOU to the following super-talented people:
Editor Diane Morrison for giving my book the third degree without making me cry, not even once.
Illustrator Craig Matthew Staggs (Aphid Animation) for adding needed shots of silliness with his food-toons.
Photographer Nadia Caffesse (FullTilt Photography) for her amazing work capturing my image without stealing my soul.
Stylist Laurel Kinney (Trophy Boutique) for dressing me up with style and spunk, letting us shoot in her house, and fixing my belt with a clothespin.
Makeup Artist Jenny Linn for making me glow without making me look sweaty as hell.
And eternal love and gratitude to the lovable, generous, kind, creative, inimitable James Devery, hair stylist extraordinaire. James was our friend and cohort and sadly passed out of our world earlier this year. I know he's bouncing around with glee right now. We love you, James.