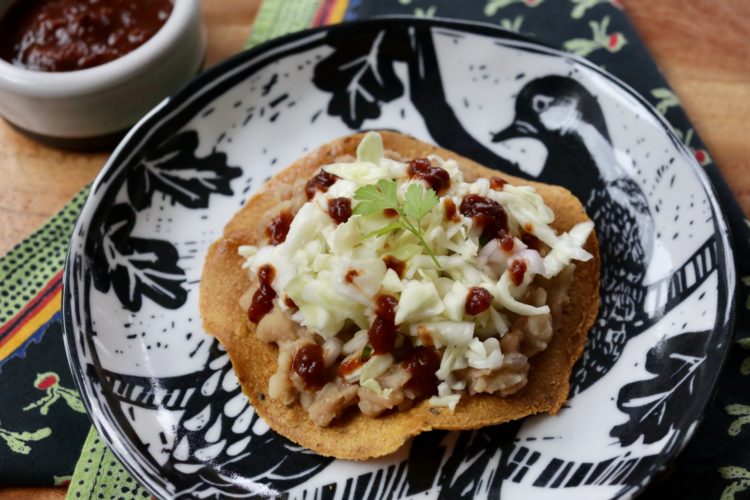 I made tostadas the other day and felt super-duper accomplished. They're easy, though. Very simple, really. Just goes to show you what "accomplished" has come to mean around our house, because it damn sure don't mean getting any kind of work done.
But, feeding yourself and your family is work so I pat myself on the back.
To make these very crispy, very good tostada shells (feels weird calling them "shells" when they are clearly flat and in no way shaped like a shell but who am I to rewrite history by calling them tostada disks? But then, I am I, and actually, I like that name). So anyway, to make the tostada disks, you just need a few sturdy corn tortillas. The flimsy, soft ones don't work quite as well. You want a tortilla with some heft. And you need a little oil.
Brush each side of the tortillas with some oil (olive, canola, it's unimportant) then lay them in a single layer on a baking sheet and pop those suckers in the oven at 425øF for about 10 minutes. Flip them (use tongs! They're hot!) and do another 5 minutes or so. Remove and let them sit not he baking sheet until you need them. They get crisper as they cool.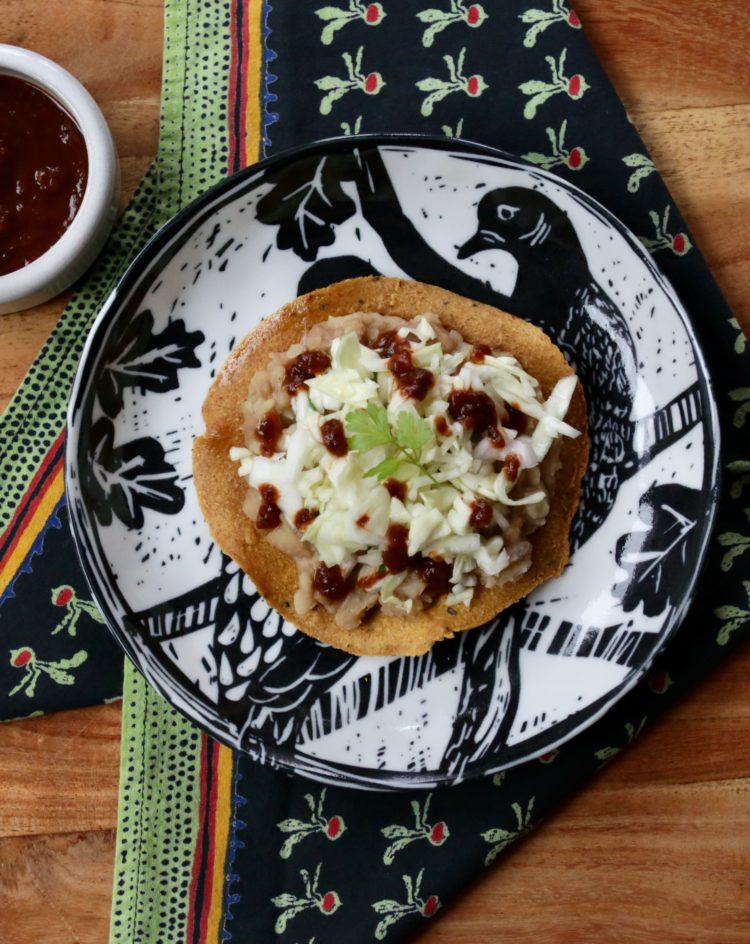 Open a can of refried beans or just mash up some regular beans with a bean masher or wiz them around in a food processor. Pinto, black, kidney, cannellini, any kind really. Sizzle them around in a little pan with some butter or bacon fat, garlic, cumin, onion, whatever your heart and tummy compel you towards.
Quick chop some cabbage (the ultimate quarantine vegetable) and cilantro if you have it. Add some lime or lemon or vinegar — use what you have on hand and just believe in yourself. Salt, oregano, a glug of oil, a splash of tequila (not sure about that last one but if your heart or tummy compels it, then you must). Toss it around and let it sit until it gives up its will.
Then you just smear your mashed beans around on a tostada disk and top with that cabbage. Do you have cheese? Put that on the beans first, then. Do you have sour cream or plain yogurt? Blob it on top of the cabbage. Salsa? Add that, too. Ketchup? Maybe not but it's none of my business.
Once your easy homemade tostadas are ready, don't forget to take a picture and text it to your friends to show them you are still alive.
Print
Easy Oven Tostadas
4 thick corn tortillas
1 tablespoon olive oil
1 1/2 cups refried beans or any bean, really (15 oz can)
1 teaspoon butter or bacon fat
1/4 cup diced onion
1 clove garlic, minced
1/2 teaspoon ground cumin
2 cups finely chopped cabbage
1 tablespoon lime or lemon juice
salt
handful cilantro if you have it
Instructions
Set oven to 425ºF. Brush both sides of the tortillas with oil and play them on a baking sheet. Bake 5 minutes.
Meanwhile, open your refried beans or drain and mash some regular beans. Heat the butter in a skillet over medium-high heat and sauté the onion and garlic until softened and fragrant. Add the beans, salt, cumin, any other spices you like and stir it up. Add a little water if it seems dry. Reduce heat to very low and let it sit there.
Flip tostadas over and bake another 5 minutes. Or less.
Chop up the cabbage and rub it with salt and lime juice. This is great self-torture if your hands are raw and chapped from washing them 15 times a day so just lean into it and tell yourself it's karma for all the sneaking out you did as a teenager.
Add your cilantro, some more raw onion if you have it. Mix it around real good and let it sit at room temperature to soften.
When the tostadas are done, spread each with about 1/4 of beans (add cheese now if you have it) then a scoop of slaw and some sour cream or yogurt or salsa or all three and see how fast you can pound these into oblivion with your chomping teeth.
Nutrition
Serving Size:

2 tostadas

Calories:

387

Fat:

13

Carbohydrates:

57

Protein:

14