One of the best ideas ever: Mashed potato waffles made with leftover mashed potatoes! They get incredibly crispy on the outside, while being soft and creamy inside from the potatoes, cheese and sour cream. Add bacon bits or chives to the batter if you like, or just sprinkle them on top.
These waffles are so impossibly perfect, it's even worth it to make a small batch of fresh mashed potatoes just to make these waffles. And, they are egg-free in case you have an allergy or just don't have any eggs.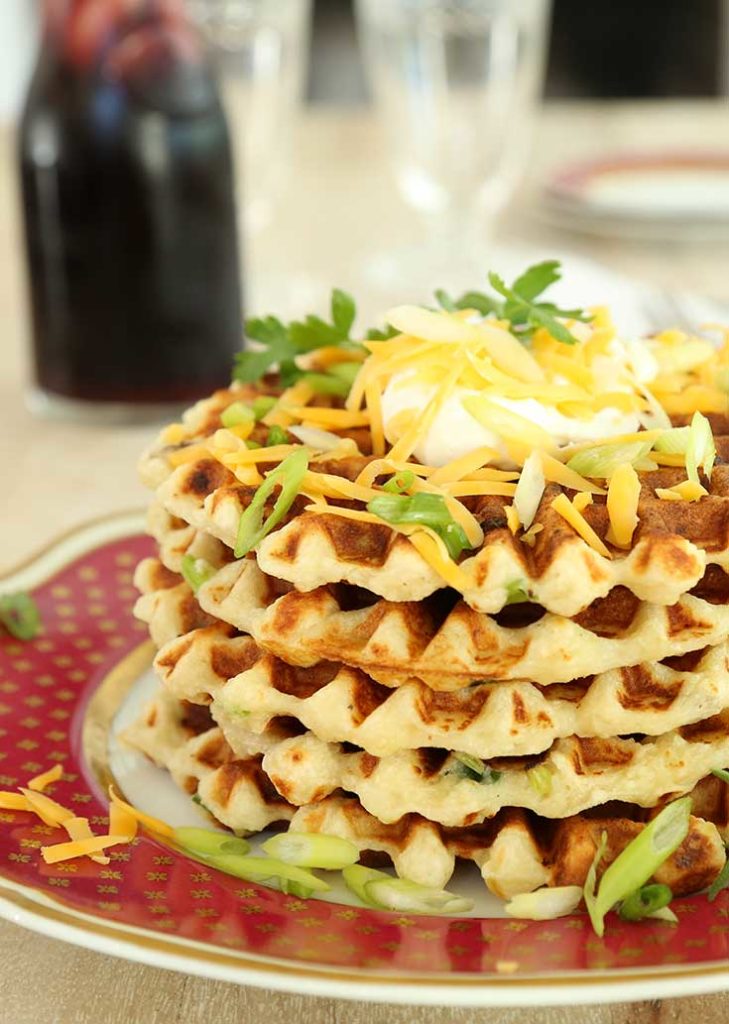 This recipe makes about 4 waffles, which might serve 4 people, but they are so good most people will eat two waffles. Or three. Or four. Double the recipe if you have enough mashed potatoes. Leftover waffles can be refrigerated or frozen after cooking/cooling; reheat them in the toaster.
You might also like my savory ham and cheese waffles.
Mashed Potato Waffles Video (scroll down for recipe)
Mashed Potato waffles recipe
Print
Mashed Potato Waffles
4 tablespoons

(

1/4 cup

) melted butter

1 cup

mashed potatoes (a little more or less is okay)

1/4 cup

grated cheese

3/4 cup

milk

1/4 cup

sour cream (or plain yogurt)

3/4 cup

all-purpose flour

1 1/2 teaspoons

baking powder

1/4 teaspoon

salt

1/4 teaspoon

black pepper

1 teaspoon

fresh minced herbs (thyme, rosemary, dill, parsley)
Optional toppings: more sour cream, butter, bacon bits, broccoli in cheese sauce
Instructions
Whisk the melted butter, potatoes, cheese, milk and sour cream together until combined.
Add flour, baking powder, and spices and mix quickly. Batter will be quite thick, like cake batter. Add a little more milk or flour to adjust the consistency if you need to.
Spoon about 1/2 cup scoops onto a hot waffle iron and spread the batter out a little. Close and cook until the waffle stops steaming and opens easily.
Serve as-is or with more butter.
For a more elaborate dinner, serve hot potato waffles with a baked potato-bar type set-up (bowls of sour cream, chopped chives, bacon bits, broccoli, cheese sauce) for people to dress their waffles.
Nutrition
Serving Size:

1 waffle

Calories:

322

Fat:

18

Carbohydrates:

31

Protein:

7
This is the waffle iron I use and LOVE (affiliate link)