How To Make Mexican Wedding Cookies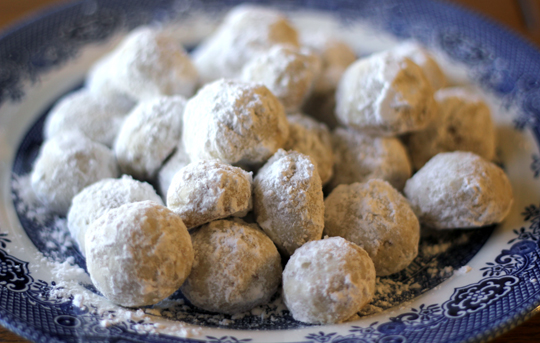 The Cookies of a Thousand Names: Snowballs, Russian Tea Cakes, Italian Butternuts, Polvorones … well that's all I can think of right now, but you get the picture.
Because of their classic round design and powdered sugar coating, they do indeed resemble snow balls and are therefore very popular at Christmas; but given their ease of creation and simplicity of ingredients, they are also perfect for any other holiday about which you are forgetful or lackadaisical, such as your anniversary.
There are only 5 ingredients, which means two things: 1) These are impossible to screw up and 2) You better make those 5 ingredients count. To wit: get you some unsalted butter, some real (not imitation) vanilla extract, and chop those nuts your own self instead of buying a dusty cellophane bag of nut powder.
Once you have the dough together (which takes about 4 minutes), the shaping of the cookies is super fast so you could bust out several dozen in an hour or two, leaving you more time to write letters to Santa, RE: Majin and the Forsaken Kingdom, or to your wife, RE: Pleaseforgivemeforforgettingouranniversary.
Mexican Wedding Cookies Video
Mexican Wedding Cookies Recipe – Printable!
Print
How To Make Mexican Wedding Cookies
Author:
Prep Time:

20 mins

Cook Time:

15 mins

Total Time:

35 minutes

Yield:

2

4

1

x
1

stick butter, softened

1/4

c powdered sugar (plus another

1/2 cup

for rolling later)

1

t vanilla extract

1/2

c finely chopped, toasted*, almonds, pecans, hazelnuts, or walnuts

1

c flour
For rolling: about 1/2 c powdered sugar
Instructions
Preheat oven to 375F.
Cream butter and 1/4 c sugar together.
Add vanilla.
Add nuts and flour. You may need to use your paws to get everything mixed well. The nuts should be distributed evenly and the flour should be all mixed up.
Grease a cookie sheet.
Roll small balls of dough between your palms and plop them on the sheet, about an inch apart, center-to-center. The balls should just be an inch or so in diameter.
Bake for 12-15 minutes, until the bottoms of the cookies are light brown. The tops should still be pale.
Remove and cool them on a rack for 15 minutes or so.
Roll in powdered sugar once cooled.
Pile jauntily onto a plate.
Notes
It's important to let the nuts cool completely before adding to the dough. If they are still hot, they'll melt the butter and the cookies will end up dense instead of flaky.
* To toast nuts:
Put whole nuts into a heavy skillet, dry (no oil), and heat over medium-high, stirring or shaking constantly until the nuts begin to smell nuttier and get a tiny bit tanner in places, about 5 minutes. You can also put them on a cookie sheet in the oven at 400F for 7 minutes or so, shaking the pan halfway through.
You might also like this easy cookie recipe: Vanilla wafers