How to Make a Michelada – Video!
A Michelada is what I wish a bloody mary tasted like.
It is infinitely more palatable to an empty, dry-heaving stomach than a big, thick glass of tomato juice and vodka. Plus, who really needs vodka when you've been drinking tequila all night?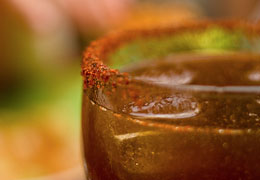 Therefore, I proclaim the Michelada to be the Finest Hair-of-the-Dog in all the Land. And I'm going to prove it. Well, I will need some help from you fine people. Try this next time you are faced with a big plate of eggs that you can't bear to look at. It will perk you up and make you eat those funky eggs so you can get on with the rest of your day.
how to make a Michelada Recipe – Printable
Print
Michelada!
Author:
Prep Time:

5 mins

Total Time:

5 minutes

Yield:

1

1

x
12 ounces

cold beer (lager preferred)

1/2 teaspoon

Tabasco (or a similar hot pepper sauce)

1/2 teaspoon

each Worcestershire sauce and liquid aminos (or soy sauce or Maggi sauce)

2 tablespoons

lime juice
Equal parts salt and chili powder mixed, for rimming the glass
Instructions
Rub the lip of a pint glass with lime and then dip into the salt/chili powder mixture.
Put your flavorings in the glass and stir up.
Add ice if you like that (I do) and then slowly pour in the beer. It will foam up a LOT so have patience, young drunk. Pour a little, let it settle, and repeat.
Adjust the seasoning with more lime or Tabasco as you see fit.
YUM!!!!!!!!!!!!!!!!!!!
P.S. As I understand it, and that's not saying all that much, but a michelada has spice in it while a chelada is just salt and lime. Questions? Answered.
EDIT: As of 2012, we've been preferring our micheladas sans Worcestershire. Nowadays we've just been using the lime, salt and Tabasco. Try it both ways and see what you like best!
EDIT AGAIN: As of 2013, since discussing it over Enchiladas Banderas with our friend Carlos, we learned that the Worcestershire recipe is the preferred way to have micheladas in Guadalajara. Live and Learn!