If you know anything about the Count of Monte Cristo, you probably know he was a bad ass dude. Basically, he was a French dude who couldn't read but was still engaged to this really hot chick that his friend wanted to bone, so the friend got him falsely imprisoned for like 10 years and married the girl in the meantime, but when he got released he found buried treasure and bought a wicked-huge mansion and invented this sandwich and became super-famous and got awesome revenge against that dillrod from the beginning by stealing the chick back and then the other dude gets chased out of town by some bad guys and maybe even killed!
Pow! Do NOT mess with a dude that can make a bad ass sandwich or you WILL be sorry (because you won't be able to eat any of his sandwich).
But verily, my friends, most of that was directly lifted from a book, via a movie, and none of it is true, except that this is a bad ass sandwich.
You might try spranklin' it with powdered sugar like I hear they do at Bennigans. And you might also try plopping some jelly or jam alongside. Red currant or raspberry is pretty traditional. Personally, I might try some jalapeno jelly, 'cause I like it spicy. Also, sometimes you see it with turkey and ham but I am not a fan of mixing my meats. And sometimes you see it (probably also at Bennigans) as a three-layer sandwich! Holy hell! That's too much for me. But you do what you want. The process is the same but you might have to stab a toothpick through it to hold the S.O.B. together.
Here's how to make two sandwiches so you can have one and someone else can have one, as long as he didn't get you incarcerated.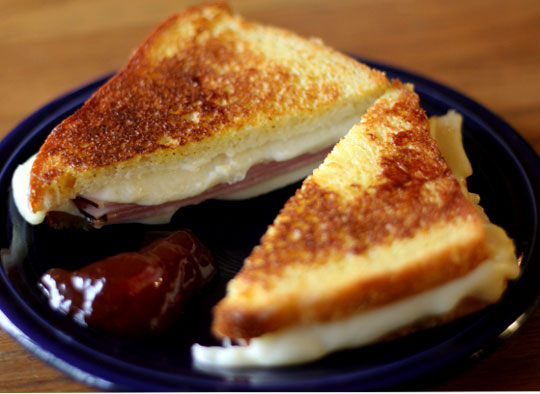 Print
Monte Cristo Sandwich
1

egg

2 Tablespoons

of milk

4

slices of firm or even stale bread

2 teaspoons

of mayonnaise (or mustard or butter, depending on your preference)

4

slices of swiss, gruyere, or gouda cheese

4

slices of ham

2 tablespoons

butter
Instructions
Spread a half-teaspoon of mayonnaise on each piece of bread.
Layer cheese and ham on the mayonnaisey side of two pieces of bread: cheese, ham, cheese.
Top with the other pieces of bread, mayonnaisey side down.
Beat the egg with the milk in a bowl until it's the color of sunshine and popcorn.
Lightly dip each sandwich in the egg mixture, covering each side, and letting the excess egg drip off. Set aside while the skillet heats.
Melt the butter in a skillet over medium heat.
Put the sandwiches in the hot skillet and reduce the heat to medium-low.
Cook for 4 minutes, or until the bottom is browned and the cheese is melty-looking
Flip and cook another 4 minutes.
Remove from heat, cut into halves, serve on a fancy looking plate and wink at your friend, saying "Oui, monsieur" and really freak them out.