Cookbooks: Moosewood Restaurant Favorites Review
Moosewood Restaurant has been serving vegan, vegetarian, and pescetarian lunches and dinners in Ithaca, New York since 1973. The newest cookbook: Moosewood Restaurant Favorites (2013) is the 13th book in the Moosewood Collective cookbook library. I received a free copy from the publishing company for review.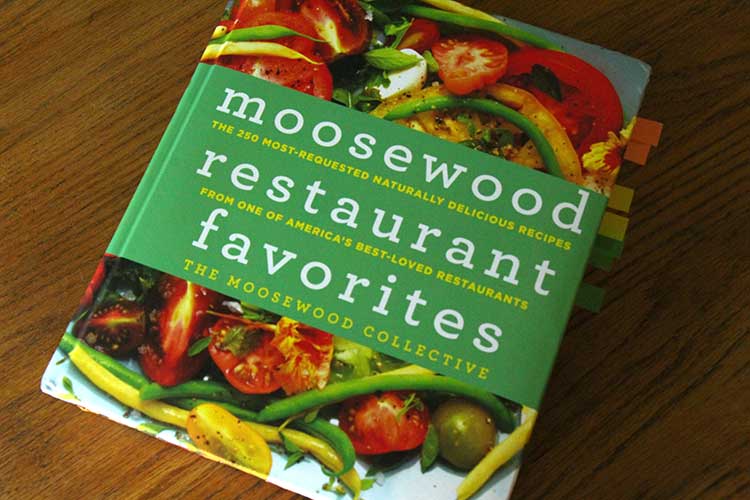 Recipes in Moosewood Restaurant Favorites  remind me of what I grew up eating on the weekends at Grandma Frieda's house. An avid traveler with an adventurous palate, my grandma pulled inspiration from all over the world and introduced me to kimchi, sushi, tofu, and all sorts of vegetarian dishes she'd make up on the fly. Moosewood favorites like Red Bean and Walnut Spread, West African Peanut Soup, and Vegetable-Tofu Lasagna are familiar to me if not in their specifics at least in their ingredients, in their soul, and in their style. The style of the recipes in this book is invariably uncomplicated while at the same time thoughtful of texture, color, and health.
Not to say all the recipes are what you may consider "healthy". This is a vegetarian/pescetarian cookbook, and so several recipes make good use of butter, cream, eggs and cheese, though they list vegan or low-fat substitutions when possible. Many rely on tofu for protein and texture, but there are enough recipes using beans and grains to keep most everyone happy, even the rare vegan on a no-soy diet.
Because of the collective nature of the restaurant — every worker is a co-owner and every one is trained in all aspects of the business from accounting to recipe creation — the recipes are diverse and varied, borrowing from cuisines around the world: India, Italy, Thailand, France, Mexico, and more. Chapters cover everything from appetizers to soups, burgers, main dish salads, casseroles, stews, pasta, fish, side dishes, sauces, desserts and everything in between. There is also an appendix with descriptions of some of the slightly unusual ingredients used in the book and basic cooking information like how to press tofu, how to cook rice, and how to make vegetable stock.
Many recipes, like Spanakopita Bites, Chilaquiles, and Lentil Dhal are adapted from their originally-vegetarian versions. Others like Jambalaya, Tofu "Meat" Loaf, and Vegetable Stroganoff are "Moosewood-ized" renditions of their previously meat-centered-selves. Still other recipes were the invention of someone inside the Moosewood kitchen over the decades: Dilled Havarti Spread, Tofukabobs, Fish Cakes, Lime Cilantro Slaw, and Seasoned Artichokes.
Of the recipes I tried (Dukkah-crusted Fish, Middle Eastern Carrot Salad with Mint, Spiced Nuts, Vegan Spinach-Artichoke Dip, Moosewood's Creamy Green Dressing, and Low-fat Lemon Pudding Cakes) all worked as promised and quick to make. The leftover dukkah nut-and-spice mixture was good all on its own and I will use for other things, as well, like sprinkling onto salads or using on baked chicken. The spiced nuts made with maple syrup, cardamom and orange zest were wonderfully crunchy and reminiscent of a winter day of sledding and mulled wine that exists only in my imagination. The carrot salad was easy, inexpensive, and our guests loved it. The green dressing was good the first day, and outstanding after it had had time to mellow in the refrigerator for a couple of days. I'll probably keep a jar of that on hand all the time!
The design is superb (no surprise considering this the the 13th cookbook produced by the Collective) with each recipe on its own dedicated page, ingredients and instructions clearly delineated, with yields and approximate time for completion printed at the top of each recipe. Photos are good, but few, and sometimes confusing — styled with additional ingredients mentioned as accompaniments and not part of the actual recipe. Most recipes include the origination tale in the headnote. All food has a story and a cookbook that recognizes that gets bonus point in my grading scale.
One of my favorite features of the book are the accompanying serving and menu ideas for every recipe, which include the page numbers on which you'll find the suggestions. Experimentation is encouraged, too, with most recipes having at least one variation or ingredients substitution offered at the end.
These elements, combined with the easy-to-follow layout of the book, make Moosewood Restaurant Favorites a great cookbook for a young cook or a new vegetarian. The heavy employment of fresh vegetables and fruits in every recipe also makes this a wonderful choice for any omnivore with a penchant for produce.
Beginning cooks may also like my cookbook: Learn to Cook, also available through Amazon.
Learn To Cook: A Down and Dirty Guide to Cooking (For People Who Never Learned How)