Polish Mushroom Soup Recipe — Zupa Grzybowa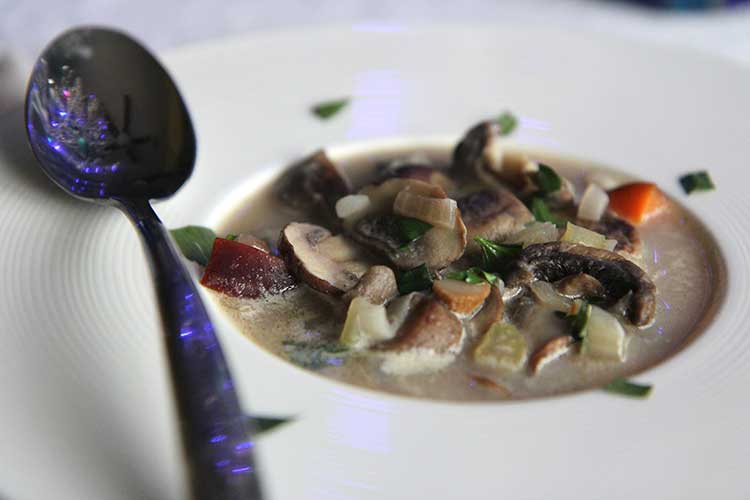 I kind of can't believe I made this. I can't believe I made it and liked it. Seriously. I have hated mushrooms for as long as I have had teeth and … funny story about that.
In preschool, I bit this kid on the arm once. Hard enough to break the skin. If you've never done that, it's gross. It's taut between your pointy baby canine teeth and then, suddenly, it's a hole. The hole tastes like minerals and vampire breath. Blech. It gives way with a little "pop!" and for YEARS, that bouncy pop! was all I could think of when my teeth rubbed up against a mushroom. And so I hated them for that reason. Well, that plus the dirt-taste.
But then, I guess about two years ago I was at a stranger's house for lunch — it wasn't as unusual as that sounds — and she was making us an omelet and threw some braised portobellos in there. And who was I to say, "Excuse me, ma'am, thank you for lunch and all but mushrooms make me hurl and did I mention I am an ungrateful bitch? I'll be taking my leave now, good day."
So I ate the omelet, fully expecting to have to covertly spit chunks of it into my napkin but I didn't because it was tasty and just like that, I liked mushrooms.
All that is to say, here's a beautiful, creamy mushroom soup recipe for you! The dried mushrooms are really key and porcini (aka King Bolete) are preferred but I can't find those around here so I use dried oyster mushrooms and they are just fine. You can use low fat sour cream and you can also just add a spoonful of it to individual bowls if you prefer. If you want a smooth soup, feel free to puree all or part of the soup with an immersion blender. Don't skip the lemon juice! It's very necessary and delicious.
Mushroom Soup
Print
Mushroom Soup — Christmas in Poland
To make this recipe for a traditional fasting Wigilia, omit the sour cream
1/2 ounce

dried mushrooms (oyster, porcini)

2

large potatoes

1

large carrot

1

stalk celery

1

bay leaf

4 cups

water

1 teaspoon

salt, divided

2 tablespoons

butter

8 ounces

fresh mushrooms, sliced

1

large onion, small diced

2 tablespoons

minced parsley
dash nutmeg

1 cup

sour cream

1 tablespoon

lemon juice
Instructions
Put the dried mushrooms in a bowl and pour 1 cup hot water over them. Allow to sit 2-8 hours.
Cut the carrot into small bite-sized pieces. Peel and dice the potato. Mince the celery. Combine in a large pot with the water, 1/2 teaspoon salt, and bay leaf. Bring to boil and then reduce heat and simmer until potato and carrot are tender, about 15 minutes. It's okay if the potatoes break up. They will thicken the soup.
Heat butter in a large skillet over medium-high heat and saute onion and mushrooms with remaining 1/2 teaspoon salt. Drain the soaked mushrooms, reserving the liquid, and chop coarsely. Add them to the pan along with the soaking liquid that has been strained to remove dirt and grit.
Simmer the mushrooms and onions until liquid has absorbed fully.
Add these to the vegetables and broth along with nutmeg and parsley and simmer 10 minutes.
Stir in sour cream and lemon juice at the end.