James's memorial service is tonight. I'm making food for it today. He loved cookies; I think, because he himself was kind of like a cookie. Easily shared, day-brightening, and sweet – any or all of those descriptives could be ascribed to both cookies and James.
Here is a cookie recipe I created for James. I wish he could try them.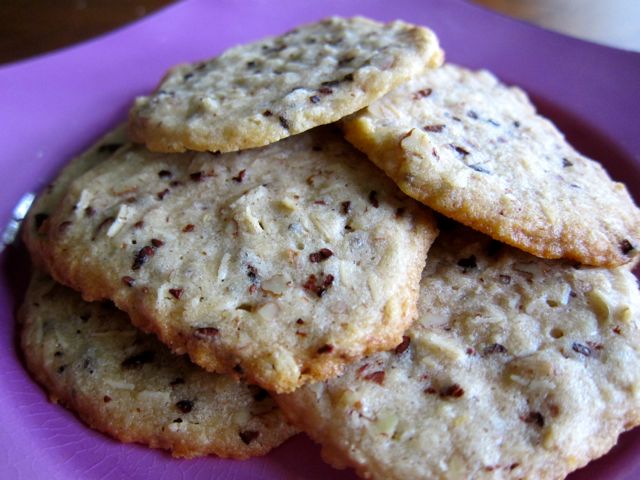 Print
Oatmeal Pecan Shortbread Cookies
1 cup

pecan pieces

1/2 cup

rolled oats

1 cup

(

1/2

pound) softened butter

3/4 cup

brown sugar
Pinch salt

1/2 teaspoon

vanilla

1 1/2 cups

all purpose flour

1/4 cup

cacao nibs
Instructions
Toast the pecans in a dry skillet for about 2 minutes, stirring frequently, over medium heat until they start smelling good. Remove to a cutting board, and mince. Let cool.
In the same skillet, lightly toast the oatmeal for about a minute, stirring frequently. Remove and let cool.
In a mixing bowl, beat the soft butter with the sugar, salt, and vanilla until creamy and combined.
Sift in the flour and mix.
Add the cooled nuts, oatmeal, and the cacao nibs and mix well.
Lay out a sheet of waxed paper, about 18″ long, and spoon the dough out into a 12″ log. Use the paper to shape it into a cylinder as well as you can. Twist the ends to seal and refrigerate at least 4 hours and up to 2 days.
When ready to cook, preheat oven to 350 degrees F.
Cut the dough log into 1/4″ slices with a sharp non-serrated knife. Cut right through the paper and then peel it off. Be patient; the dough is rather fragile.
Lay on ungreased cookie sheets about 1″ apart.
Bake 10-12 minutes or until cookies are light brown around the edges.
Cool on the sheets for about a minute, then transfer to racks to cool.
We love you, dear James.