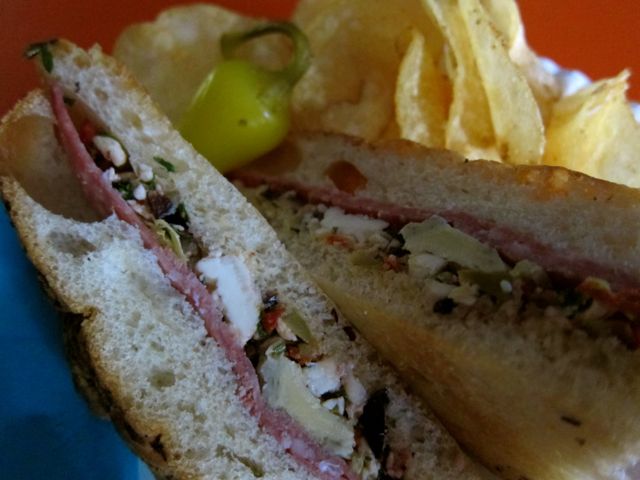 (Okay. It was actually minigolf. But "Minigolf Picnic" isn't as fun or as alliterative … those two facts are possibly related.)
If it's been a while since you've played minigolf, I think you should do it soon. Preferably with a group of friends and a picnic.
The last time I'd gone was for my own birthday three years ago. I made myself a cake and invited my buddies and we dragged (drug?) a wheelie cooler all around the place, zig-zagging between the giant shoes and windmills and castles and skateboarding rabbits, drinking icy cold cans of beer tucked tightly into truck-stop koozies. But that was three years ago and it was about time to rock that Putt-Putt Picnic Party all over again.
Good thing it's Chris's birthday week. Perfect timing on being born, Chris.
Now, here is the deal. When you're eating outside and potentially in the dark (the best putt-putt is in the cool of the eve) it's best to keep to a simple menu. That means, no salads, please, only one-handed eats. Sandwiches, chips, crudites, ranch dip, and pickles. And birthday cake. I make an exception for birthday cake. Sure, I totally could have made one-handed, pineapple upside-down cupcakes, but I wanted the experience of blowing out candles and cutting the cake and passing around slices on paper plates.
The pineapple upside-down cake recipe came straight out of the Joy of Cooking. I won't reprint it here partly because it's long, but mostly because I think everyone should have a copy of that book anyway.
However. The sandwiches, my friend. The sandwiches are really what this post is about. Similar to a muffaletta, these are our favorite sandwiches for roadtrips because they don't get soggy and they can sit around unrefrigerated for at least an hour (more like three, but you didn't hear that from me). Turns out they are also perfect for picnics for those same reasons!

The key is getting some badass olives and some chewy bread like ciabatta or focaccia. I use a mix of whole Calamata and green Cerignola olives, which I buy in bulk from the probably-only-slightly-contaminated olive bar at my grocery store. You could use regular, canned black (Mission) and green (Manzanilla) olives if you can't find the fancy ones. I do buy the olives with their pits still in because the texture is firmer and nicer than pitted olives.
To pit olives without buying an olive or cherry-pitter: put the olives (one at a time) on your cutting board and press hard on them with the flat side of a wide knife blade. Be careful because they are slick! Most olives (like peaches, some varieties are more "freestone" than others) will smash open and break away from the pit fairly easily so you can use your monkey-fingers to pry the flesh away in two or three chunks.
Now down to business.
Olive and Feta Sandwiches
This is for one big sandwich which I cut into squares for serving. I do it this way for festivities' sake, but by all means, make several smaller sandwiches if you like. It's your funeral.
Print
Kinda-Muffalatta Sandwich
For the Olive-Feta Spread:

1/2 cup

coarsely chopped olives (equals about

10

large olives)

1/2 cup

crumbled feta cheese

2 tablespoons

chopped parsley

1 teaspoon

dried basil or oregano

1

small clove garlic, minced (about

1/2 teaspoon

)

6

sun-dried tomatoes in oil, julienned (technically this is optional, but a nice touch)

3 tablespoons

olive oil

1 teaspoon

red wine vinegar

1/2

–

1

teaspoon crushed red pepper
For the Sandwich Assembly:

1

large loaf of bread, French or ciabatta

6 ounces

sliced hard salami

1/2 cup

chopped artichoke hearts (NOT marinated)

2 tablespoons

olive oil

1/2

cucumber, peeled and thinly sliced
Instructions
Combine all the ingredients for the spread. You may use it immediately or store it in the fridge for up to a week.
Slice the bread horizontally.
Spread the olive mixture on the bottom half. Try to get it as even as possible.
Arrange the artichoke hearts over that.
Arrange the salami over the artichokes; get as even a layer as possible.
Drizzle the 2 tablespoons of olive oil over the top half of the bread.
Slap the top half of the bread over that and wrap the whole caboodle up tightly in plastic wrap or if you are so fortunate as to have the perfect sized Tupperware, put it in that.
Refrigerate (or don't!) until it's time to eat. This sandwich made as is will easily keep overnight with no discernible difference in texture and an even better taste.
Add the cucumber slices right before serving