Okay, people. This is a real kitchen-sink kind of deal. Pretty much just throw in whatever vegetables you have around and viola: Pasta Primavera! Which means, like, Springtime Pasta, which means, like, bright colors and light textures and fresh flavors and baby birds all over the damn place.
I love Spring. I love colors and birds and tiny, baby leaves poking out that look like itty-bitty monkey paws all over the trees. I also like bluebonnets and longer days and yard-drinking and peach blossoms. Spring is the most bad-ass season of them all. Hands down.

Blargh. I digress! This is a recipe from the learn to cook book I just wrote! Whee!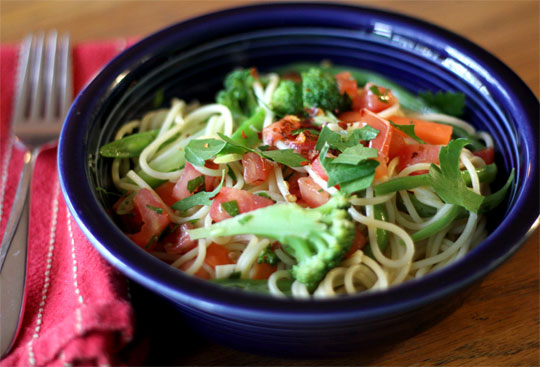 I came up with this recipe several years back, in the very final throes of a dinner party. I was having a bunch of extra-cool people over for dinner and made the fatal dinner party mistake (stoopid!) of not asking about allergies and shit before cooking. Rookie mistake. So everyone shows up and guess who is lactose-intolerant (doesn't actually matter who in this case) and guess who had made lasagna (me). Woh-woh. Of course, Amazing Guest was prepared just to eat salad and bread, but Neurotic Hostess would not let that happen!
So I scramble around the kitchen and thank Gawd I had half a bag o' noodles (they were gemelli) and some tomatoes and some kinda vegetables. It really came together as if the Pasta Primavera People were smiling down upon me from the Old Country. I totally impressed the hell outta that lactose-intolerant guest. And, bonus, now I have a treasured recipe to pass down to you, my friends!
The deal with the vegetables is this: use whatever you got, fresh or frozen. Just make sure to cut everything up very small so that, A. it cooks fast and, B. it mixes well with the pasta. So, julienne carrots and green beans; make broccoli and cauliflower florets small like your pinkie finger; cut squash into small cubes, 1/2″; cut greens into 1/2″ ribbons. That's it. That's all the rules I will lay on you. Now go. Be free.
Pasta primavera recipe
Print
Pasta Primavera
A quick, healthy, vegetarian pasta dish
Author:
Prep Time:

10 mins

Cook Time:

15 mins

Total Time:

25 minutes

Yield:

4

1

x
8 ounces

pasta

1 cup

sliced green beans

1 cup

broccoli florets

1

–

2

carrots julienned

2

tomatoes, diced (about

2 cups

)

1

clove garlic, minced

1 teaspoon

fresh oregano (or

1/2 teaspoon

dried)

1 tablespoon

fresh basil or parsley

1 teaspoon

fresh lemon juice or balsamic vinegar

1 tablespoon

olive oil

1/2 teaspoon

salt
Instructions
Put on a large pot of water to boil the pasta. Stick a lid on it and it will boil faster.
Combine the tomatoes, garlic, herbs, lemon juice, oil, and salt and let them marry while everything else is happening
Once the water boils, add the pasta and set a timer for 2 minutes less than the pasta package states
When the timer ding-a-lings, add the vegetables and cook another 2 minutes.
Drain the whole mess, but not really well. Leave it a little wet.
Mix the tomato sauce with the pasta and vegetables
Add a splash more oil if it seems dry and add some salt if it needs it.
The End
Notes
Other vegetable combinations to try: raw or steamed asparagus with spring onions and peas; thinly sliced cabbage, radicchio, and baby spinach; cooked artichoke hearts, red onion, black or Kalamata olives; summer squash medley: zucchini, yellow, patty pan squash; roasted eggplant and heirloom tomatoes;