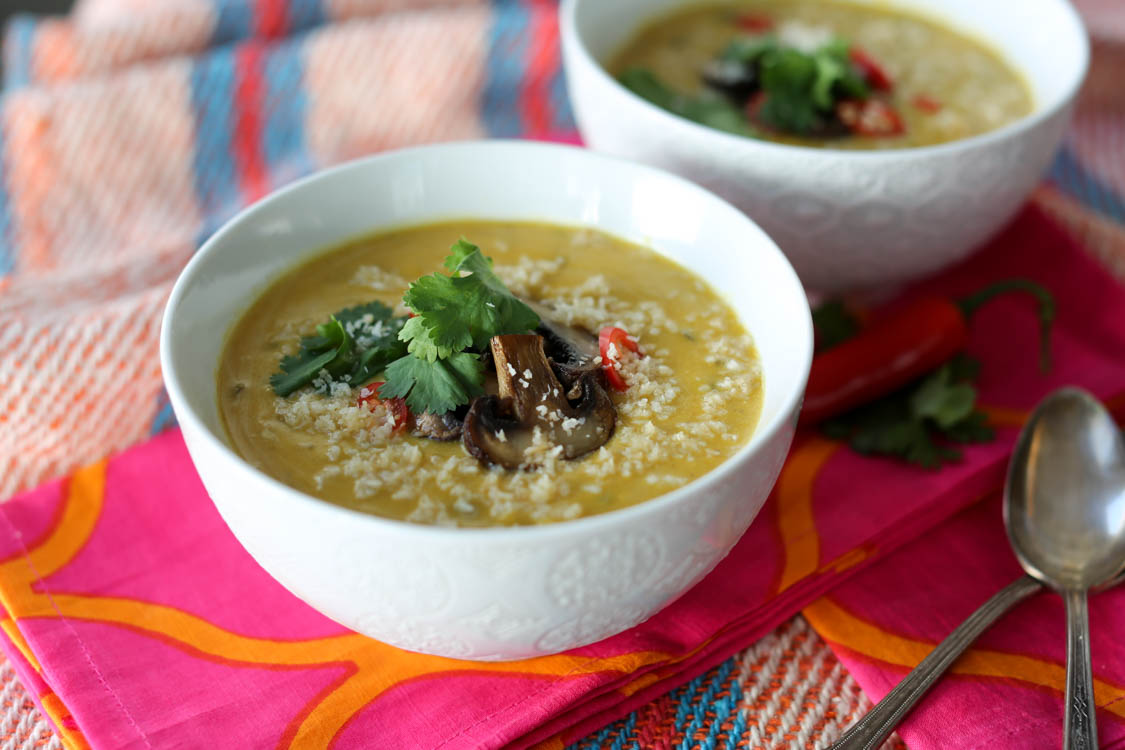 This was an experiment that worked out.
Real, REAL good.
I needed to use up some pumpkin puree after shooting my homemade pumpkin puree video. I remembered a recipe I made several years ago, a butternut squash and shrimp soup with a coconut milk base, that was AB FAB. And you know, pumpkin is so similar to butternut squash and I did happen to have coconut milk and some time on my hands so I figured, What the Cheese?! I'll do an experiment.
As I was saying, it worked out beautifully and I even managed to squeeze in some mushrooms. If you've followed my site for a while, you know I have always had a hate-hate relationship with mushrooms, which really super-sucked when I was vegetarian because people were always trying to get me to eat them. Like: "You've never had them my way!" and "You don't even like portobellos?!?" with the most shocked looks on their faces, as if I hadn't just said I don't like mushrooms, but that I like to eat kitten intestines.
What the Cheese, people?! What's wrong about not liking mushrooms?
Nothing. Nothing at all. And if you don't like them, I totally get it and you could leave them out and this soup would still knock your kitty-fur slippers off.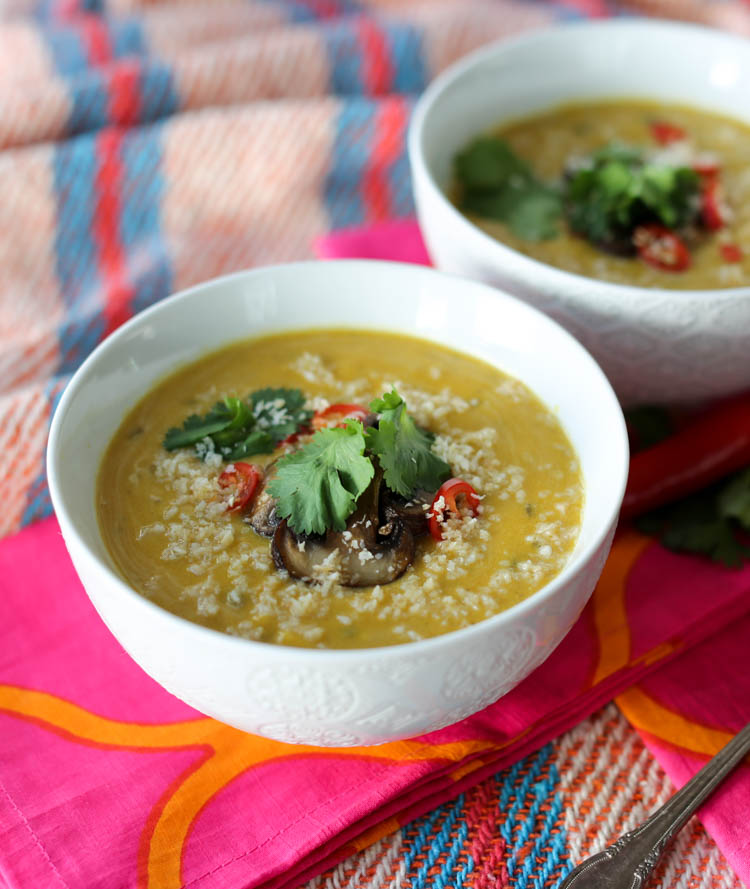 Pumpkin Coconut Soup Recipe – scroll down for step-by-step photos
Print
Pumpkin Coconut Soup
2 tablespoons

oil

2

large shallots, minced (about

1/2 cup

)

4 ounces

button mushrooms, minced (about

2 cups

)

2

cloves garlic, minced (about

4 teaspoons

)

1 teaspoon

grated fresh ginger

2 tablespoons

dry vermouth or white wine

1 cup

pumpkin puree (canned, frozen, fresh)

1 cup

water

1/2

–

1

teaspoon salt (adjust to taste)

1/2 teaspoon

pepper

1 cup

coconut milk
Optional garnishes: cilantro, fresh minced chile peppers, toasted coconut flakes, lime wedges
Instructions
Heat the oil in a sauce pan over medium-high heat.
Add the shallots and cook until browned and slightly crispy.
Add mushrooms and stir until they begin to release some liquid, 2 minutes
Add garlic and ginger and deglaze with vermouth. Cook 30 seconds.
Add pumpkin, water, and salt and pepper. Stir. Cover and simmer 10 minutes.
Add coconut milk and heat through.
Taste for salt – this soup needs to be well-seasoned
Serve with garnishes
Notes
This is a small-batch soup. As written it makes about 3 1/2 cups of soup which makes a nice first course for 4 people and a decent main course for two people (especially if you add a salad and some kind of bread).
Nutrition
Serving Size:

1 cup

Calories:

343

Fat:

29

Carbohydrates:

19

Protein:

5
Step-by-Step Photos