Pumpkin Pasta Recipe Video – scroll down for recipe card
I came up with this recipe to serve our friend Diane who graciously and generously offered to edit the newest version of Learn to Cook with her cruelly capable eagle eyes. In true ladylike form, she has also not made me cry at all or told me my book is dumb and should be burned. Of course, she is not quite yet finished, but I'm pretty sure she at least doesn't hate it at this point.
Anyways, she came over for dinner and knowing that she's a "mostly vegetarian" and also an adventurous eater, I took a chance and made up this pasta dish that very night. It turned out great and everyone loved it and then I got a medal and a free trip to France.
If you want to add meat to this dish, I think a half pound of Italian sausage, crumbled and fried until crisp, would be a durned good addition.
Pumpkin Pasta Recipe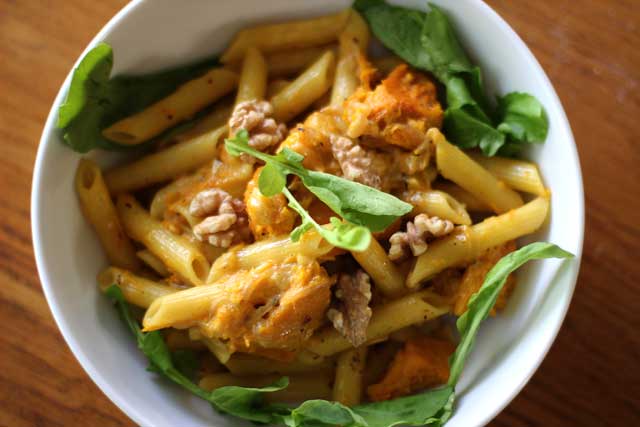 Print
Pumpkin Penne Pasta
Author:
Cook Time:

30 mins

Total Time:

30 minutes

Yield:

4

1

x
1 cup

thinly sliced onion

2 teaspoons

olive oil

1

bay leaf

1

pound fresh pumpkin

1/2

pound penne pasta (or any short pasta: rigatoni, rotini)

1 teaspoon

minced garlic

1/2 teaspoon

thyme

1/4 teaspoon

ground sage

1/4 teaspoon

red pepper flakes

1/4 cup

vermouth, white wine, or broth

1/2 teaspoon

salt

1/4 cup

grated Parmesan

2 tablespoons

heavy cream (optional)

1/2 cup

toasted walnuts

1/2 cup

torn arugula or baby spinach
Instructions
Heat a large skillet over high heat with the olive oil. Add the onions and bay leaf and reduce the heat to low. Sprinkle with a pinch of salt. Cover skillet and let cook for 30 minutes, stirring once at the halfway point.
While the onions caramelize, cook your pumpkin. Using a sharp knife and stabilizing it with a damp towel underneath if you like, cut the pumpkin into wedges. Put on a plate, cut side up, and microwave about 5 minutes until soft. Allow to cool.
Set a large pot of water to boil for your pasta while your pumpkin cools and the onions continue to cook.
When the onions are nicely caramelized, add the garlic, herbs and vermouth and stir.
Peel the pumpkin and cut into 1″ chunks. You will have about 2 cups of chunks. Add them the the onion mixture and sprinkle with the salt. Allow to simmer uncovered until the pasta is cooked.
BEFORE you drain your pasta, reserve a cup of the cooking liquid; just dip it out of the pot with a measuring cup and set aside.
Drain your pasta and add it to the pumpkin/onion mixture along with 3/4 cup of the pasta water.
Add in the Parmesan and stir. Add the cream if using.
Allow to cook, stirring, until most of the liquid is absorbed and the sauce is thick and clings to the pasta.
Serve with toasted walnuts and fresh greens tossed in at the last minute.