This is a recipe from my high school vegetarian years. You know the ones I talk about. You might've had them, too. I kinda came up with several pretty good recipes back then. Not necessarily low-fat or low-cholesterol, since they were all super cheese-heavy, but what do you expect from a 15 year old vegetarian? I needed sustenance, by golly! I'll probably pay for it with heart disease later, but if I get osteoporosis, you can bet I will be PISSED.
Anyway, it's really simple and there's no boiling noodles first which I like because it means one less pot to clean and saving water for whales. Dolphins, too. Fish. Sharks. Crabs. Anemones. They all need water way more than this lasagna. So let's do them a favor, eh?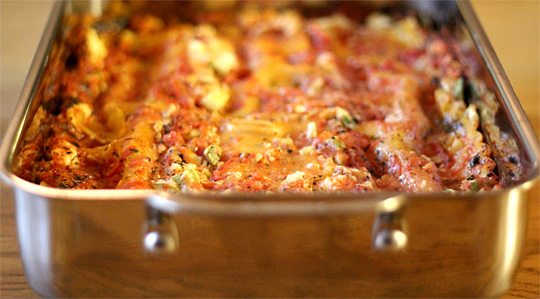 At the bottom, I included the recipe for the (also super-easy) marinara sauce that I used in the video. I learned how to it make from a Real Italian. Cool, right? You could totally use a jar of sauce.
Print
Vegetarian Lasagna
Author:
Prep Time:

30 mins

Cook Time:

60 mins

Total Time:

1 hour 30 minutes

Yield:

6

-8

1

x
Marinara Sauce:

¼ cup

olive oil

6

cloves garlic, minced (

2 tablespoons

)

28 ounce

can whole tomatoes (or

8 cups

diced fresh tomatoes)

2 tablespoons

dried basil (or

4 tablespoons

chopped fresh basil)
Salt, if necessary
For Lasagna:

8 ounces

lasagna noodles

1

batch marinara sauce (above) or one 28 ounce jar of sauce

1⅓ cup

water

12 ounces

ricotta cheese or cottage cheese

½ cup

grated mozzarella

½ cup

grated parmesan, divided

1

egg

1 tablespoon

, each: fresh oregano and basil; or

1 teaspoon

dried, each

½ teaspoon

black pepper

1½ cups

diced summer squash (or you could substitute a

10 ounce

box of frozen spinach, thawed and drained)
Instructions
Make the Sauce:
Heat the oil over a medium-low heat and add the garlic. Cook just a few minutes until the garlic smells up your kitchen. Add the tomatoes and stir. Put a lid on the pot and simmer 15 minutes. Use a spoon to kind of break up the tomatoes, mashing them against the sides of the pot. Add the basil and simmer another 5 minutes with the lid off. Taste. You might want to add a little salt if you used fresh tomatoes or canned, no-salt tomatoes.
Combine sauce and water in a large pot or bowl.
In another bowl, mix ricotta, mozzarella, half (1/4 cup) of the parmesan, the egg, and the herbs and pepper; combine well.
Lightly oil a 9" x 13" baking dish.
Pour in about a cup of the sauce/water combo.
Lay 3 lasagna noodles (uncooked) over that.
Layer a third of the cheese mixture on them, then a third of the mixed vegetables.
Pour another cup of sauce over and 3 more noodles.
Repeat layers of cheese, vegetables, sauce, and noodles, ending with sauce. Sprinkle with the remaining 1/4 cup parmesan.
Cover with foil and bake at 350º for 45 minutes to 1 hour, until the noodles have absorbed the liquid.
Remove foil (carefully!) and cook 15 minutes longer.
Let stand at least 10 minutes before serving.
Notes
Strict vegetarians will need to ensure their cheeses aren't made with rennet, an animal product. Vegetable rennet cheeses are available. Search online for retailers.