Quinoa Salad Video (scroll down for recipe)
I love quinoa salad. It's the perfect solution to my inherent laziness – the laziness I fight so hard against but sometimes, like all better foes, it wins and I find myself sprawled out across the room, legs on the couch, face on the floor, watching "Video Chan 5" flashing continuously on the TV screen, and Daisy eating an empty peanut butter jar at my side. I'd command her to bring me my phone so I could call for pizza, but it wouldn't work. Eventually, I'd die from my inability to conquer laziness and get up to eat, drink, or even pee. Daisy would wander around the house for a few hours, whining, then eventually eat my face. Finally Chris would come home from work and cry and cry and cry until he died, and then Daisy would eat his face, too. So sad.
This is the scene you'd see if it weren't for quinoa salads. They are literally lifesavers to the hungry and lazy people of the world. Make a huge bowl of this one hour when you're feeling jaunty, then snack on it the rest of the week when you're feeling not-so-jaunty. Or swap out the word "jaunty" for "cool" and "not-so-jaunty" for "sickeningly-hot-and-sweaty" and it works great, too!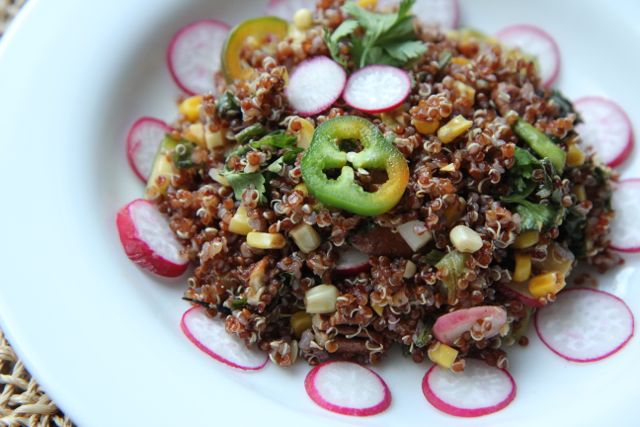 Quinoa salad recipe – printable
Print
Quinoa Salad
3/4 cup

quinoa (red or white)

1/2 teaspoon

salt

4

green onions

1

zucchini

1

ear of corn

1 tablespoon

oil

1/4 teaspoon

salt

1/2 teaspoon

chili powder

1/2 teaspoon

coriander

1/4 teaspoon

cayenne pepper (optional)

4 teaspoons

red wine vinegar

1

clove garlic, minced

1/2 teaspoon

crushed dried oregano

1/4 teaspoon

black pepper

1/4 cup

chopped cilantro

1/4 cup

toasted pecans or other nuts

3

–

4

radishes, thinly sliced
thinly sliced fresh jalapeno
Instructions
Cook the quinoa: Put it into a small sieve and immerse in a bowl of water; soak for 15 minutes. Drain and put into a pot with the 1/2 t salt and 1 1/4 cups water. Cover and bring to a boil. Reduce heat and simmer 20 minutes.
Dice the zucchini and cut the corn kernels from the cob. Toss together in a large bowl with the oil, 1/4 teaspoon salt, chili powder, coriander, and cayenne pepper to coat.
Spread onto a baking sheet along with the whole green onions and broil for 5-10 minutes or until softened and beginning to brown. Stir half-way through.
Remove. Slice green onions and add to a bowl with the other vegetables.
Once the quinoa is cooked and all the water absorbed, combine with the vegetables.
Add the vinegar, garlic, oregano, and pepper to the hot mixture and stir gently to combine.
Serve warm or cold.
Add cilantro, pecans, radishes, and jalapenos just before serving.
Notes
While quinoa is a good source of protein on its own, this meal could be made "more complete" by the addition of canned tuna, cooked chicken, or shrimp.