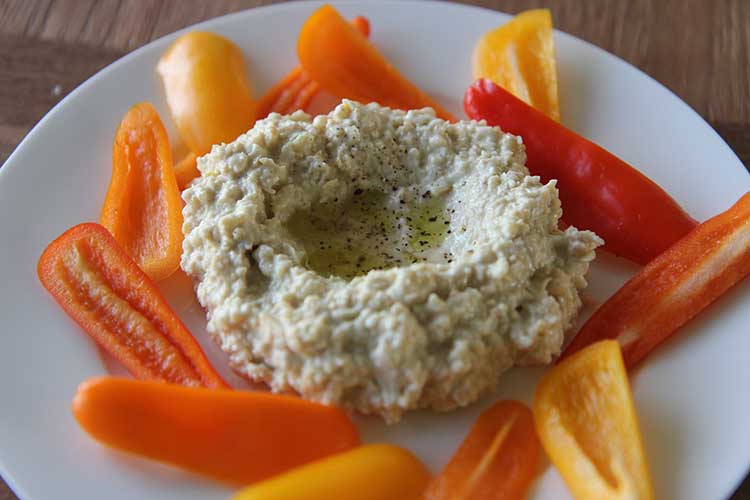 As mentioned, I've been sprouting seeds lately. In my travels around the world while sitting in darkened office poking at a keypad and staring at the compooter, I came across the idea of sprouting beans. Maybe it makes them more digestible, they say. If you adhere to a raw diet, it's definitely the only way to consume dried beans while still being really raw. Anyway, I had some dried up old chickpeas in the pantry and we love our hummus snax around here, so I tried out making raw hummus with sprouted chickpeas.
Raw hummus tastes nuttier than standard hummus and it doesn't grind down as smooth. It reminds me of ground soaked cashews or some other nut, really, and I do think you could easily add some nuts like that to this mix and it would be tasty as hell.
This recipe might not be truly, really, 100% raw because I used olive oil and tahini that I bought at the store and who knows what happened to the olives or the sesame seeds before they got mashed up and bottled up. Pretty sure that the tahini is really just raw sesame seeds ground up, and the olive oil is expeller pressed so it's probably fine. If you follow a raw diet, you know what to do to make it super raw, so … do that.
Since I was timid, and maybe most people are, about eating raw beans the recipe only makes a small amount. I didn't want you to make a whole bunch, hate it, then blame me. So now maybe you'll just make a little, kind of like it, and I'll be your hero. You can totally double the recipe if you do love it.
Print
Sprouted Chickpea Hummus
Author:
Prep Time:

72 hours

Total Time:

72 hours

Yield:

2

1

x
2 tablespoons

dried chickpeas

1 tablespoon

lemon juice

1 tablespoon

tahini

1 tablespoon

olive oil

1

small clove garlic
pinch salt
Optional: 1 teaspoon cider vinegar
Instructions
Soak the chickpeas over night in 1 cup of water. Drain. Sprout according to the guidelines here. Once some of the sprouts are 1/4″ long, put them all into a heat proof bowl and cover with hot water. The water should be about 140F or hot enough that you can stick your fingertip in it, but just for a half a second.
Allow to sit until cool. Drain and repeat hot water rinse if you want. this might make it taste better or be easier to digest. I'm not a scientist, but I do it twice.
Drain again and combine in a small food processor with all other ingredients except the vinegar.
Scoop onto a place and make a divet in the center. Pour the vinegar in the well and serve with raw vegetables.