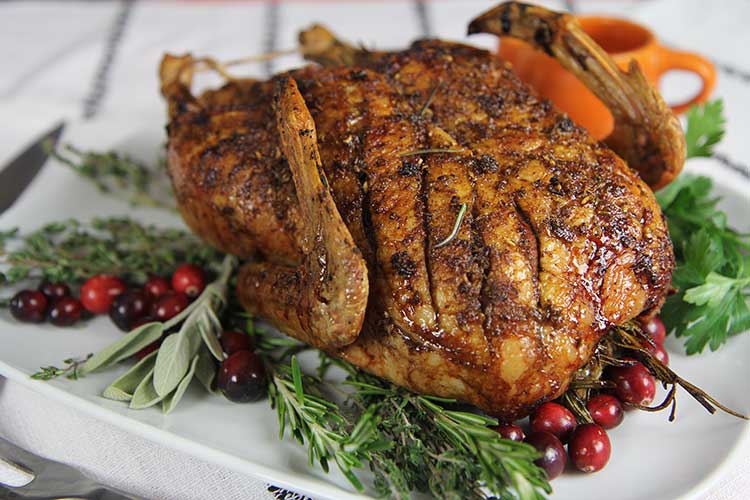 Kyle Williams has been asking me for a duck recipe since at least early 2012 and it's taken me until now to figure out how to do it. I'm sure I'm not alone in being a little intimidated by duck. Unless you hunt them yourself, or you live in England where the Christmas Duck still has a place outside of movies or a Dickens novel, duck isn't commonly seen in US home kitchens. In fact, I called three local stores here in Austin before I found one that carried duck. (That was Central Market, in case you were wondering, and Wheatsville Coop usually carries duck but were out the day I needed it.) I don't remember if Kyle specified what preparation he was looking for, but I figured I'd start with roast duck. While roasting poultry can be a little gruesome at the start, the beauty of a whole roast bird is worth it, I think. And besides, by roasting a whole duck, I get lots of duck fat to render and keep for frying potatoes and eggs and things!
Roast duck makes a nice, juicy change from your standard Thanksgiving turkey, and as mentioned before, roast duck is traditional for Christmas dinner in many places. The thing about duck is that there is a lot of fat under the skin, much more than chicken or turkey. It's important to score the skin to allow that fat to render out as it cooks, leaving a crisp exterior without pockets of grease. Some will recommend poking it with a fork (though I own nary a fork with sharp enough tines to pierce the skin of a raw bird) or the tip of a knife, but I like to score it in a crosshatch pattern like you would a ham. This makes a very pretty duck and ensures thorough fat-rendering. Make a few extra holes in the the areas where the fat is concentrated: the sides of the breasts, the "armpits" and where the thigh meets the breast.
You can use any rub you like to use on poultry, and even some you like on red meat. Duck is a dark meat that can stand up to the strong seasonings typically used with beef and lamb: rosemary, horseradish, cinnamon, cloves, vinegars, and hot peppers. It's also often paired with fruits like cherries, blackberries, citrus and cranberries in the form of a glaze or sauce. The rub I've used here combines piney Szechuan peppercorns, sweet fennel seed, and citrusy coriander with orange and rosemary. An orange-cranberry sauce would compliment this well, as does the pomegranate glaze I've given.
Roast Duck Video
Easy Roast Duck recipe – Printable!
Print
Easy Roast Duck
Author:
Prep Time:

4 hours

Cook Time:

1 hour 20 mins

Total Time:

5 hours 20 minutes

Yield:

2

-4

1

x
1

4-5 pound duck

2 teaspoons

salt

1

teaspooon Szechuan peppercorns

1 teaspoon

ground coriander

1 teaspoon

fennel seed

1 teaspoon

paprika

1

orange, zested

3

sprigs fresh rosemary or thyme
Glaze:

1/4 cup

fresh orange juice

1 tablespoon

honey

2 tablespoons

pomegranate molasses
Instructions
Trim excess fat and skin from duck and save for rendering. Score the skin of the duck with a small sharp paring knife, just shallow hatch marks through the skin, not piercing the meat.
Grind the peppercorns and fennel together. Combine with the salt, coriander, paprika and the orange zest.
Rub this mixture thoroughly onto the outside and inside of the duck.
Squeeze the orange juice into a small bowl and then tuck the orange halves and rosemary into the cavity of the duck.
Place breast-up on a rack in a roasting pan and refrigerate uncovered 2 hours and up to 24 hours.
Set oven to 450ºF
Place duck in oven and immediately REDUCE heat to 350º.
Roast for 20 minutes per pound or until the temperature measured in the thigh is 165ºF.
Remove from oven and INCREASE the oven temperature to 450ºF.
Use a turkey baster to remove as much of the fat from the pan as you can. Save this for other uses.
Combine glaze ingredients and brush liberally over the duck.
Return to oven for 15-20 minutes longer or until the temperature in the thigh is 180ºF.
Rest for 15-20 minutes before carving as you would a chicken.
Remove from oven and allow to rest, uncovered, for 20-30 minutes.
To render duck fat
Put all the trimmed skin and fatty bits from your duck into a pot and cover with water by 1 inch.
Bring to boil over medium-high heat.
Reduce heat and simmer 30 minutes.
Remove solids and discard.
Refrigerate the liquids until completely cooled, may take overnight.
Lift off the solid duck fat and store in a jar, covered and refrigerated.
Save the broth to use for bean soups, gravy or anything else you want a little birdiness.