Roasted Cherry Tomato Sauce
Summer is my favorite. Not just because of the long days and blue skies, but also for the tomatoes. Our closest farmers' market has been having barrels and barrels of cherry tomatoes in all colors and I have been scooping them up by the shovelful and eating them all kinds of ways. This roasted cherry tomato sauce is the latest craze (in my tummy at least).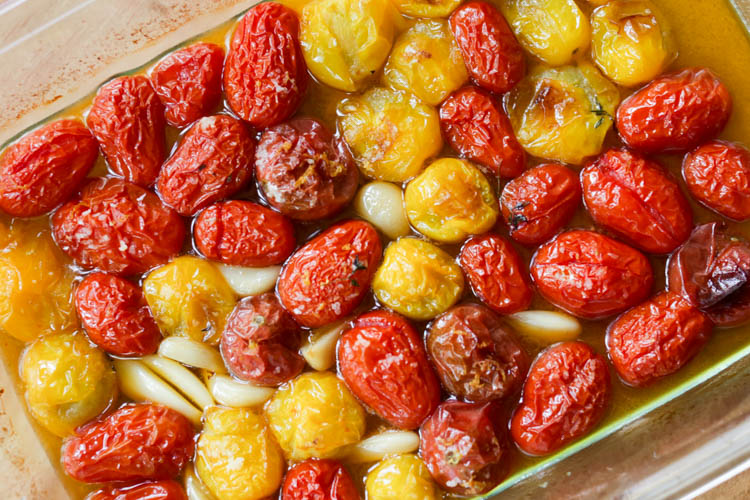 My friend and manager Josh brought a dish of this over for a potluck a few weeks ago — except he uses mini bell peppers. And let me tell you, mini bell peppers are super delicious cooked this way. We ate them as-is with toothpicks; I turned some of the leftovers into pasta salad; and I think they'd be great stuffed with soft cheese, too. So basically I am saying I stole this recipe from Josh but made it with tomatoes. Thanks, Josh!
Looking at this 30-minute, 6-ingredient wonder, you might be saying to yourself: how in the hell is she calling that a sauce? You're right. It doesn't look very saucy. But once you toss it all — tomatoes, garlic, oil and the rendered tomato juice — with some pasta, you get this: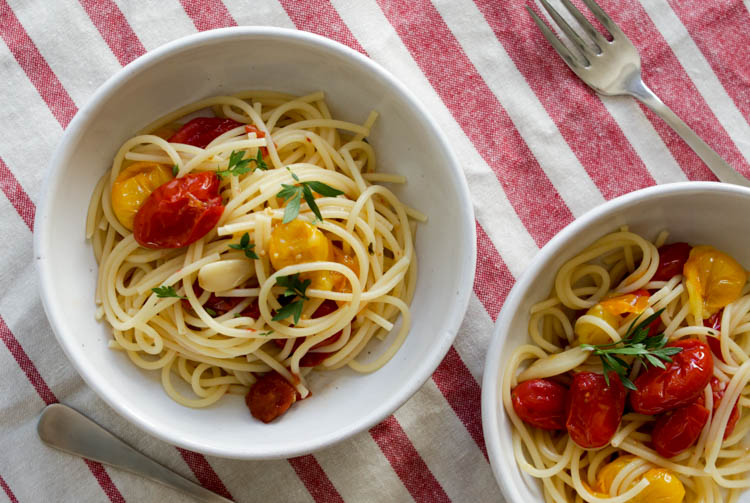 See? Now it looks saucy! Extra delicious points if you sprinkle fresh thyme or parsley on top!
If you're not into using these roasted cherry tomatoes as a pasta sauce, smear them on toasted bread for an easy bruschetta or just eat them on their own. I usually eat about half the pan before I know what happened.
Print
Roasted Cherry Tomato Sauce
1 pound cherry or grape tomatoes
1/4 cup olive oil
5–6 large cloves garlic, peeled and halved lengthwise
1/2 teaspoon salt
5 sprigs fresh thyme
1/4 teaspoon lemon zest
Instructions
Set oven to 425ºF
Put everything in a baking dish and toss to coat.
Roast for 25-30 minutes until blistered and saucy. No need to stir.
Toss with hot pasta right away or refrigerate up to 5 days.
Notes
Recipe can be doubled or tripled as long as you have a big enough dish to fit them in a single layer
Nutrition
Serving Size:

1/2 cup

Calories:

133