Halloween Pumpkin Slaughter!!! Roasted Pumpkin Seeds!
I abhor food waste. I roll my eyes every time I see a display of those knobby, gnarly, little decorative gourds and dried miniature corn cobs for sale anywhere. The U.S. is probably the only country that grows food purely for decoration. Not to be a downer on the fall holiday decorating season, but it really, seriously bugs me.
Once when I was maybe 7, I was at the grocery store with my mom and we had gotten this big-ass watermelon. When we were loading up into the car, the watermelon rolled off the lower rack and tumbled down the parking lot and was smashed into a pile of pulp and I started bawling my face off in front of the cute teenage boy who worked at the store. I was just SO SAD at the thought that the watermelon would just be thrown away, wasted, that it would have been plucked from its melon-patch home in vain.
Mama consoled me by explaining that a raccoon would eat it.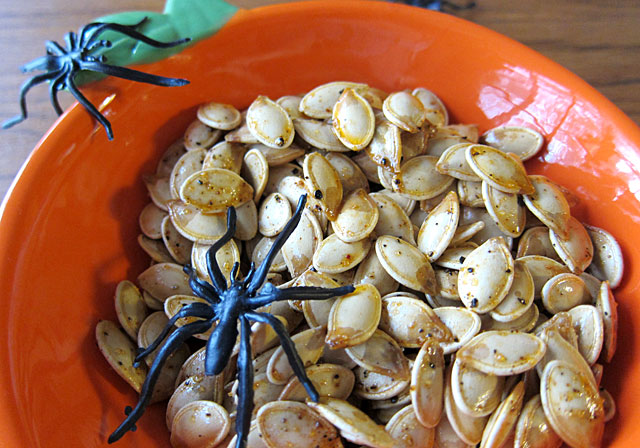 Another time, a grown-up now, I came home from a weekend trip to find I'd left my freezer door ajar and the refrigerator motor had burned out. There was no consoling me this time. I'm talking screaming, crying, frustration, anger and ULTIMATE SADNESS, followed by days of moping and sulking and guilt. It's really pathological.
However, sometimes tradition trumps irrational emotional responses. I still like to carve a pumpkin for Halloween. But I must INSIST on roasting and eating the seeds.
Then my pumpkin hasn't died in vain, right?
Roasted Pumpkin Seeds
Print
How to Roast Pumpkin Seeds
A healthy snack that makes the most of your pumpkin or any winter squash!
Fresh pumpkin seeds from your Jack O'Lantern, let's say you have about a cup

1 tablespoon

olive or vegetable oil or melted butter

1/4 teaspoon

salt
Seasonings: Chili powder, curry powder, cayenne pepper, black pepper, cumin, garlic powder, Worchestershire sauce, lemon zest, thyme, cinnamon, allspice
Instructions
Remove all the orange membrane threads from the pumpkin seeds and rinse them well in a bowl of water.
Drain in a colander for 30 minutes.
Preheat the oven to 275 degrees F.
Spread them on a baking sheet and pat dry with a towel.
Drizzle with the oil or butter and mix around with your hands until they are all coated.
Sprinkle with salt and whatever other seasonings you want to try.
Distribute them evenly in a single layer on the pan
Bake about 15 minutes and then check them. You may need to cook them up to 30 minutes if your pumpkin seeds are real big. They are done when they are slightly golden and puffed up.
Remove and taste for salt. Add more while they are hot if you think it needs more.
Let cool and store in an airtight container, but honestly they will probably all get eaten right away.
You can add any seasoning you like to these. It's all yummy. I prefer spicy pumpkin seeds with chili powder, cayenne, and garlic. Pumpkin seeds are great for snacks or atop salads. If you've ever had roasted pumpkin seeds that were tough and chewy instead of crisp and crunchy, they were probably not cooked long enough. Any winter squash seeds (butternut, acorn, kabocha) can be roasted the same way.