Salmon Sweet Potato Croquettes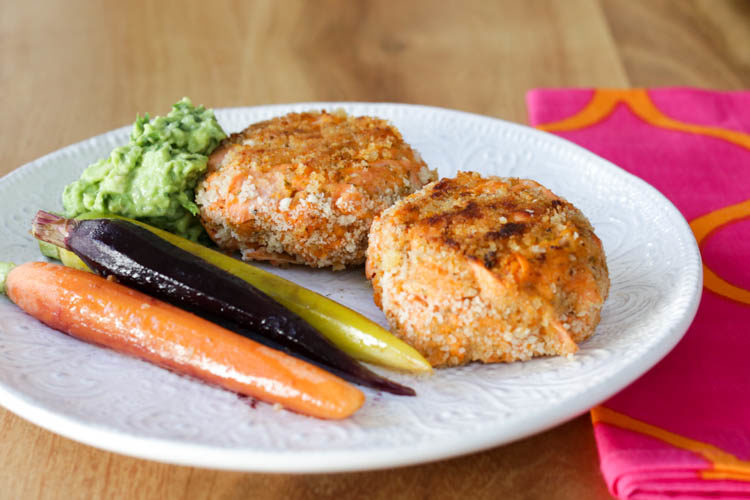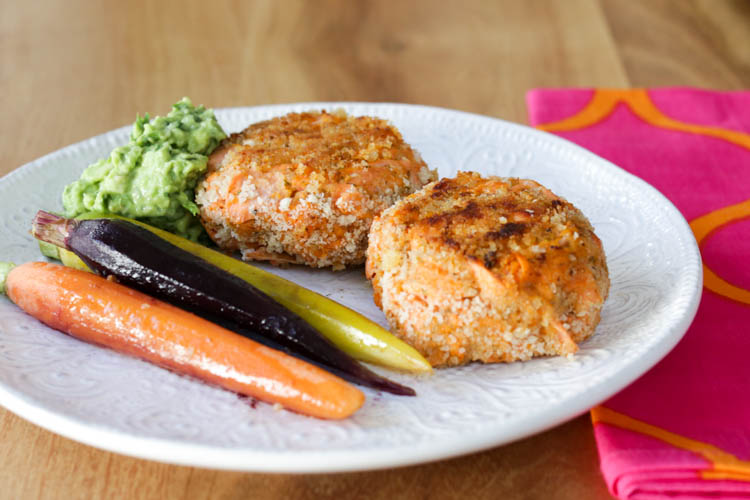 These salmon sweet potato croquettes are almost the definition of "clean eating" — a handful of healthful ingredients combined into a simple and quick recipe that makes you feel good to eat.
I'm not sure if butter and breadcrumbs are technically "clean" but close enough. And you can make these without the breadcrumb coating if you're into sterile eating. That seems like the next step after clean eating, right? 😉
Anyhoos, I've been trying to eat from the pantry/fridge/freezer as much as possible. As you can imagine, I collect lots and lots of weird foods that interest me, but also take a really long time to come around to eating. It's forced me to maybe be a little more creative than I would otherwise be. Or, if not creative, at least more experimental. Are those the same thing?
There's really nothing too weird in this recipe, but it was born of a sweet potato that was going soft; some salmon I got on sale a while ago and stuck in the freezer; an avocado that needed to be eaten, like, yesterday; and some chives I also froze a few months ago (see post on how to preserve fresh herbs here).
And behold! (Seriously, look at that picture it's so pretty! I served these with some sauteed carrots and those things were damn good with avocado sauce, too.)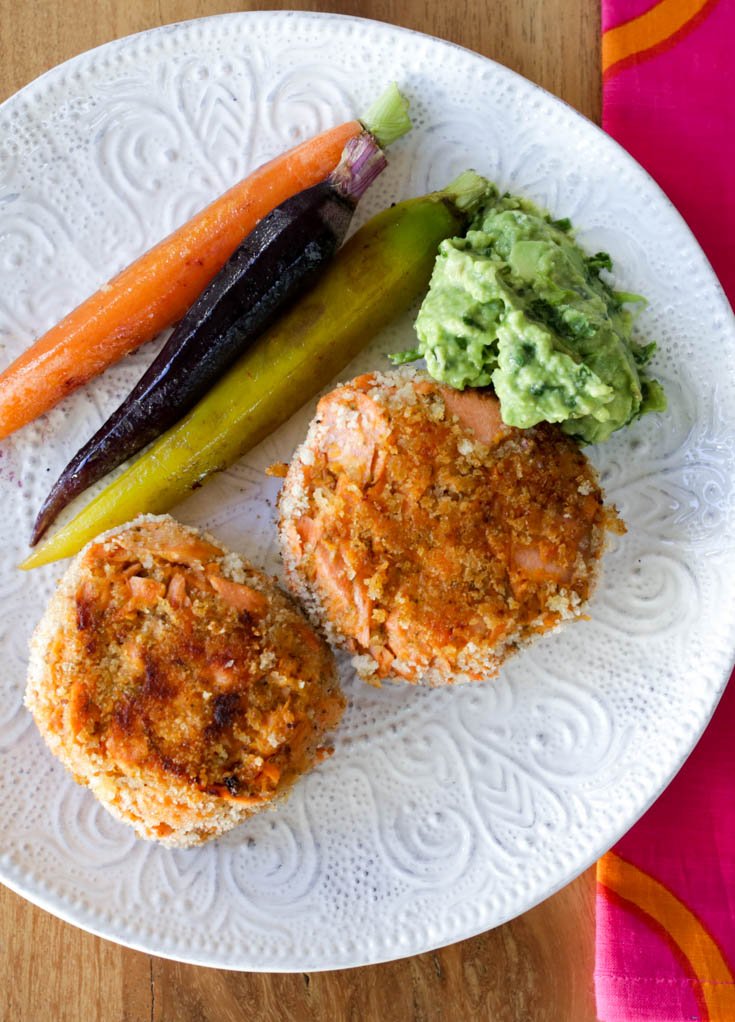 Print
Salmon Sweet Potato Croquettes
12 ounces

fresh or canned salmon

1

medium sweet potato, about

1/2

pound

1 tablespoon

grainy mustard

1 teaspoon

dried dill

1

lemon

1/4 teaspoon

black pepper

1/4 teaspoon

salt (maybe)

1/2 cup

breadcrumbs, optional

3

–

4

tablespoons butter or oil for cooking

1

avocado

2 tablespoons

chopped chives or green onions
Instructions
If using fresh salmon: put 1/4 cup water in a skillet with a little salt. Add salmon fillets skin-side down and cover. Steam over medium-high heat for about 5-7 minutes or until flaky; cool, remove skin and break it up a bit. If using canned salmon: drain the salmon well.
Stab the sweet potato a few times with a knife tip and microwave 4 minutes or until soft. Let cool until you can handle it and then peel.
While those cook, zest about 1/4 teaspoon lemon zest into a large bowl. Squeeze 1 teaspoon juice (reserve the rest for later) and add it to the bowl.
Add the sweet potato, mustard, salt and pepper and mash well.
Gently stir in the flaked salmon. Taste for salt.
Form into 4-8 patties and roll in breadcrumbs if you like. Cover and refrigerate until ready to cook.
Heat the oil or melt the butter over medium heat. Cook the patties slowly to brown well. Turn and cook the other side.
Serve with avocado sauce: Mash the avocado up with the chives and 1-2 teaspoons of lemon juice. Salt to taste and serve with salmon croquettes.
Nutrition
Calories:

375

Fat:

24

Carbohydrates:

20

Protein:

20
You might also like this maple-lime baked salmon recipe!