Salty Cashew-Coconut Cookies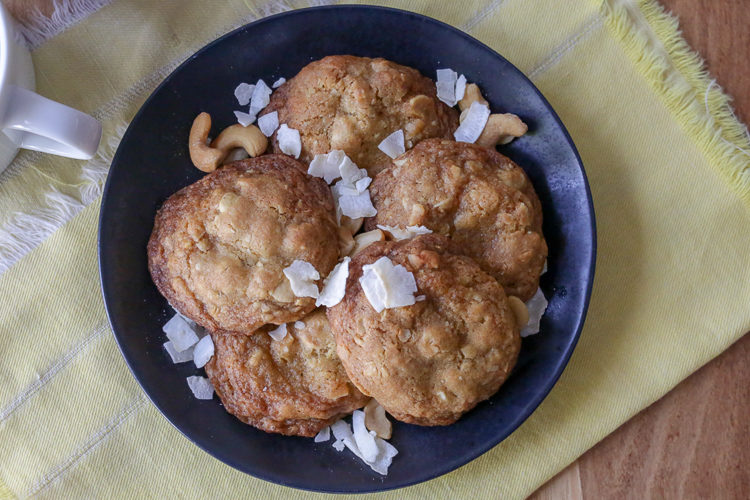 I wanted a cookie that reminded me of a PayDay bar because those are one of the best candy bars ever invented. And in fact you could probably use roasted salted peanuts here in this recipe just fine but I haven't tried it because I'm a FANCY GIRL NOW and my peanuts are cashews. (Actually, it's 'cause of peanut allergies in some kids we know but the "too fancy for peanuts" excuse sounds so glamorous!)
And you know what, I actually don't like cashews that much on their own. My ex-husband's best friend LOVED cashews and they're the only nut he'd eat. Myself, I prefer a crispy roasted almond or even a big, fat Brazil nut usually. But cashews I find are the best substitute for peanuts when it comes to cooking and baking. Try making peanut sauce with cashew butter instead of peanut butter and you'll see what I mean. And cashew butter plus strawberry jelly is the most popular PBJ — CBJ? — combo in my house.
But in the here and now, just try making salty cashew coconut cookies. And get more cookie recipes here!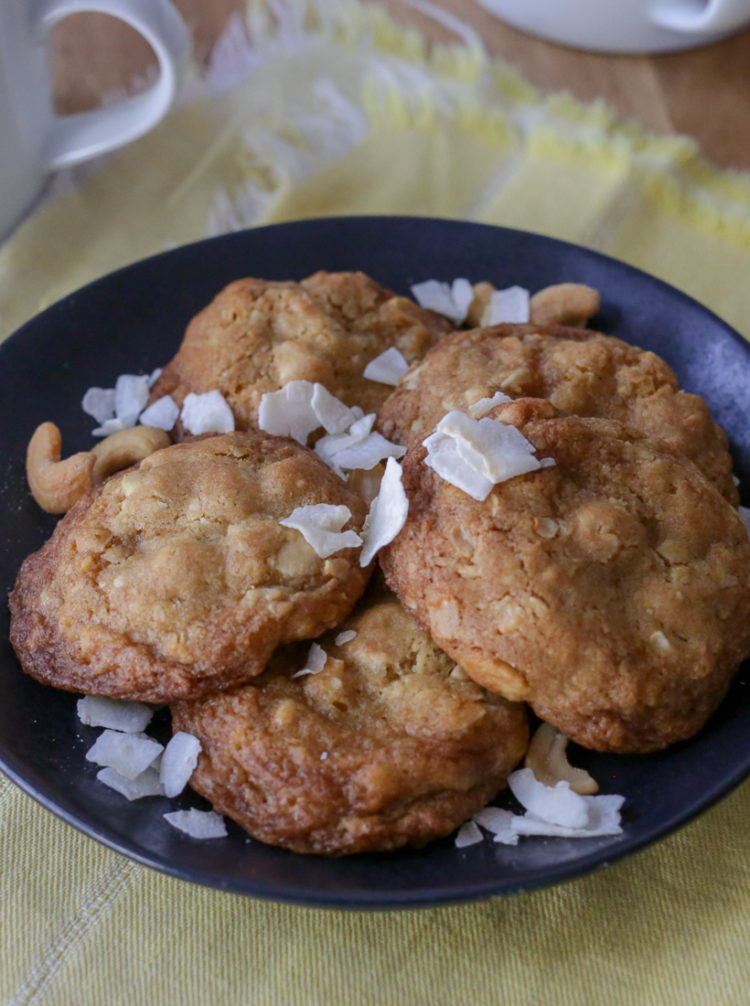 Print
Salty Cashew-Coconut Cookies
1 cup flour
1/2 cup shredded unsweetened coconut*
1 teaspoon baking soda
3/4 teaspoon salt
1/2 cup unsalted butter
2/3 cup light brown sugar
1 egg
1 teaspoon vanilla extract
1 cup chopped roasted, salted cashews
Instructions
Set oven to 350 and line a baking sheet with parchment paper
Combine flour, coconut, baking soda and salt in a small bowl.
In a large bowl, cream butter with brown sugar until smooth.
Add egg and vanilla and mix until combined.
Add dry ingredients and combine.
Fold in nuts by hand. Cover and refrigerate for a couple hours for best texture.
Roll into tablespoon-sized balls and place on cookie sheet about 1.5 inches apart.
Bake 10-12 minutes until browned around the edges and centers are puffed.
Cool 5-10 minutes before eating and cool completely before storing in airtight containers.
Notes
*On coconut. If all you have is sweetened coconut shreds, use those. Increase the salt a little to balance it. And if you are using unsweetened, coconut and have a few extra minutes to spare, toast the coconut in a dry skillet over medium heat for 2-3 minutes until lightly browned. Stir often. Add the toasted coconut to the flour and proceed as directed.