Recap of our recent San Diego vacation – our first real vacation in three years! Highlights of the trip:
Watch the video for footage of sea lions, harbor tour, and some animals in the Aquarium of the Pacific! Read on for more details and San Diego restaurant recommendations.
Balboa Park – This is the crowning jewel of San Diego if you ask me. Balboa Park began in 1868 when 1400 acres of scrubby desert were set aside as "City Park". In 1892, Kate Sessions, a botanist and horticulturist, made a deal with the city to plant 100 trees a year within the park and 300 trees and shrubs a year in the city, in exchange for the use of 32 acres inside the park on which she would build a commercial nursery. She became known as the "Mother of Balboa Park" and many of the trees she planted are still standing today. A tax-funded park improvement program was implemented between 1905-1910 to build irrigation, roads, and many of the buildings that you see now. Today the park is about 1200 acres, contains 16 museums, 16 gardens, a theatre, a stadium, a miniature railroad and the world's largest outdoor pipe organ which can be heard throughout the park. To see everything Balboa Park has to offer would take a few days. Plan at least a half-day to see the Botanical Building and a museum or two.
The Botanical Building is one of the largest lath constructions in the world. This building is like a giant gazebo, I'd guess 200 feet long and two stories tall, the ceiling is high enough to accommodate several palm trees. It was built for the 1915-1916 Exposition, left neglected during WW1 and WW2, then finally restored. There are over 2100 plants on display, each one labeled, with myriad orchids blooming, giant cycads and tree ferns, epiphytes, a scent garden, and a carnivorous plants bog. Several small waterfalls and ponds keep the atmosphere inside the building cool and inviting, despite the dry heat outside. It's a peaceful, beautiful garden that will inspire you.
Outside the Botanical Building is the Lily Pond, pictured below. A smooth, serene pond with about 10 different species of flowering water lilies on display, the lily pond is also home to many "illegal" koi and turtles. Apparently, members of the well-meaning public like to deposit animals into the pond, but because they can disrupt the balance, the fish and turtles are periodically removed to other ponds where they are more suited.
Museum of Man – This is one of several museums located in Balboa Park. It's small, but well-curated with core exhibits on human evolution, Egyptian mummies, Maya, Kumeyaay (Native Californians) and while we were there, a special exhibit on TORTURE!!! Instruments of Torture, borrowed from the Museo della Tortura in Italy. Also small, but very well-suited to my macabre side. Presented in no particular order, there were about 60 original and replicas of torture devices used from the 1500s through modern times. There are no photos of the cruelty in action, but there are line drawings and descriptions of how each device was used. Humans are sick. The whole museum took about an hour and a half to walk through. There's also some interactive stuff for kids in the Egyptian wing.
The Prado – After the museum, we had lunch at the Prado. Nothing like an eyeful of iron maidens and impaling rods to whet the appetite. But honestly, this was one of my favorite meals of the trip. The restaurant is beautiful, filled with natural light and whimsical lamps and colored glass globes. It reminded me of Alice in Wonderland. We had a fantastic fried calamari appetizer of crispy calamari strips tossed with a Korean chili sauce and served with a lightly-dressed Napa cabbage slaw. Somehow the calamari managed to stay crispy even under the sauce, which was sweet without tasting like dessert. I had an iceberg wedge salad after that since I'd been craving one for weeks and Chris had the turkey BLT burger (which I of course helped myself to). The fries that came with his burger were outstandingly perfect and there was an unexpected bowl of delicious, bacony pinto beans on the side, too. Dessert was ridiculous. The Prado's version of tres leches cake, picture this: crisp pistachio meringue shell filled with warm banana sauce, topped with a circle of soft tres leches and a scoop of super-vanilla-y ice cream, drizzled with caramel sauce. It knocked our socks off with its combination of crisp and soft textures; warm and cold temperatures; and the surprise factor of the banana sauce pouring out of the meringue. The whole experience was grand, with excellent service to boot! Our bill, including a couple beers and a passion fruit soda, came to about $70 for two before tip.
San Diego Zoo – Technically part of Balboa Park, this zoo is famous on its own merits, for good reason. Along with hosting many endangered animals, the SD zoo is also home to lots of endangered and rare plants, most of which are labeled along the pathways. It's like a combination botanical garden and zoo! I love it. We started out by taking the bus tour all around the zoo, which is a 45 minutes narrated guide on a double-decker bus that takes you through most of the zoo. It's a good way to get your bearings and also would be a nice break from walking if you're at the zoo with small kids. We sat on the lower deck where it's shady and you are closer to the animals. The zoo tries hard to incorporate education about the environment, especially rain forest destruction, into the tour and many of the displays. This zoo does a lot of research and breeding programs of endangered animals and was instrumental in bringing the California condor and the Giant panda back from near-extinction. One of the programs at the zoo that was most fascinating to me is their Animal Ambassadors Area. Animal ambassadors are representatives of their species who've been trained to be comfortable around humans and are introduced to park guests as a way to connect visiting humans with wildlife. In the AAA, the zookeepers have paired dogs with cheetahs, Arctic wolves, gray wolves and a New Guinea singing dog, helping the animals become comfortable around humans so they can be taken off-site for educational presentations. When introduced to each other as pups (or kittens?) domestic dogs form life-long bonds with these wild animals. When we visited, we saw Miley the Husky mix and Bakari the cheetah lounging together in the enclosure. Some of the other animal ambassadors are Floyd the blue-tongued skink, Monty the ball python, and Surat the greater one-horned rhino.
The New Guinea singing dogs were another highlight (of course, I love dogs so it's no surprise that I loved them) because their "singing" sounded a lot like our dog Mr. Banjo's howling. It was cute. The giraffes were fun to watch, too. There were two adult females, one male, two babies — a 6 week old and a 3 month old —  and several gazelles in the enclosure. Did you know that when baby giraffes are born, the six-foot fall from the mother to the ground is what snaps the umbilical cord and gets them to start breathing on their own? Amazing. Also, koala bears are always smaller than I think they're going to be and they look so sweet when they are curled up and sleeping on a tree branch. We spent a good 4 hours at the zoo, including a lunch break at Albert's, and could have spent even more time. *Money-saving tip!* If you buy a bottle of water at one of the concession stands, don't toss it when you're done! Take it back to any stand that sells fountain drinks and they will refill it for you with fresh, cold water.
And did you know: The VERY FIRST YouTube video was also shot at the zoo!
Bali Hai – Chris has a soft spot for tiki culture, so when we learned that San Diego is home to an honestly old-school tiki bar, we had to go. Bali Hai on Shelter Island was built in 1955 and is one of the largest remaining "tiki temples" from that time period. And it's a temple, it is. With one of the most beautiful views I've ever seen, the main dining room is octagonal and made from plate glass windows, offering 180 degrees of ocean to look at. We sat at the bar while we waited for a table (which at 40 minutes was not a bad wait for a Saturday night in August with no reservation) and Chris tried two of their notable cocktails: the Mai Tai and the Mr. Bali Hai. I had a non-alcoholic fruit punch which was tasty despite the lack of rum. The Mai Tai comes with a  warning on the menu because it's very strong; it's made with two types of rum, orgeat, triple sec and a splash of sour mix. There's no juice to speak of, but it was remarkably delicious. The Mr. Bali Hai came in a souvenir tiki mug that was strangely evocative of Dennis Rodman and is comprised of two rums, pineapple juice, blackberry, sour mix. It was also tasty as hell. At the bar we had coconut shrimp which were quite good and I appreciated that the sauce served alongside was slightly more tart than sweet. They were served with a green papaya slaw that added extra tanginess.
Once at our small table on the deck, we had more appetizers! Fried shishito peppers and battered crab cakes. The peppers were good, but not anything you can't find in many other restaurants (though the portion was enormous, unlike other places). The crab cakes were fantastic. Golf-ball sized cakes, tempura battered and fried and served with kimchi bean sprouts and creamy pepper sauce. Shoooot. I would get two orders of those next time. Chris had the miso marinated black cod for dinner, which was lovely with the miso flavor coming through nice and clean and the fish cooked perfectly. I ordered vegetable fried rice and the Brussels sprouts with Chinese sausage off their sides menu. By this time you can imagine I was pretty full, so I didn't make much of a dent. The sprouts had been highly recommended on Yelp, but I was not that impressed. It could be my pregnancy appetite, but there was something slightly off-putting about the combination with the sausage (normally I am a big fan of Chinese sausage). Somehow I managed to make it through dessert, though, and the coconut creme brule was very nice. If you like the tiki aesthetic and great views, try Bali Hai. We will definitely return some day, but when we do we'll stay at the bar for cocktails and appetizers which seem to be their strong point (though I do still regret not trying their sweet and sour chicken!) The bill for dinner came to about $100 before tip, plus our bar bill of about $30 before tip.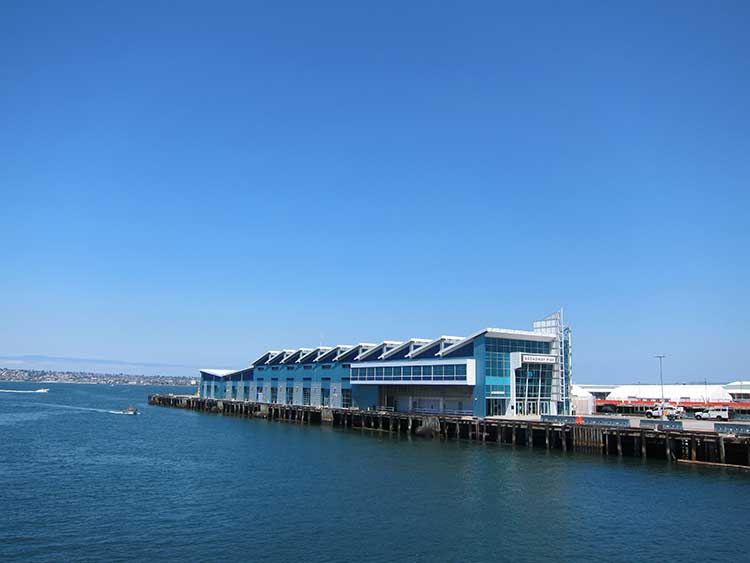 Sea Lions! – We took a San Diego harbor tour on the Hornblower one morning.  The boat makes two loops, one of the south harbor and one of the north. They each take an hour, or you can do both on the two hour tour which is what we opted for. The south loop is mostly about the military bases and ships in the harbor. Honestly, I zoned out for most of that and just watched the water go by. The north loop is where the sea lions and seals are and is a little more interesting to people like myself who are bored by the military stuff. You don't get to spend much time watching the sea lions, though, so if you really want to see those I think a "duck tour" would be better, though the ride probably isn't as smooth as on the big tour boat. Also, be sure to wear sunscreen and/or a big hat if you plan on sitting on the deck! There's no shade up top and you will get sunburned, but the top is the most fun place to sit.
Pacific Beach – Beach day! We got to Pacific beach (about a 15 minute drive from downtown San Diego) early in the day around 10 am. Already there were quite a few people there. Normally, I like to come well-prepared for a day at the beach (check out my post on essentials for a day at the lake to see my packing list) but when you've come a long way from home on an airplane you don't get the luxury of having your own cooler or umbrella or chairs. Fortunately, there are lots of places to rent beach chairs and umbrellas along the boardwalk. We got two folding chairs and an umbrella for just $18 for the day, which was a bargain for how much more comfortable we were than had we just been lying on our towels in the sun. You can also rent boogie boards and surf boards at the same places. Obviously you'll want to bring sunscreen, towels, and water, and probably some snacks. The water was cold at first, but once you're in, it's delicious. Warm sand, cool water, hot sun, lots and lots of seaweed. Good grief, there was a lot of seaweed! Oh but we also saw dolphins! Not even very far out, they were jumping and swimming about as far out as Crystal pier. That was really cool. The waves here are much much bigger than ones in the Gulf of Mexico which shouldn't be surprising, I guess, but it surprised me and took a while to get used to getting knocked around. Overall, Pacific beach is a good one for families or people who just want a low-key beach day. There's no alcohol or smoking allowed on the beach, but plenty of bars nearby for a cold one after your sunburning is complete. We opted for a cold one in the form of frozen yogurt to cool off our red lobster bodies.
Casa de Guadalajara – This is a super fun Mexican restaurant in Old Town with a big, beautiful, shaded patio in the back. Most of the shade is provided by a huge willow tree. Is it just me, or is tree shade way better than umbrella shade? Our waitress was friendly and dressed to the nines in colorful layered skirts. We ordered guacamole to start — after privately lamenting the lack of queso anywhere in California — which was pure and green like it ought to be. Chris had a couple of their La Milagrosa margaritas which he said were great. (Rare coming from him about a restaurant margarita, since at home we make them with just tequila, lime and soda water and no sweeteners unless it's a tiny dash of triple sec.) I had the rajas de poblano con elotes, described as roasted poblano pepper strips, onions, potatoes and corn underneath melted cheese. It was good, not as good as some other rajas con queso I've had, but good. Chris picked a winner with a combo plate of a cheese enchilada (some of the best chile salsa on that I've had) and carne asada. The carne asada was delicious; exceptionally tender and mildly seasoned beef steak that needed nothing else but to be sliced and wrapped up in a tortilla with salsa. The tortillas were amazing, too. Get the flour ones — they are enormous, and stretchy, and almost doughy, but with sincere char marks from the comal. They are really something else. We were both very happy with this place. Our bill, including two cocktails, came to about $60 before tip.
Old Town – Old Town is strange. It's like an old Western movie set brought to modern life. Called the "Birthplace of California", it's the epicenter of the first Spanish settlements in California, in 1769. In 1968, the state parks department deemed it a state historic park to preserve its history. A town square with old trees, shaded picnic tables and grassy lawns is surrounded by original and reconstructed buildings from the early days of San Diego. Beautiful Spanish-style courtyard homes of wealthy families (La Casa de Estudillo, La Casa de Bandini) are open to the public as museums as is San Diego's first schoolhouse, Mason Street School. A cemetery and a haunted house inspire nightly ghost tours at 9 and 11 pm which we totally would have done if we'd known about them ahead of time. There's a big marketplace with shops, food and coffee, too. We had some crunchy churros and iced coffee while we wandered.  There's definitely a lot more to see in Old Town San Diego than we saw. My advice is to get there early in the day before it gets so damn-blasted hot and sunny for your strolling, then spend the hottest part of the day indoors with a margarita. Oh and public transportation is great here. We took the green line from down town SD straight to the Old Town station, just four stops up, walk across the street and you're in the main plaza. Easy peasy.
Spike Africa's – This restaurant was a pleasant surprise! From the name and the exterior, I expected some kind of blasphemous California/Creole mash-up but I was mistaken. Well-designed, modern-ish interior with a nautical theme (Spike Africa was a famous sailor of his day) and comfy booths, this place seems good for families/kids as well as the happy hour crowd. The cocktails were good and strong. I "splurged" and had their white sangria which was a cold, icy glass of white wine and guava. It was awesome and it didn't even give me heartburn which is more than I can say for just about everything these days. Chris had their version of a Dark and Stormy, which took the typical rum and ginger beer cocktail and added pineapple juice. Holy crap. It was good. For appetizers we tried their house-made BBQ chips and onion dip and the crispy Brussels sprouts with raisins and bacon. The chips were good, not amazing, but they were free with a check-in on Yelp and would have gone great with a cold beer. The sprouts were totally delicious. I loved the combination with sweet golden raisins, bacon, and some kind of barely detectable tart and creamy sauce. Chris also had two fresh raw oysters from up the coast and said they were good. I wouldn't know.
For lunch I had their lobster roll with a side of macaroni salad. the lobster roll was great! A big, soft slab of bread, butter-browned on the outside and filled with big chunks of lobster, a little mayo, Bibb lettuce and avocado slices. The lobster was fresh and sweet and the browned roll added another layer of delicious. Chris's fish and chips were fascinating. Four big pieces of white fish (cod? I forget) with a breading like fried chicken. What the hell?! But man alive, it was so good! the breading was dark and crunchy and salty and the fish was tender and juicy. I didn't even notice the fries, the fish was so distracting in the best way possible. The coleslaw that came with it was good, if a little sweet with the heavy handful of dried cranberries tossed in. Still, it's important to eat your vegetables. So we did. Service was friendly and the cocktails had a heavy pour. We'd definitely return. The bill, including three cocktails and a local beer, came to about $80 before tip.
Don the Beachcomber – For this trip, we flew into Long Beach airport (so we could fly on Jet Blue which is the only airline we like) and then drove down to San Diego. It was a good bit of fortune that we forsook the Google map directing us to Hwy 5 and instead mapped our own route down the Pacific Coast Highway, otherwise we'd have never known that the OC has its very own Don's! Don Beach (not his given name) was one of the originators of the fantastical, fabricated "tiki culture" that was all the rage post WW2. We returned to Long Beach from SD a night early just to hit Don the Beachcomber's before heading home in the morning.
This location is beautifully appointed in full tiki glory, complete with thatched ceilings, carved totems, stone-faced waterfalls, and fake plants galore (see the video below). Woven wicker chairs surround bamboo tables in the main dining room, while the bar is outfitted with red pleather booths and dim lighting. The attention to detail with the decor was stunning. Everywhere you look, there is something else to see. We tried three of the most famous cocktails there: the Mai Tai, the Hurricane and the Zombie. The Hurricane was my favorite, followed by the Mai Tai. This Mai Tai was world's apart from the one served at Bali Hai. Goes to show there's little consensus in the world of tiki drinks, I guess. Their signature drinks are all made from mixes. If you have a problem with mixes, you should not drink here. But there is a reason for it and that is that Don himself created all of his cocktails (84 to his name!) and even patented some of them. To keep true to his original recipes, all the locations use mixes for the "Don Originals". Mix or no mix, they still tasted fresh and delicious. For non-drinkers who still want to party tiki-style they have a virgin piña colada or a spicy ginger beer.
The food is not fantastic, but it's totally fine for bar food. We had the Spam sushi roll, which is exactly what you fear it is, and it was solid. Accompanied by wasabi, soy sauce and pickled ginger, it was actually plated beautifully and was a nice portion size for two to share. The coconut shrimp were a little on the small size, but again they were plated nicely atop a salad and tasted fresh with a crunchy coconut shell. The Hawaiian nachos … I'd stay away from those. This seemed like a place where locals and tourists can mingle easily with a very nice bartender and all night Happy Hour on Mondays. Sunday afternoon is a reggae party that I hear gets crazy. I'd like to check that out some time. Our bill for drinks and appetizers for two came to about $50 before tip.
Aquarium of the Pacific – Chris and I always hit the aquarium whenever we're in a new city. I love aquariums, especially the small tanks with the frilly sea horses and sea dragons and jelly fish. You may have noticed my silver seahorse necklace in some of my videos. Chris gave that to me for my birthday the first year we were dating after we visited the Dallas aquarium together. It's imprinted with the word "Forever". It's one of my most treasured belongings and I wear it just about every day.
Aquarium of the Pacific in Long Beach is very nice, if a little small. Unlike many aquariums, this one focuses heavily on water habitats around the world. There are exhibits about the California coast with a kelp forest, seals and sea lions; the Pacific Northwest complete with a rollicking surge channel, otters and puffins; the Tropical Pacific Gallery with coral displays, turtles, sharks, and my favorite sea dragons. It was very interesting to see different species housed together or nearby others who share their habitat. They even have a couple giant sea bass, the quarter-ton fish that was almost fished to extinction before state laws were passed in 1988 to prohibit fishing. Many babies have been born in the aquarium and released into the wild to more quickly bring back the population. There's also a ray touching tank and a large shark tank exhibit for kids. It took us just about an hour and a half to see everything, but if you are going with children, I think you could spend another hour there with all the interactive exhibits.
Los Compadres – Another great Mexican restaurant find, this one in Long Beach. Los Compadres was a really cool restaurant we found just outside of Little Cambodia. When you get there, look for the driveway right in front, off the main road, to find a private parking lot. Go inside to find a restaurant that looks like it was designed by Sam Malone with its dark wood booths, upholstered seats, stained glass partitions, and several TVs mounted around the walls. The atmosphere is very welcoming despite it billing itself as a sports bar. Chris had camarones del chipotle which was shrimp and mushrooms served in a smoky-but-not-too-spicy-sauce and that was very good. Shrimp were plump and not over-cooked, and served with refried beans and rice. The corn tortillas are made in house and were thick and corny. I ordered tacos gobernadores, a kind of shrimp quesadilla, because I'd never heard of them before. Cheese, tomatoes, bell peppers and chopped shrimp melted inside folded corn tortillas. They had a good flavor and were especially nice dipped in guacamole. Our bill, including a margarita and a beer, came to about $50 before tip.
McKenna's on the Fly – I realize it seems ridiculous to review an airport restaurant, but this one is really cute! If you're in the Long Beach airport, it's a nice place to get breakfast before a morning flight. Excellent pancakes, french toast and coffee, plus they know how to poach an egg. The service is always friendly and the prices are much cheaper than you expect from an airport restaurant. Coffee and breakfast for two is only around $20.