Satan's Hairy (Meat) Balls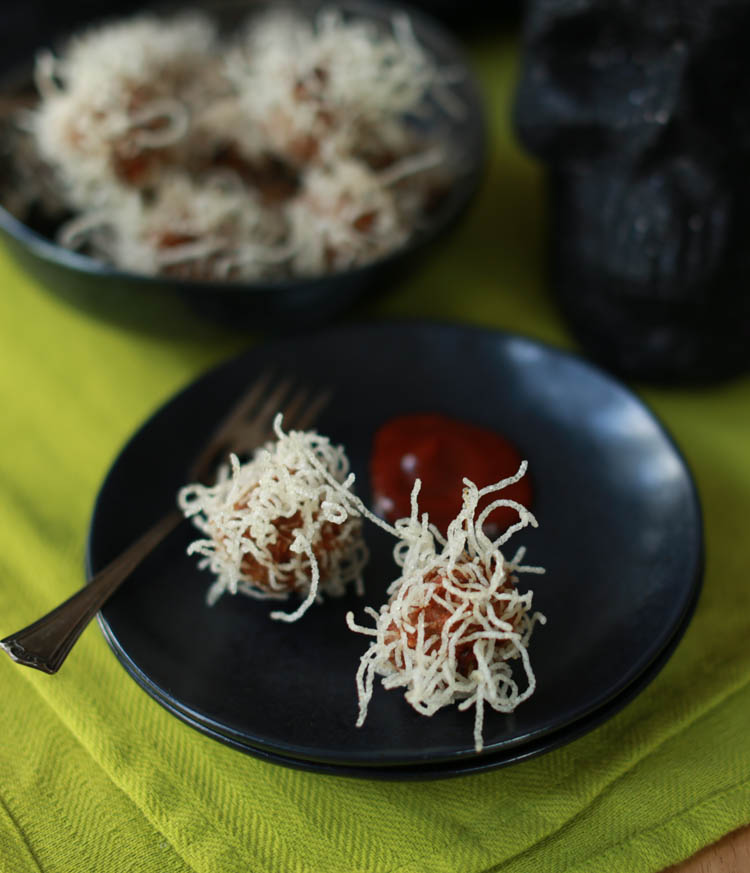 I came across a recipe for "Sea Anemones" in an old cookbook of my grandmother Hornsby's. The book is called Hawaii Cookbook & Backyard Luau by Elizabeth Ahn Toupin. "Sea Anemones" are meatballs made with minced shrimp and rolled in broken vermicelli noodles which have the marvelous property of puffing into white, wormy strands when dropped into hot oil.
Mincing shrimp didn't sound like anything I really wanted to do, so I used ground pork instead. And of course added some minced chiles. And some garlic. And omitted the water chestnuts. But kept the vermicelli because that's the fun part.
Once made, they reminded me of some hairy old balls and voila, Satan's Hairy Balls were born. Praise be.
These can be made partially ahead of time for your Halloween party. Mix and roll the balls, coat in vermicelli, cover and refrigerate. If you want, you can even fry them before your guests arrive. They are good at room temperature and the vermicelli stays puffy and crunchy for at least two hours. Just fry, drain and cool, then pile gently into a serving dish next to a small bowl of dip. I like the make the balls smaller than a standard meatball so they are one-bite-wonders which don't encourage double-dipping.
Surprisingly, they also reheat well in the oven. Fry and cool. Cover and refrigerate up to three days. Then arrange on a baking sheet (ungreased) and bake for about 10 minutes at 375ºF. Ta-da! Crunchy, hot, hairy meatballs!
Satan's Hairy (Meat) Balls Recipe – printable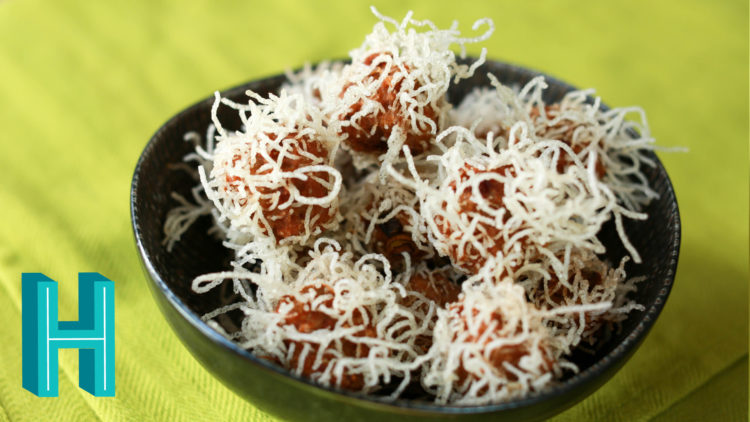 Print
Satan\'s Spicy (Meat) Balls
1/2

pound ground pork or turkey

1

–

2

red chiles, minced

2

green onions, minced

1

clove garlic, minced

2 teaspoons

cornstarch

1 teaspoon

paprika

1/2 teaspoon

salt

1

handful of bean thread noodles (vermicelli) broken into 1/2″ lengths

3

–

4

cups oil for deep frying (use a high-heat oil like corn, peanut, vegetable, grapeseed)
Optional sauce:

2 tablespoons

ketchup

1 teaspoon

fish sauce

1

–

2

teaspoons Sriracha
Instructions
Combine pork thought cayenne pepper. Mix well with your hands.
Shape into 15 balls (2-3 teaspoons meat each) and roll each in the broken vermicelli to coat. At this stage, balls may be covered and refrigerated up to 8 hours.
Heat 2″ of oil in a deep pot to 360-375ºF and fry a few balls at a time for 1-2 minutes until vermicelli is puffed and white and balls are cooked through. This is a hotter than normal frying temperature but it's necessary for the vermicelli to puff properly.
Serve on toothpicks, with sauce for dipping. These are good hot or at room temperature. Vermicelli will stay crisp for about 2 hours at room temperature.
Notes
Good served hot or at room temperature. Reheat fried meatballs in a 375ºF oven for about 10 minutes. Meatballs can also be shaped and rolled, covered, then refrigerated for a day before frying.