Sausage Stuffed Jalapeños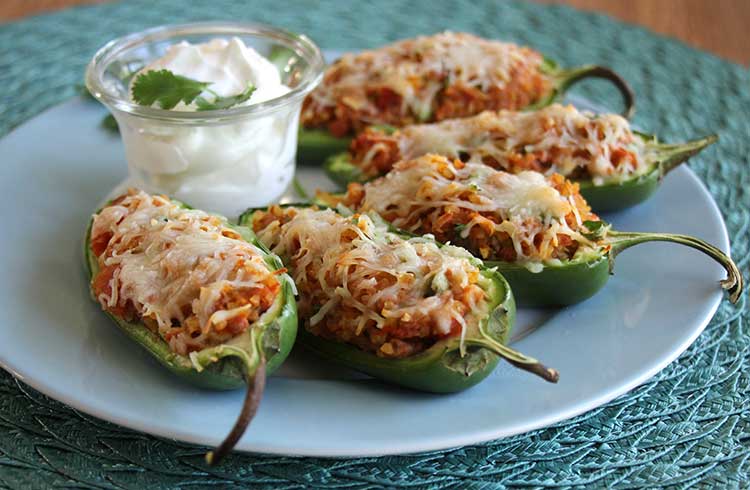 Stuffed jalapeños this way are incredibly, stupidly easy and delicious. No cooking the meat first, no cooking anything first, just mix up some pork with some salsa and other stuff, cram it in a hollowed out jalapeño and bake. So easy a horse on ketamine could do it and horses don't even have thumbs! Come to think of it, maybe drugged up horses couldn't make these, but you can.
Not into spicy jalapeños? Do the same thing with mini bell peppers. Bite-size appetizers not your bag? Use the same filling in bell peppers or poblanos for a main dish. Just bake the peppers 30-40 minutes until cooked through. You can also do the same recipe with ground beef if you don't eat pork.
If you must have a dip, I recommend plain old sour cream. If that's too boring, you could try Ranch dressing or sour cream mixed with a little of the salsa leftover from making the stuffed peppers.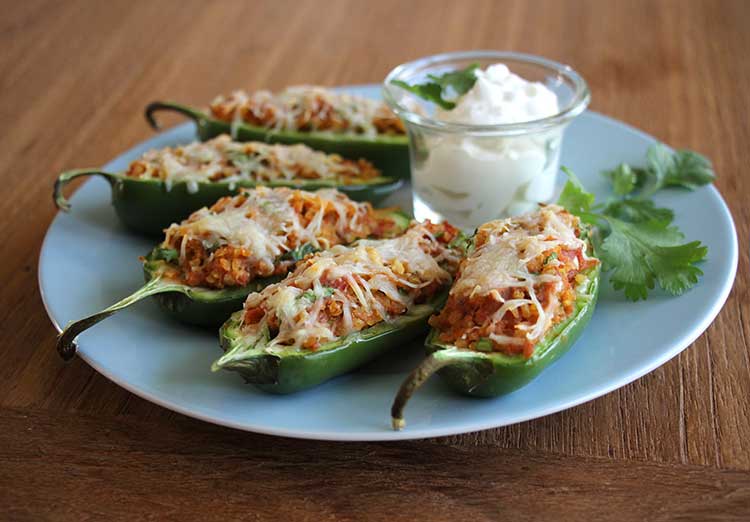 Stuffed Jalapeños Recipe – Printable!
Print
Sausage Stuffed Jalapeños
Author:
Prep Time:

10 mins

Cook Time:

25 mins

Total Time:

35 minutes

Yield:

1

2

1

x
12

large, fresh jalapeño peppers

1/2

pound lean ground pork or beef

1 cup

salsa or tomato juice

1/3 cup

fine bulgur wheat or couscous

1

green onion, thinly sliced white and green (or

2 tablespoons

finely minced onion)

2 teaspoons

paprika

2 tablespoons

minced cilantro

1

clove garlic, minced

1/2 teaspoon

salt

1/4 teaspoon

dried oregano

1/2 cup

shredded Monterey Jack cheese
Optional dips for serving: Ranch dip, sour cream
Instructions
Cut the peppers in half lengthwise and scoop out the seeds and membranes, leaving the stem intact if possible.
Set oven to 400ºF
Mix remaining ingredients — except cheese — together in a medium bowl until very smooth.
Scoop into pepper halves, mounding just a little.
Sprinkle peppers with cheese and place on a baking sheet. (Recipe can be made ahead of time to this stage and refrigerated up to 12 hours.)
Bake 20-25 minutes or until meat filling is firm and no longer pink (interior temperature is 165ºF)
Allow to cool 5 minutes before serving.
Serve with sour cream or Ranch dressing for dipping if desired
Stuffed Jalapeño Video