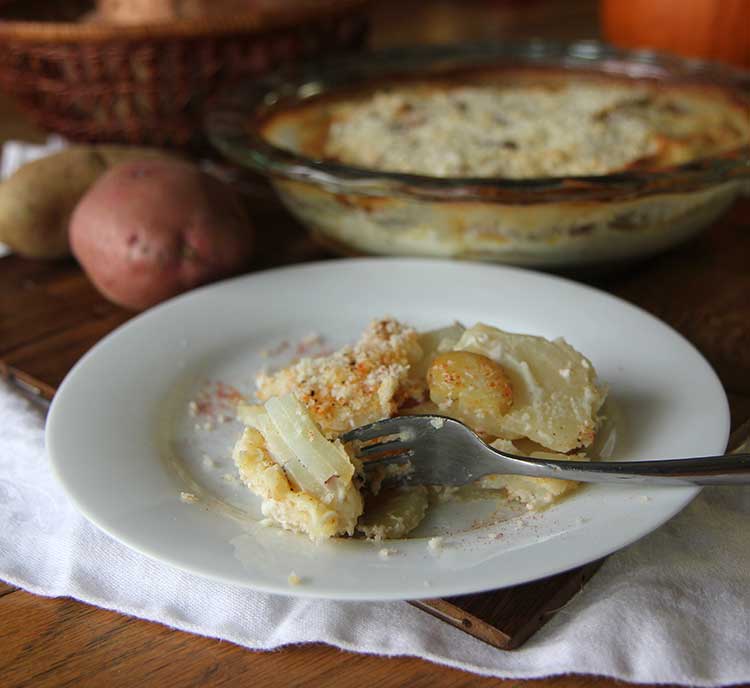 These are a classic side dish for Thanksgiving and Christmas. Our pals Matt and Charles in San Antonio requested a scalloped potatoes recipe from me; they said they could never get them quite right. I think the trick is to parboil the potato slices in the milk before baking. It's an extra step, I know, but it gives the finished potatoes a lighter texture than the brick-like starch bomb that scalloped potatoes often become. Many scalloped potato recipes call for making a bechamel sauce, but originally a scalloped dish was just one cooked in cream. As long as you use a portion of heavy cream, there is no need to thicken the sauce with flour. Of course, if you're dieting you may want to choose a different method!

And if you're wondering, the difference between scalloped and au gratin, it's this: scalloped has a cream sauce and au gratin just has crunchy buttery crumbs on top. Au gratin is often done with steamed cauliflower or broccoli, too. Although, those are the classic differences. Nowadays in the US, the terms are frequently used interchangeably.
Scalloped Potatoes Video
Scalloped Potatoes Recipe – Printable!
Print
Scalloped Potatoes
Author:
Prep Time:

10 mins

Cook Time:

40 mins

Total Time:

50 minutes

Yield:

6

-8

1

x
1 tablespoon

butter

1/4 cup

minced onion

1

clove garlic, minced

1

bay leaf

1/2 teaspoon

salt

1/2 teaspoon

pepper

1/4 teaspoon

thyme

1 1/2 cups

whole milk, warmed

3/4

pound Russet potatoes, peeled and sliced 1/4″ thick

3/4

pound red potatoes, sliced 1/4″ thick

1/3

–

1/2

cup heavy cream
Optional: 1/2 cup grated Gouda, Swiss, Cheddar or Gruyere cheese

1/3 cup

coarse breadcrumbs
Instructions
Set oven to 350 and grease a 2 quart casserole (deep dish pie pan or 10″ gratin) and sprinkle the bottom with a tablespoon of the bread crumbs.
In a deep skillet, saute the onion and garlic in the butter for about 10 minutes over medium-low heat until very soft.
Add the bay, salt, pepper and milk and potatoes and bring to simmer over medium-high heat. Simmer uncovered 7 minutes until potatoes are just tender, pushing the potatoes down and stirring gently occasionally.
Lift potatoes out with a slotted spoon and arrange the dish.
Carefully pour cooking milk and cream over the top. Use 1/3 to 1/2 cup cream, just enough to barely cover the potatoes.
Sprinkle with cheese and crumbs.
Bake uncovered for 40 minutes.
Allow to rest 10-15 minutes before serving.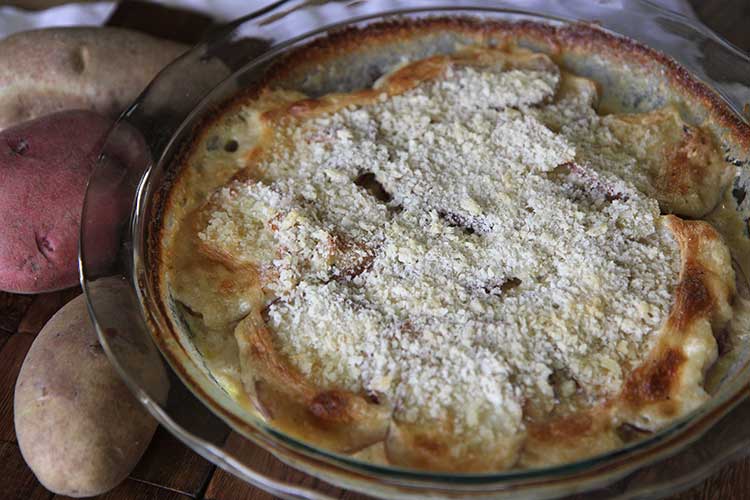 And just for shits'n'giggles, here's a picture of Mr. Banjo watching me take pictures. Note the speck of white on his left eyebrow. That is a tiny bit of scalloped potato. He's saving it for Daisy. (Note the chewed-up windowsill behind him. That's from his puppy chewing days. Good thing is, he's immune to lead now. I kid!)