how to make shrimp tacos video – scroll down for recipe
DOODS. Seriously. I'd been thinking about making shrimp tacos on the show for a while but of course, you know, I wanted to do something awesome, something spicy, something different, something … SO RAVEN. Oh god, that was a terrible joke.
Anyway, I'd been thinkin' and thinkin' and had some thoughts and stuff. But then I went to bed and had this KRAZY dream that we were shooting the show on the side of the highway and there was a live studio audience (except we weren't in a studio of course, because we were on the frontage road) made up of a bunch of people I know and they kept messing with my stuff and it was making me so mad. And I had to walk all the way home to change my shirt and then I had to go get some more shrimp because this jerk I hadn't even seen in years showed up and burned all of them.
But even though the dream was an annoying piece-a-shit-dream, the recipe it left me thinking of the next morning was a complete revelation in the field of shrimp tacos and well, just shrimp dishes the world over. I'm pretty sure.
These are saucy and spicy and would be just as good, if not better, served over rice or with some crusty bread to soak up the goodness made from habanero pepper, orange juice and tequila. I just happen to love the hell outta tacos, so that's what I did with them.
For another oceanic tortilla filling, try these amazing fish tacos, too!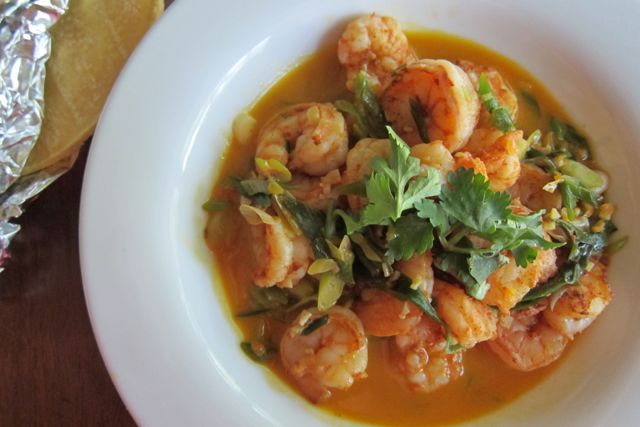 shrimp tacos recipe
Print
Shrimp Tacos
1/2

pound (31-40count) shrimp, shelled and deveined

1/4 teaspoon

ground cumin

1/4 teaspoon

chili powder

1/4 teaspoon

salt

1 tablespoon

oil

1 teaspoon

minced garlic (about

2

cloves)

1/2 teaspoon

minced seeded habanero (or less)

1/4 cup

orange juice

1 tablespoon

lemon juice

1/3 cup

thinly sliced green onion (about

3

large)

1 ounce

tequila
Topping:
diced radish, cucumber, avocado, onion, cilantro
Instructions
Pat the shrimp dry with a towel and toss with the spices and salt and set aside for 15 minutes.
Heat the oil over high heat in a heavy skillet until smoking.
Lay the shrimp in a single layer in the skillet and do not disturb for 60-90 seconds, or until the bottoms are well browned and the shrimp can be easily moved.
Turn gently.
Add garlic and habanero and juices and shake the pan to distribute.
Add green onion and tequila.
Stir and cook another 30 seconds or so until the shrimp are just cooked and the sauce is slightly thickened.
Serve right away.
Notes
This will easily serve two as a main course, but I think would also make a good tapas-type appetizer on toothpicks or bruschetta toasts.