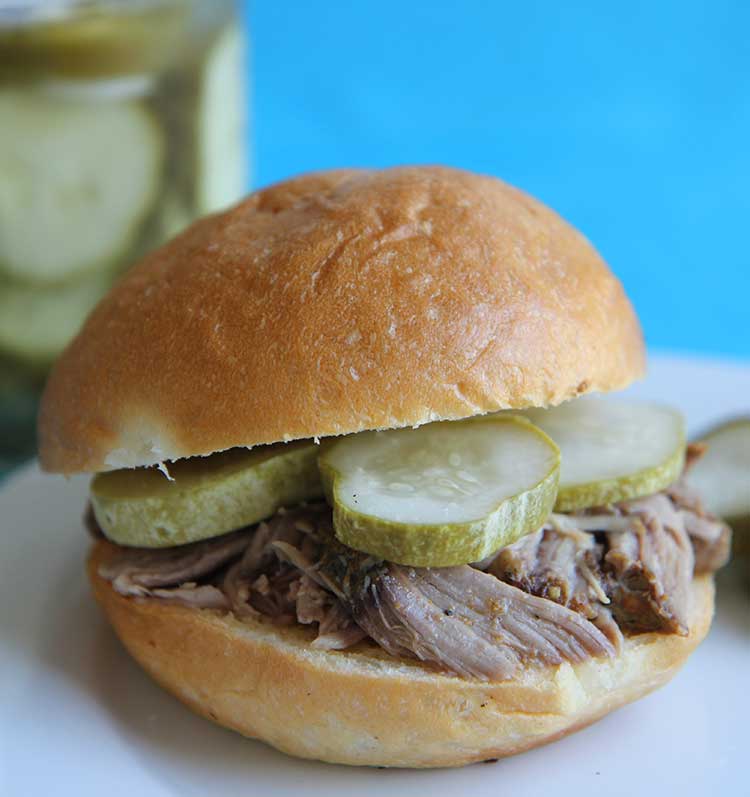 This slow cooker pulled pork recipe is straight outta my Slow Cooker Recipes book! It's been tested and retested and eaten and re-eaten … err, that doesn't sound right. The point is, this is a damn near impossible to screw up pulled pork recipe.
I know — I know — the best pulled pork is really that which has been slow smoked, but what is a regular ol' person like me supposed to do if they want some pulled pork but they really don't want to mess around with a smoker? Slow cooker to the rescue! Slow cooker, plus some tasty spices of course.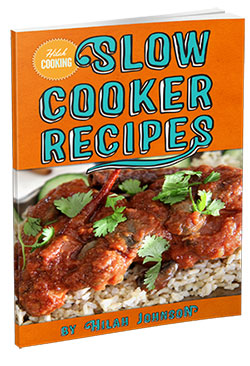 This is a marvelous preparation of pork butt. I tested it using regular old yellow American mustard as well as brown deli mustard; either one works well. If you have the time, cook the pork on low heat for 8-10 hours until it's super tender and shreddable. If you don't have the time, you can make do with 5 hours on high but I find that all meats benefit from the lower, slower cooking. The smoked paprika lends a touch of barbecue-ness.
Serve this slightly sweet and spicy pulled pork on big fat sandwiches, or on a plate alongside coleslaw and black eyed peas. Add barbecue sauce if you want. I usually prefer just dousing the bread with some of the pork juice and piling pickles and onions on top of the meat. That's just me. I love pork juice 'n' onion breath.
Slow Cooker Pulled Pork Video
Slow Cooker Pulled Pork Recipe
Print
Pulled Pork in a Slow Cooker
Author:
Cook Time:

8 hours

Total Time:

8 hours

Yield:

10

-

1

2

1

x
3

–

4

pound pork shoulder or pork butt (boneless or bone-in)

2 tablespoons

prepared mustard

2 tablespoons

brown sugar

1 teaspoon

salt

1 teaspoon

ground coriander

1/2 teaspoon

black pepper

1/2 teaspoon

smoked paprika

1/4 cup

chicken stock or beer

1/4 cup

apple cider vinegar
Instructions
Instructions
Combine the mustard, sugar, and spices in a small bowl.
Remove any twine from the pork roast. Smear the roast with the mustard mix. This much can be done the night before, and the roast refrigerated until you are ready to cook. Marinating it like this allows the smoked paprika and salt to penetrate the meat. If you don't have time to do so, please don't worry about it. No biggie.
Put it in the crockpot with stock, vinegar.
Cover and cook on low for 8-10 hours or on high for 5 hours.
Once tender, pull out the bone if there is one, and use two forks to shred the meat. Stir it all around in the sauce to keep it moist.
Notes
Leftovers can be frozen with the liquid in airtight containers for a month. Or they can be used to top a pizza along with onions, bell peppers, and provolone cheese. Or they can be tucked inside a grilled cheese sandwich. Trust me.
For over 40 more slow cooker recipes, check out my newest cookbook! It's available now in ebook, Kindle and print formats.
Here's what's inside:
How to choose and care for your slow cooker
How a slow cooker works and how to adapt your favorite recipes to cook in the slow cooker
Over 40 original recipes, many have suggestions on how to repurpose leftovers for another fast meal later in the week.
Meaty main dishes like Pulled Pork, Spicy Mexican Beef and Spring Chicken Soup
Vegetarian main dishes like Mushroom Stroganoff, Butternut Soup, and Stewed Eggplant
Breakfast recipes like Strata, Granola and Boston Brown Bread
Side dishes like Cheesy Potatoes or Maple-Bacon Black Eyed Peas
Color pictures of most recipes
Several recipes in this book require cook times of 8-12 hours for those of you with long work days. Dinner will be ready when you are!