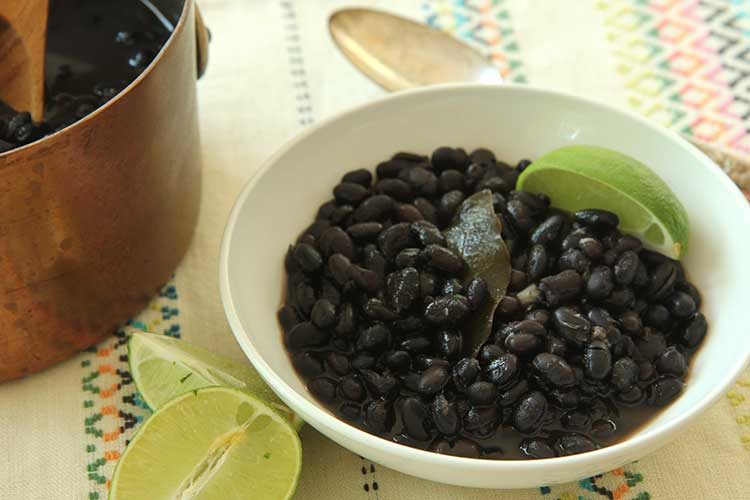 Y'all, about soaking beans. Don't do it. Don't believe me? Please just try it anyway. Maybe some beans, big'uns like lima beans or fava beans could use a little soak. I very rarely cook with those so I haven't tried it. But little'uns like black beans and pinto beans and navy beans? Don't even bother.
Beans retain a lot more flavor and color without pre-soaking and they really don't take much longer to cook. Seriously, maybe an hour more at best, but I'd estimate closer to 30 minutes longer.
And soaking doesn't even remove one percent of the fart-inducing sugars in beans. In fact, the only guaranteed way to reduce the farts is just to hole up in your house for a week and eat beans every day until your body succumbs and figures out how to digest them right. You heard it here. Eating more beans is the best way to eat more beans. And also make sure the beans are fully cooked. They need not be splitting open, but they should be soft enough when you serve them that you can easily squish a bean between your fingers. I call it the pinch-squish test.
Try it out on this black bean recipe. For an even smokier pot of beans, swap the jalapeños for one chipotle pepper.
Smoky Black Beans
Print
Smoky Black Beans
Author:
Cook Time:

2 hours

Total Time:

2 hours

Yield:

8

1

x
1

pound (about

2 cups

) dry black beans

1

small onion, diced

1

–

2

jalapeños, sliced

2 tablespoons

butter or olive oil

4

cloves garlic, peeled and smashed

2

bay leaves

2 teaspoons

salt

1 teaspoon

smoked paprika

1 teaspoon

ground cumin

2

large carrots, diced (about a cup)
For serving:
Cooked rice

2

limes

1/4 cup

chopped parsley or cilantro
Instructions
Instructions
Take a look through the beans and pick out anything that isn't a bean and give them a quick rinse in a colander.
In a large pot (at least 3 quart size) saute the onion and pepper in the butter over medium-high heat for about 5 minutes until the onion starts to get a little brown in places.
Add the garlic, bay, salt and paprika and cumin and cook 60 seconds until you start to smell the cumin and paprika toasting.
Add the beans along with 8 cups of water.
Cover and bring to boil. Crack the lid, turn down the heat to low and simmer the beans for about an hour or 90 minutes or until almost fully tender.
Add the carrots (and another cup of water if the beans are not still submerged) and simmer another 30 minutes until the beans are cooked and squishable.
Serve over rice with lime wedges and fresh herbs on top.