Soba Noodle Bowl with Pickled Shiitake Mushrooms
I got kind of fancy today! Really I just put some stuff in a bowl but I thought about it while I did it, instead of throwing it all in willy-nilly as usual. It's called "being mindful", you guys, and everyone is talking about it.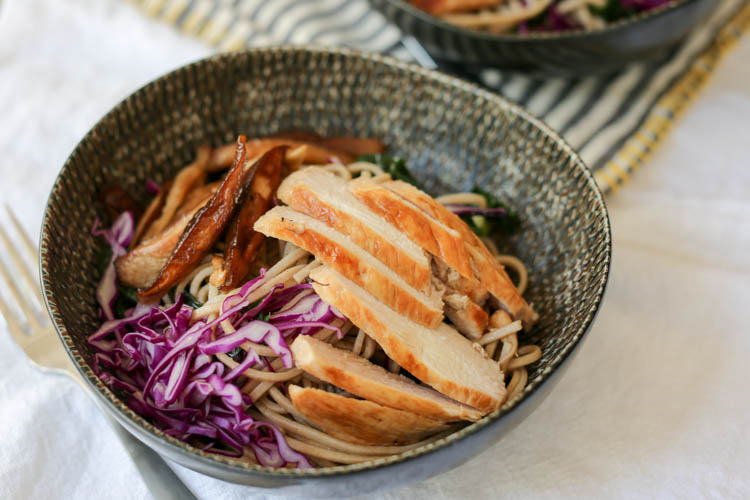 Soba noodles are the best kind of noodles to use for noodles salads and noodle bowls. They are made of wheat and buckwheat flour typically (though you can find 100% buckwheat soba noodles for double the price if you look hard enough) and they have a nice, slippery texture and nutty flavor — and an unfortunate tan color but that's what toppings are for, aren't they?! That's my opinion and I'm sticking to it.
This soba noodle bowl is pretty close to the perfect lunch, I think? I mean, you can eat it right after you make it but you can also put it in the fridge for a couple days and it doesn't care. It's got protein as chicken or tofu; soba noodles for carbs; and a hefty amount of vegetables for the fiber and vitamins. Really the only food group it's missing is dairy but didn't you hear the scientists* said we don't need dairy anymore???
*I'm sure some scientist is saying that right now, in fact!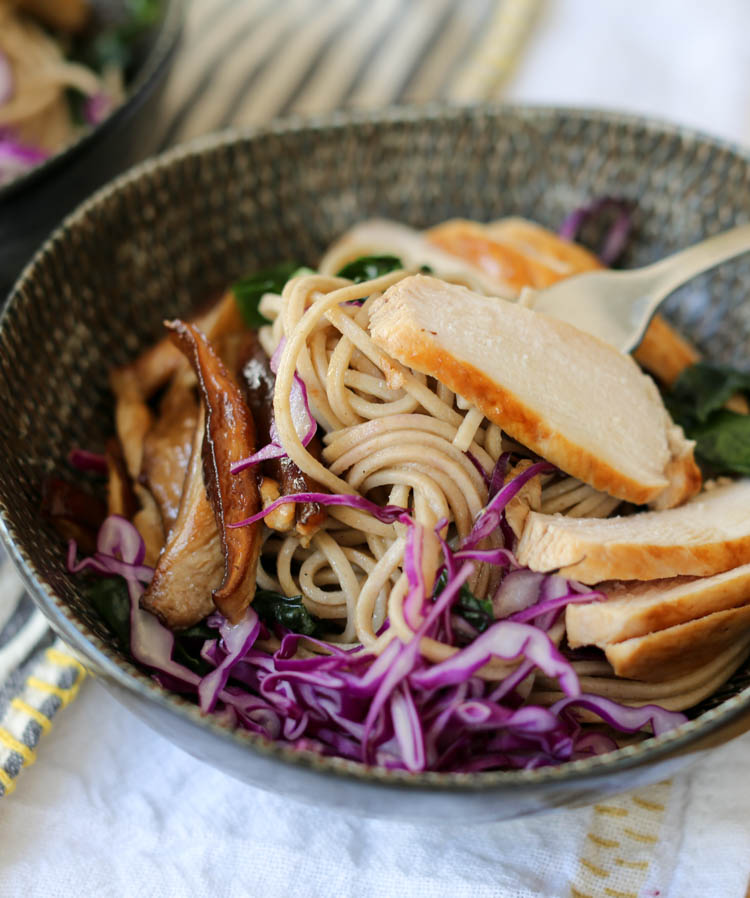 You'll want to massage the hell out of your kale, get it nice and softened up with your hands and some salt. It should be a little tougher than the cooked noodles, but not much. Cooked soba noodles and massaged kale ribbons go together great, but cooked soba noodles and tough, raw kale don't match up.
And I know it looks like a lot of ingredients and a lot of prep, but it's pretty simple and you can break it into steps, too. The pickled shiitakes can sit in the fridge for a day, as can the massaged kale. So on Sunday you could prep this all by soaking the shrooms, massaging the kale, cooking the chicken/tofu and boiling the soba noodles. Then just toss everything together with the dressing the next day.
The pickled shiitake mushrooms are really what makes this recipe special, although on their own they are a little intense. But when you're eating a huge bite (because that's how my bites are every time) of noodles and chicken and kale and you get a sour-sweet little squishy bit in there, too, everything comes together and you are very very happy in your mouth.
You might also like: Coconut zoodles and soba noodle salad (how's that for an awful, clunky recipe title?!)
Print
Soba Noodle Bowl with Pickled Shiitake Mushrooms
Author:
Total Time:

20 mins

Yield:

4 cups

1

x
Pickled Shiitake Mushrooms:
3–4 ounces fresh shiitake mushrooms
1/4 cup apple cider vinegar
1 tablespoon honey
1 teaspoon salt
Noodles:
4 ounces soba noodles
4 large leaves kale
1/2 teaspoon salt
1 tablespoon reserved mushroom brine (above)
1 tablespoon toasted sesame oil
1 teaspoon sugar
1/2 teaspoon fresh grated ginger
1 tablespoon soy sauce, divided
Protein (optional):
8 ounces chicken breast or tofu
2 teaspoons cooking oil
Instructions
For the mushrooms: In a small pot, combine vinegar, honey and salt. Bring to simmer and stir to dissolve solids. Turn off heat. Add mushrooms and stir to coat them all. It won't be enough brine to immerse them all, but squish them down in there, gill-side down, and stir occasionally until you need them.
Start boiling water for soba noodles. Cook as directed (usually about 7 minutes).
Remove thick stems and thinly slice the kale. Mix it with the salt in a large bowl. Massage the kale and salt, using your hands, to soften it. It just take a minute or so and it's ready when it's all a darker green.
Remove soaked mushrooms from the brine and add one tablespoon of the brine to the kale bowl. Slice the mushrooms.
Toss the kale around then add the sesame oil, ginger and half the soy sauce. Stir well.
Drain the noodles and rinse briefly with cool water. Shake to dry. Toss with kale mixture. Add sliced shiitakes and toss again. Let sit at room temperature while you cook your protein (or just serve now).
Slice the chicken or tofu thinly and drizzle with remaining soy sauce. Heat the oil in a heavy skillet and add the protein. Cook three minutes on each side until browned and cooked through. Remove.
Serve bowls of noodles and kale topped with sliced chicken and pickled shiitakes.
Notes
Nutrition info is with chicken breast
Nutrition
Serving Size:

1 cup

Calories:

237

Fat:

7

Carbohydrates:

27

Protein:

17